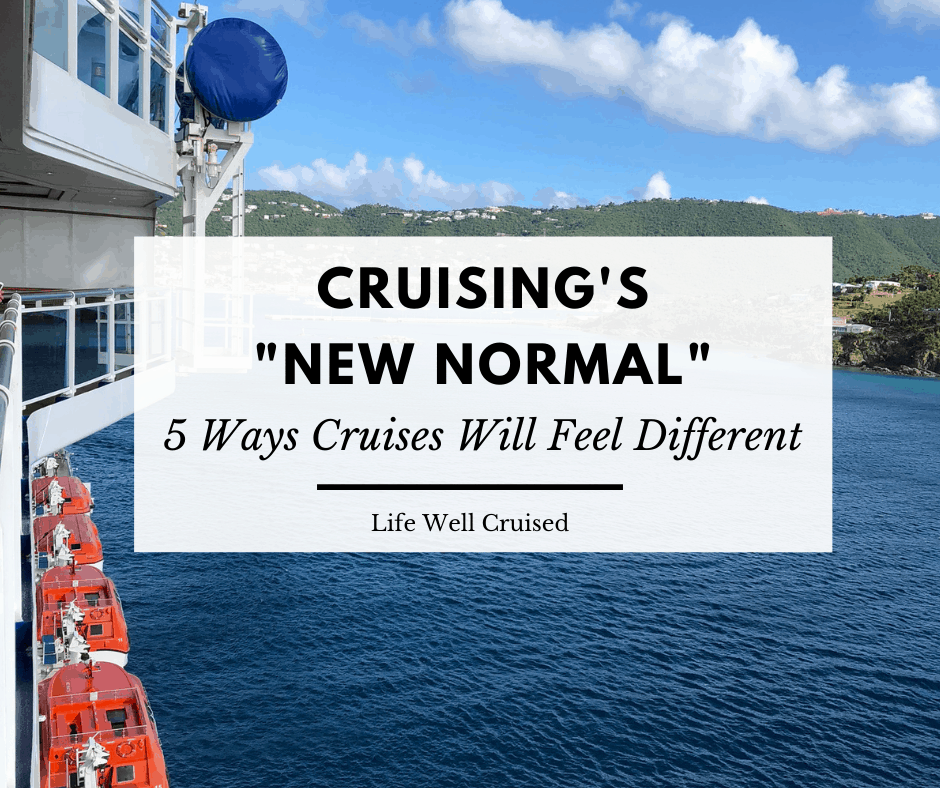 We've heard a lot about changes on cruise ships to ensure passenger and crew safety. Cruising as we know it, like almost everything else in life, is adapting to our current situation. We may not like all the changes, but the reality is that this "new normal" will be with us for a while.
It's not all bad. While cruises in North America are still on hold as we wait for the CDC to lift the no sail order, cruises in Europe have been sailing for a couple of months. Despite the new protocols, guests on MSC and Costa report high levels of satisfaction and enjoyment, actually saying that things were pretty fantastic.
If you're a bit like me, you may have gone through different thoughts over the last few months, and even changed your opinion on some things. If you have, that's ok. We're all adjusting as we live through this situation, that none of us has experienced before.
In reality, there are so many good things that have come from the new changes on cruise ships – better medical facilities, new technologies for disinfection, revamped air filtration. These are updates we mostly won't notice, but they are major upgrades.
However in this post, I'll be sharing the changes on cruise ships that we may not like as much, but are necessary for cruises to resume.
We do need to keep in mind that we don't know how long this "new normal" will be with us, so some of these changes may look different (or even disappear) over the next few months. However, we don't have a guarantee or a specific timeline, so it's important to know if you're planning a cruise for 2021.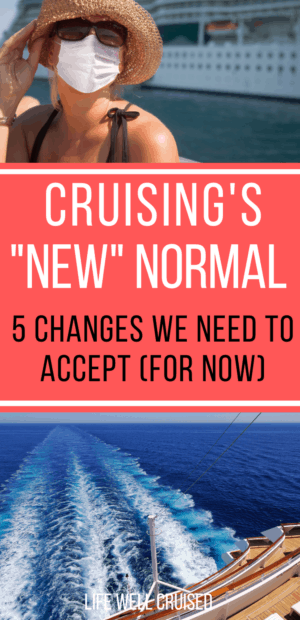 5 Ways your Cruise Will be Different (for a while)
All major cruise lines have agreed to this basic set of new protocols and have posted the health and safety measures on their websites.
So far, we've only seen details and specific plans for how the protocols will be implemented, as cruise lines have confirmed sailings on specific ships.
This has been the case for MSC, Costa and Aida in Europe.
Royal Caribbean has announced it's Royal Promise, as Quantum of the Seas is set to sail in Singapore in December. I'll leave a video at the bottom of this post, if you'd like to hear more about the specific ways these measures will work on this ship.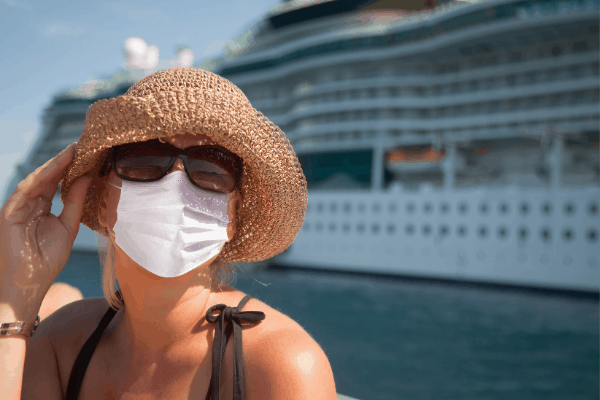 1. Face Masks
Cruise passengers and crew will have to wear face masks upon embarkation and in all public indoor areas, unless seated and eating or drinking. On the pool deck, it's unclear how and where masks will need to be worn.
On European sailings, passengers have not been wearing masks outdoors when on loungers that have been placed with physical distance. However protocols on Royal Caribbean's Quantum of the Seas in Singapore require masks when not in the pool or hot tub, or doing strenuous activity, like jogging.
However, you should be prepared to wear a mask when not in your cabin, eating or drinking.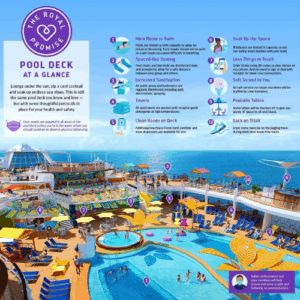 2. Testing
Cruise lines are requiring that cruise passengers have a Covid test prior to a cruise. Many cruisers are wondering if testing may be done at the cruise terminal, however this has not yet been confirmed.
We've seen different suggestions, including that cruisers should be tested between 5 days to 24 hours before a cruise, but until cruises have a confirmed date of return, this may not be known. There are so many advances in testing capabilities, and hopefully this becomes easier for passengers and the cruise lines when they do start up again in North America.
3. Cruise Line Shore Excursions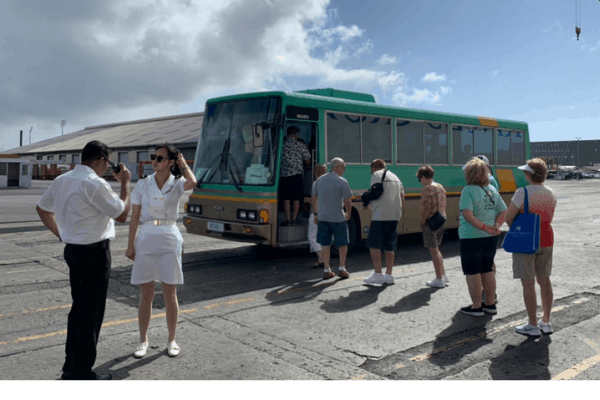 One of the most controversial changes cruise lines have made is mandatory cruise line excursions, if you want to disembark the cruise ship in a port.
This means that you won't be able to go ashore for a walk around the cruise port, or hop in a cab to head over to a local beach. Sadly, we won't be able to book a tour with a local guide, at least for now.
This is done for everyone's safety, as cruises resume.
Something to keep in mind is that these excursions won't be the same as in the past, with 50 people or more stuffed onto a crowded bus or shuttle. The safety measures including social distance and disinfecting, and wearing of masks will all be upheld.
What a cruise shore excursion is really like on cruises now
In theory, it may sound grim. However, I had a different perspective after hearing about the excursions first hand from an avid cruiser who recently cruised on MSC in Italy. he explained to me that there were only 18 people on his tour, separated into 2 groups or 9 people each.
They were able to visit and explore, and really enjoy the travel experience. Here they are in Sorrento, Italy.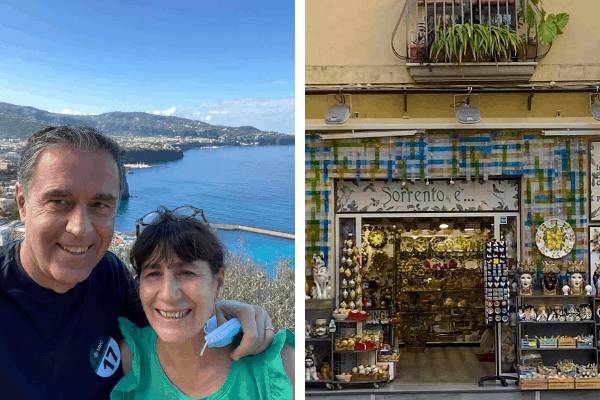 4. No Self Serve Buffet
The buffet is a big part of cruising on American cruise lines. For now, the buffet experience will be different and not be self serve.
How will it look? On cruises in Europe, a crew member is serving and utensils are wrapped in single use packaging. This sounds like overall, it will still look quite similar to what we know and enjoy for casual dining on a cruise ship.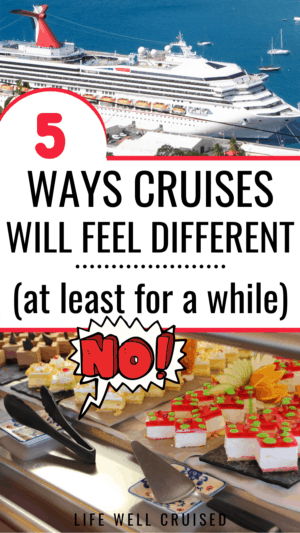 5. More planning and reservations
With reduced sailing capacity and other social or physical distancing measures to ensure everyone's safety, we can expect to do a bit more planning and reservations.
If you're concerned about the activities and shows on board, cruise lines have said that they will be adjusting. We can expect more shows to accommodate passengers and not have full theaters and lounges. Hours for activities might be extended as well.
However, it's likely that we'll need to make reservations for some shows and dining. This does mean a little less flexibility, however it's one of the changes that I personally can adapt to most easily.
Would you like to know more about Royal Caribbean's Royal Promise and New Protocols? Here's a video with the latest news.
Final Thoughts: Cruising's "New Normal" – Changes We Have to Accept (at least for a while)
There are changes, updates and new safety protocols that will likely be on our next cruise, at least in some way. From face masks, to social distancing measures, to cruise line only excursions – these are changes that are necessary for cruises to start up again.
Of course, we all have choices. For some of us this will mean an acceptance of cruising's "New Normal" (I do hate the way it sounds), at least for a while. For others, this will mean waiting until there's a change and improvement in the world health situation, and an ease of many of these restrictions.
There's no right or wrong, and I'd like to know, where are you on this and have you changed your thinking on any of these protocols over the last few months? Please let me know in the comments below.
Happy future cruising!
Ilana xoxo
P.S. If you've enjoyed this post, please share it with a friend on Facebook or save for later on Pinterest. Thanks so much!
Popular and related posts:
8 Most Important NEW Cruise Health & Safety Protocols
10 Big Changes to Cruising as They Start Up
50 Best Gifts for Cruisers 2021 (that are unique & practical)
25 most recommended Amazon Items to Bring on a cruise
Let's connect:
Follow me on YouTube at Life Well Cruised
Follow me on Facebook at Life Well Cruised
Follow me on Pinterest at Life Well Cruised
Follow me on Instagram at Life Well Cruised