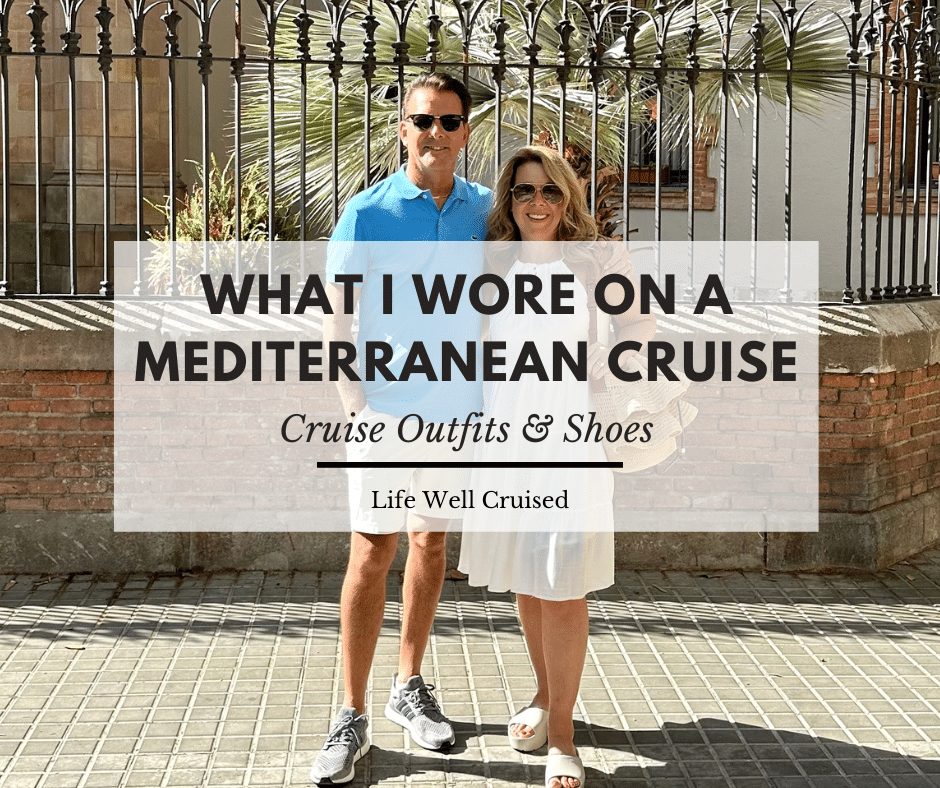 If you're going on a Mediterranean cruise, you might be wondering what to pack and what to wear. You're in luck! We recently came back from a Mediteranean cruise and I have a lot of cruise outfits to share.
Choosing what to wear for a European cruise will vary depending on the month that you travel. However, I hope that this post will give you a few Mediterranean cruise outfit ideas.
Beyond cruise wear and travel outfits, I'll also share some tips for your Mediterranean cruise packing list.
In this post I've included photos of what I wore on my Mediterranean cruise during the day, evening and in the cruise ports of call. You'll also find some shoes and accessories that are very useful to have when visiting European cities.
For reference, our Med cruise was in the summer, during the month of August. Wherever possible, I've included links to items mentioned.
This post contains affiliate links which means if you click and buy that I may make a commission, at no cost to you. Please see my disclosure policy for details.
As an Amazon Associate I earn from qualifying purchases.
Cruise Outfits I Wore on My Mediterranean Cruise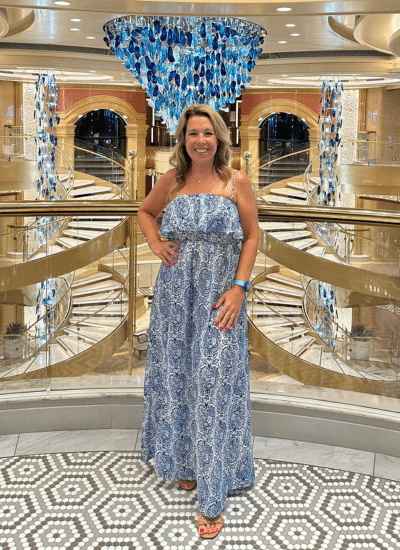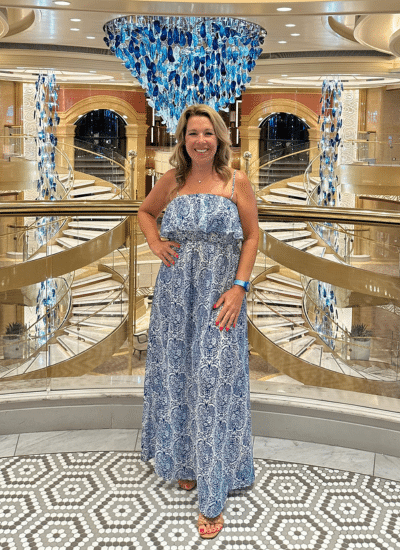 I didn't pack carry-on only for my Mediterranean cruise. However, I did try to pack light and avoid overpacking. I wanted to leave a little space for some shopping ;-).
We spent 7 days onboard Enchanted Princess, starting in Barcelona and ending in Rome. In addition to our 7 day Mediterranean cruise, we added 2 days pre-cruise and 2 days post cruise to visit these amazing cities.
This meant that I needed to plan for 11 days in Europe plus travel outfits.
Related: What to Pack for a Mediterranean Cruise – The Ultimate Guide
Capsule Wardrobe for a Mediterranean Cruise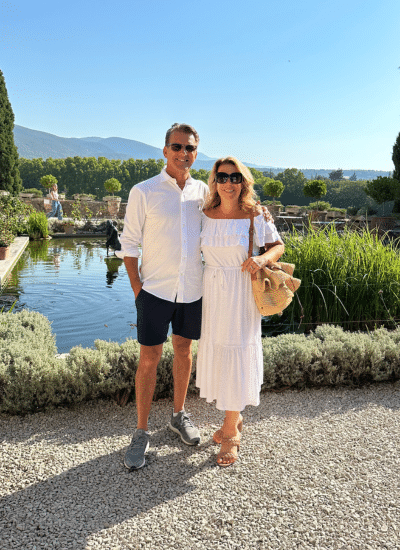 I packed with the concept of a capsule wardrobe for my Mediterranean cruise. All my outfit pieces were black, white/beige or blue. This included my shoes and handbags to match.
I love dresses, so I packed several dresses that could be worn during the day or evening. Many of the dresses were very light, which was great for the hot days in Europe this summer.
I brought 2 pairs of nice shorts, one black and one beige, that would match with a few tops for day wear. I also brought one sporty pair of shorts and a couple of tops for walking on the jogging track or going to a fitness class.
I brought 6 pairs of shoes, more than most would say was practical, but didn't regret it all! That said, you'll really need one good pair of walking shoes or sneakers, a pair of casual sandals or flats and a pair of dressy shoes for the evening.
Tip: White clothing is very popular in Europe this year, and looks great in photos against the gorgeous background (the sea, flowers and plants, historic sites etc.).
My Mediterranean Cruise Outfits
Embarkation Day Outfit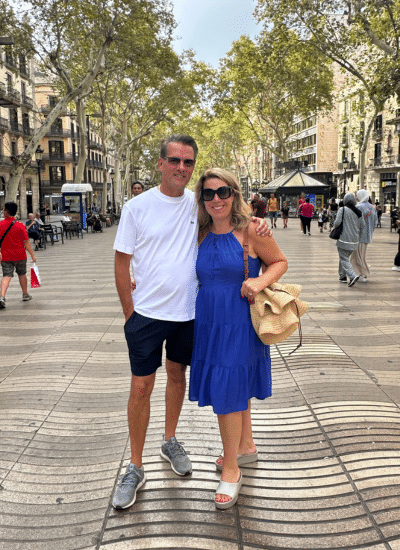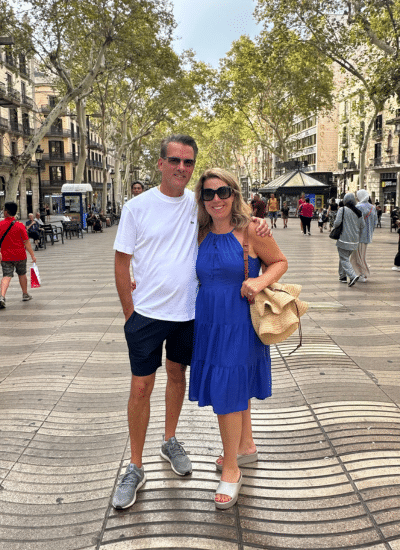 We had a walking tour of Barcelona's Gothic Quarter and La Boqueria Market the morning of our cruise.
I wore a loose fitting blue halter dress and comfortable platform sandals for the tour, and as my embarkation outfit as well.
I wore a straw handbag that I purchased in Barcelona. Unlike many of the straw tote or basket bags that are so popular this year, this purse has a leather drawstring. I love this, as pickpocketing is something to watch out for on a Mediterranean cruise.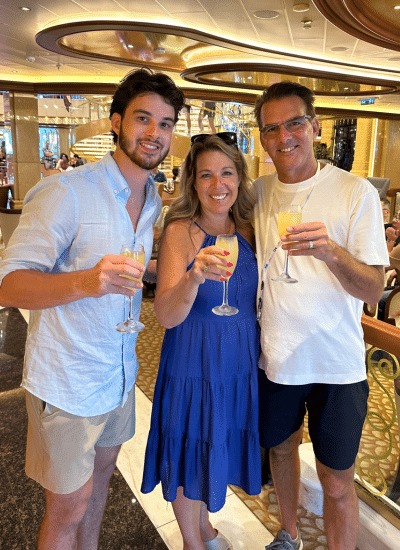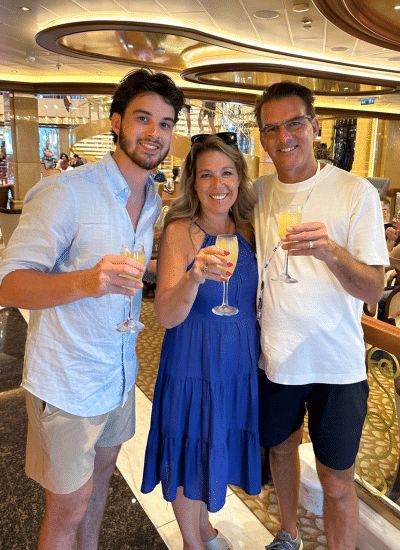 My husband Frank wore a shirt t-shirt and navy blue shorts.
Since the day was very hot and we had plans in the afternoon before sailaway, we changed into something comfortable and light.
I wore a short floral dress and Frank wore a white polo style shirt and shorts. He changed from his running shoes to Sperry boat shoes.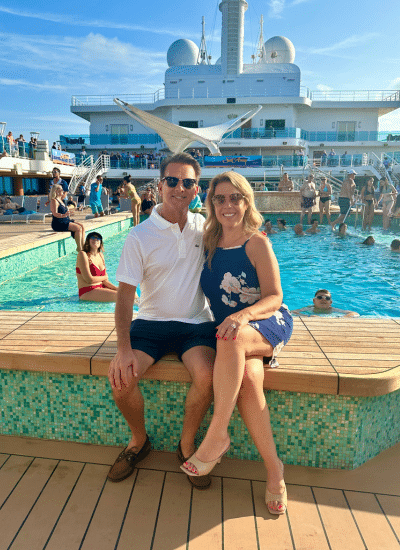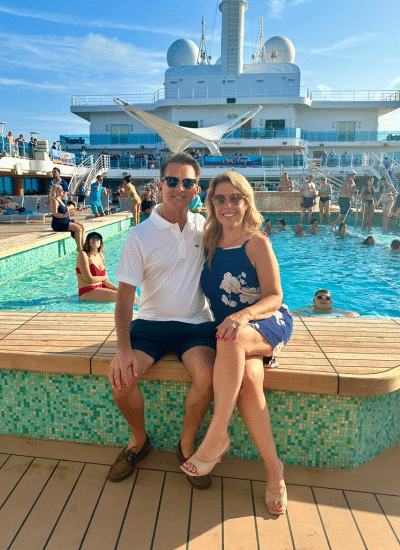 Mediterranean Cruise Day Wear
Here are some of the outfits that I wore during the day on our Mediterranean cruise, in the cruise ports of call. Some of the photos from my cruise include my husband and young adult son.
White halter dress and platform sandals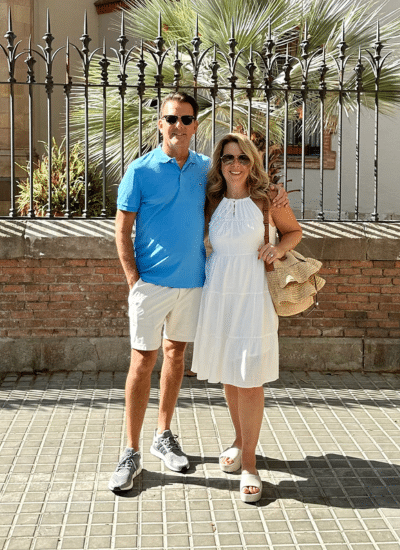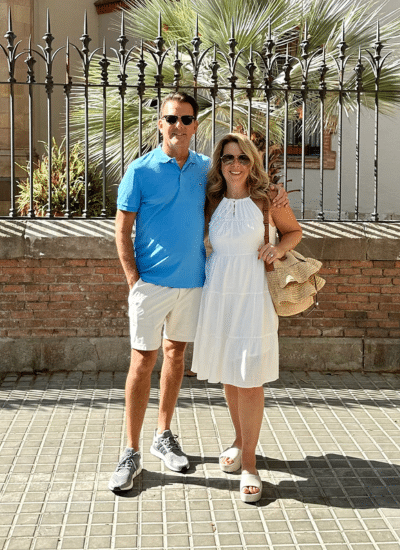 Recommended white dresses:
White off the shoulder dress & tan sandals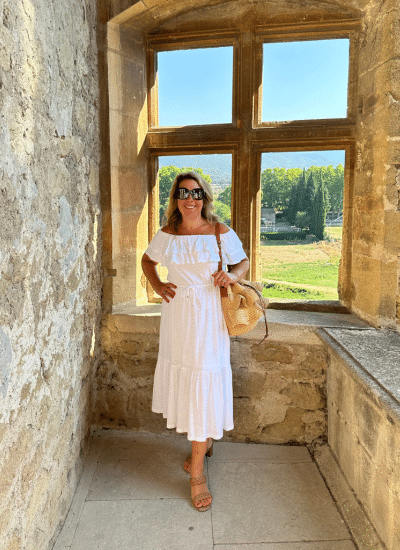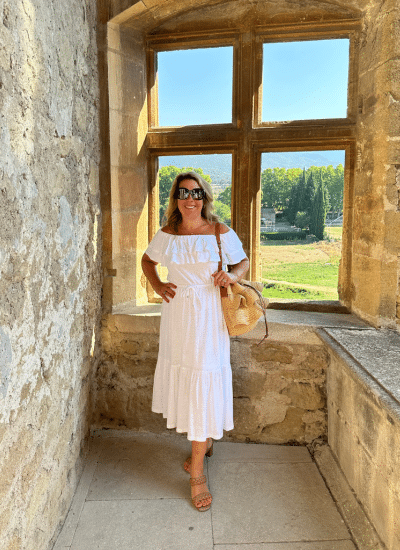 Recommended: Tan braided heeled sandals (check price & amazon 4.5* reviews here)
Beige shorts, black tank top, white linen button up top & white sneakers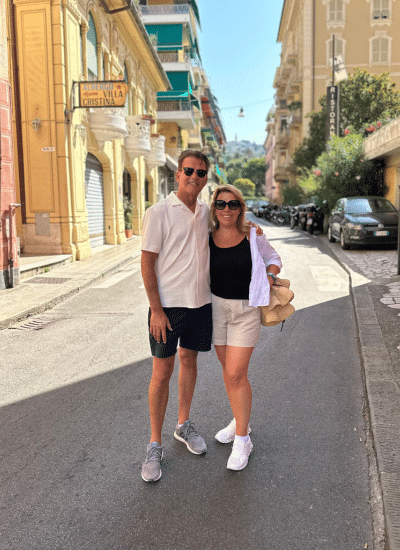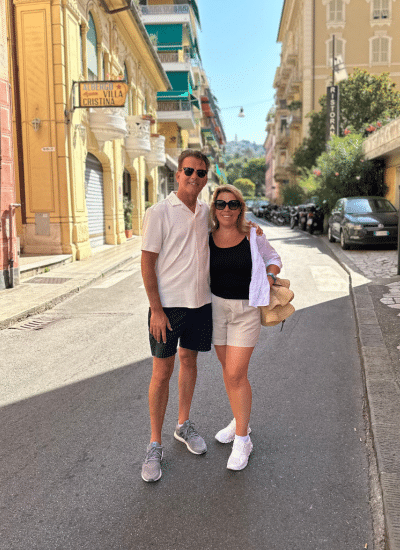 Recommended:
Blue and white off the shoulder dress & white sneakers
We walked over 18,000 steps on this day while visiting the historic sites in Rome. I was glad to be wearing supportive sneakers.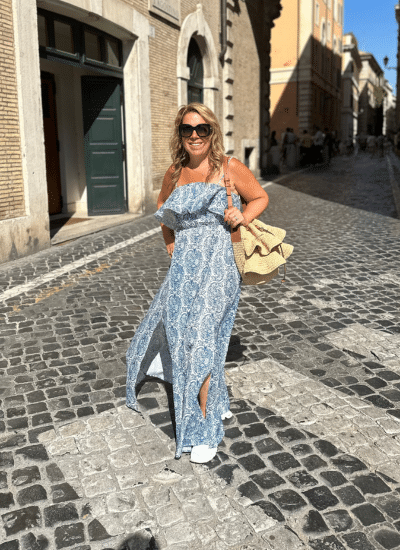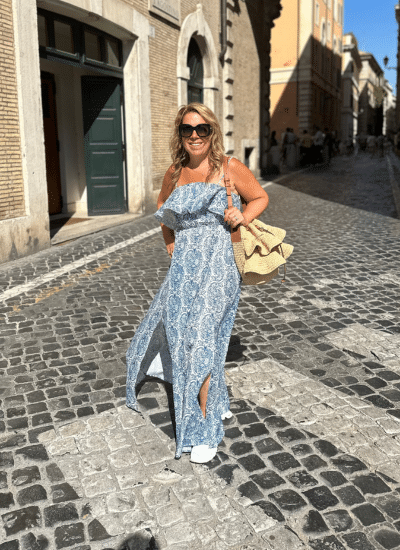 Cream sleeveless top and black shorts with sandals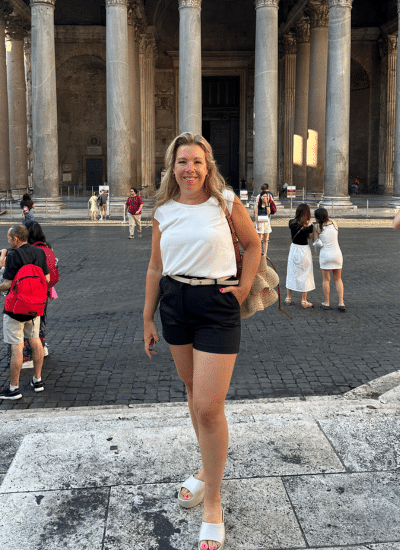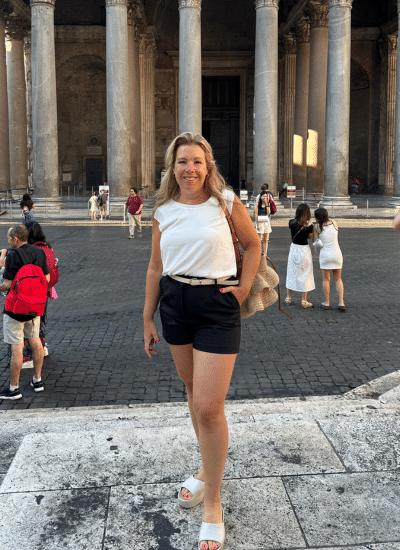 Cream sleeveless top, beige shorts, sandals
I was able to mix and match my black shorts, beige shorts, cream top and black tank top to create outfits for different days.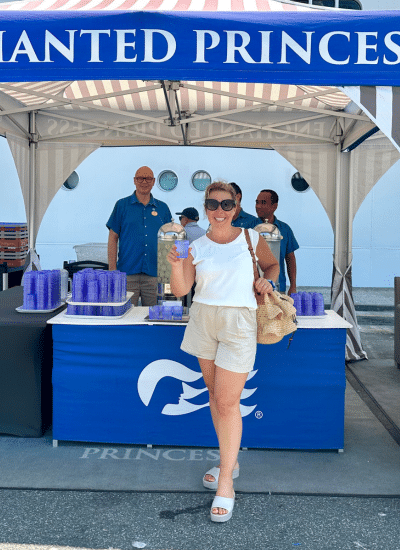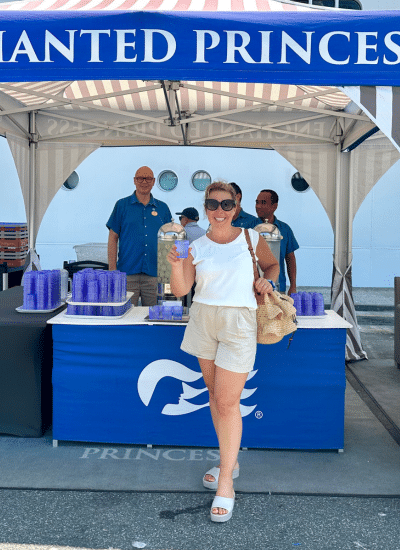 Casual shorts & tops with sneakers
My son Ethan wore a belt bag on excursions. I also used a crossbody belt bag on sea days.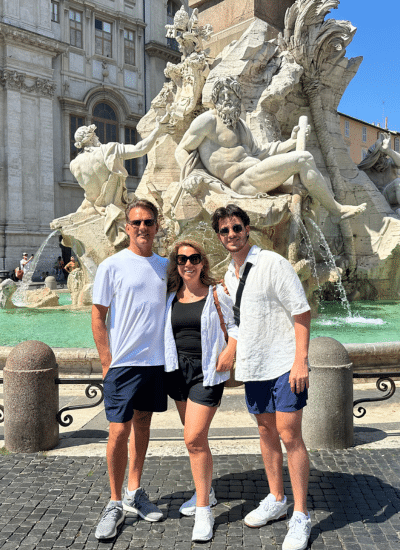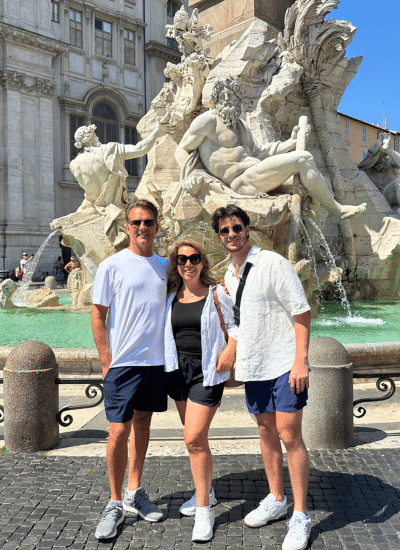 Recommended:
Cruise Daywear (on cruise ship)
During our 7 day Mediterranean cruise, we only had 2 sea days. My clothing consisted of a bathing suit and cover up or very casual (sporty) day wear.
Coral tank top, black shorts, neutral sandals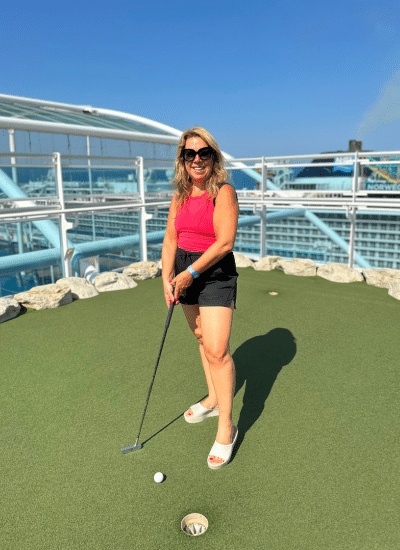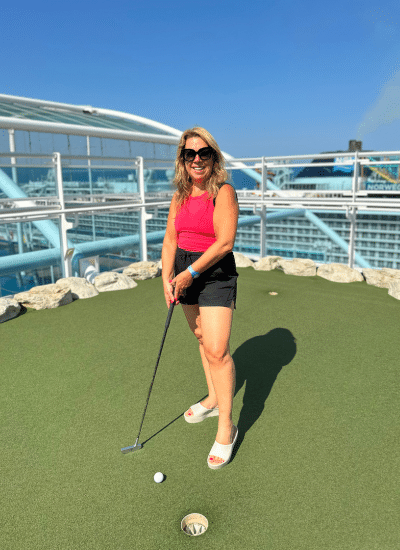 Get The Ultimate Cruise Planner
Regular price: $27 Now just $17!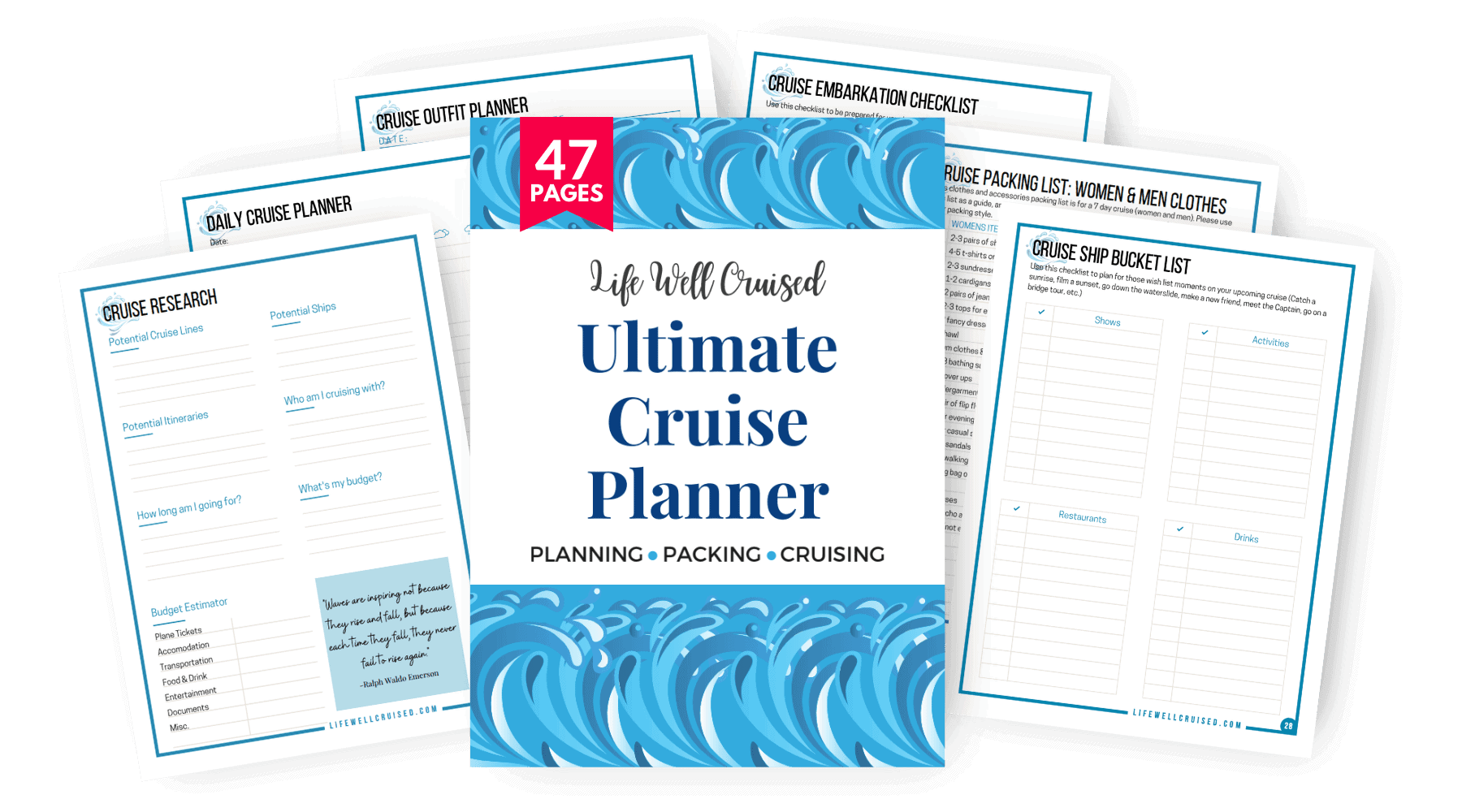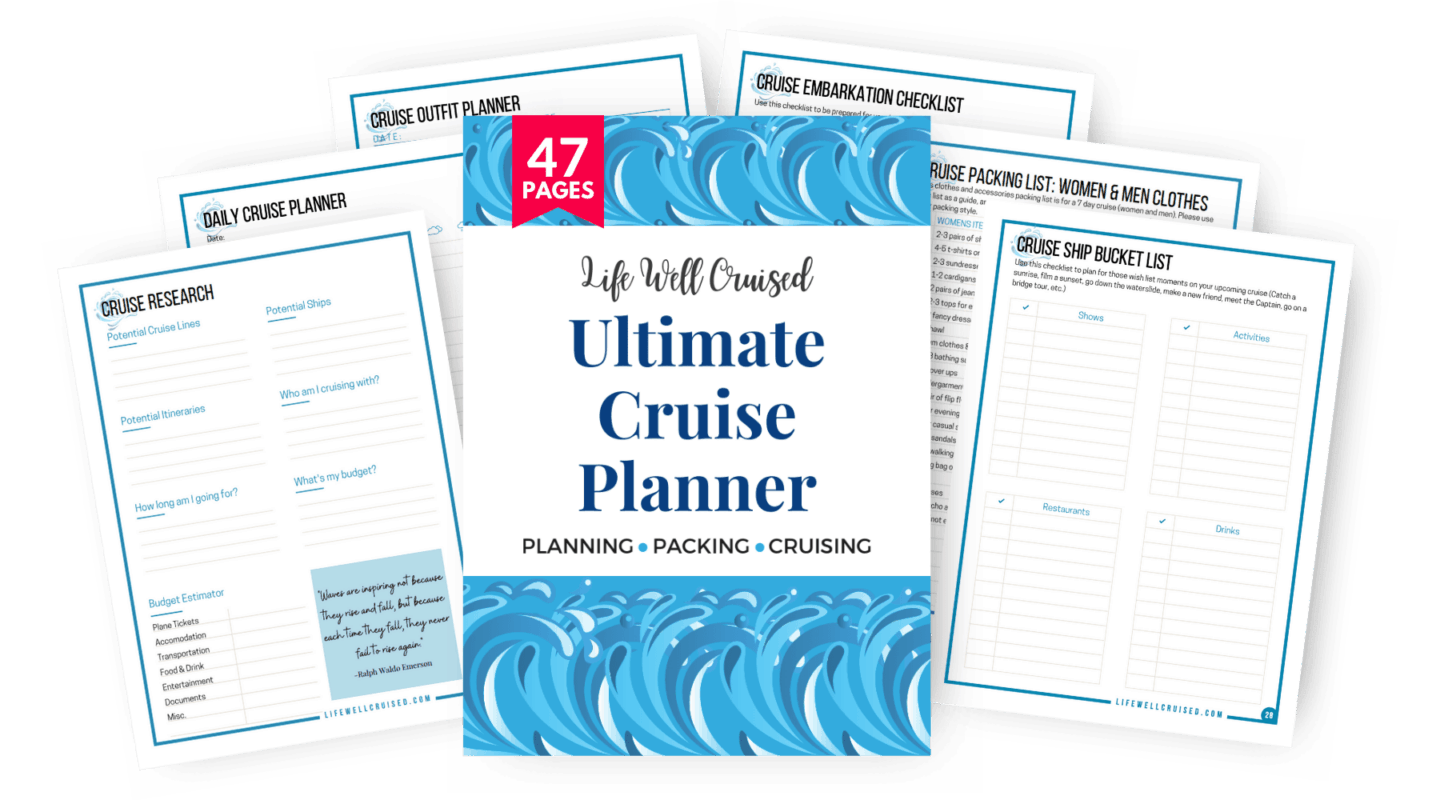 Mediterranean Cruise Evening Wear
During our 7 night Med cruise, the dress code was casual or smart casual most evenings. We had a formal night and a white and gold dress theme night (optional).
Ilana: Long blue summer dress with tan sandals – Frank: Dark blue suit, dress shirt (no tie), brown leather shoes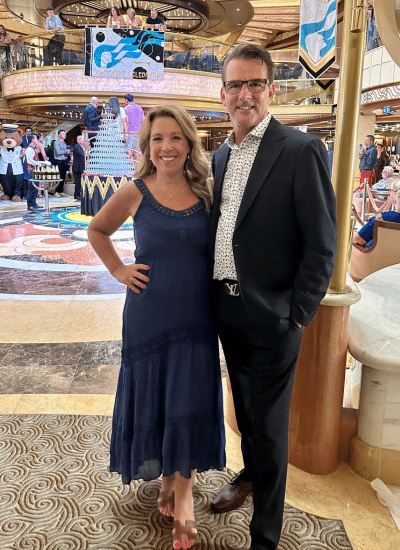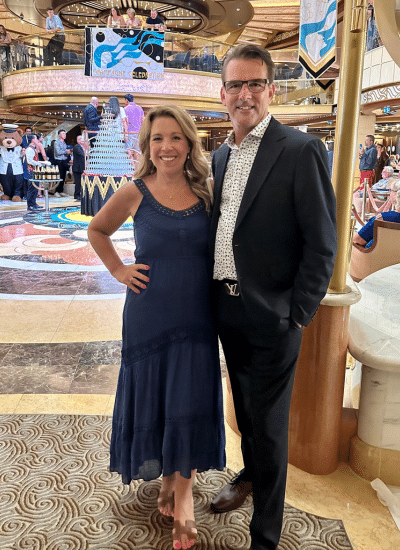 Ilana: White spaghetti strap dress, tan sandals, tan handbag – Frank: White polo style shirt & navy pants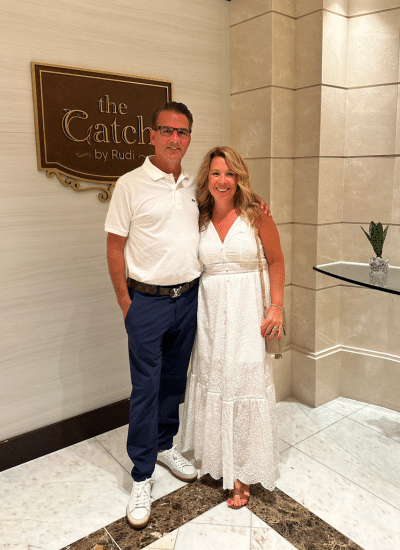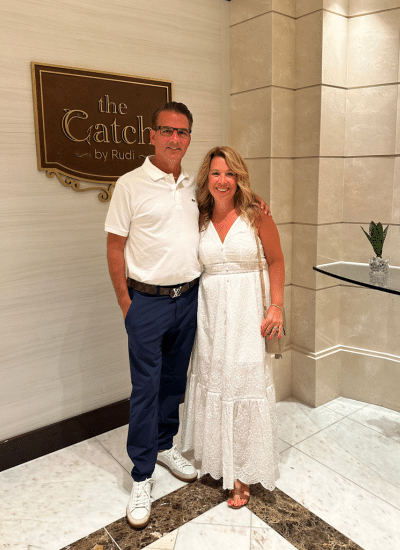 Recommended: Embroidery pearl white dress (see price & reviews on Amazon here)
Ilana: Floral dress & tan braided sandals – Frank: Blue polo style shirt & beige khakis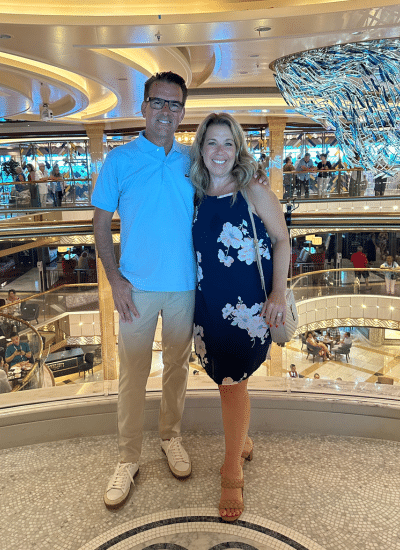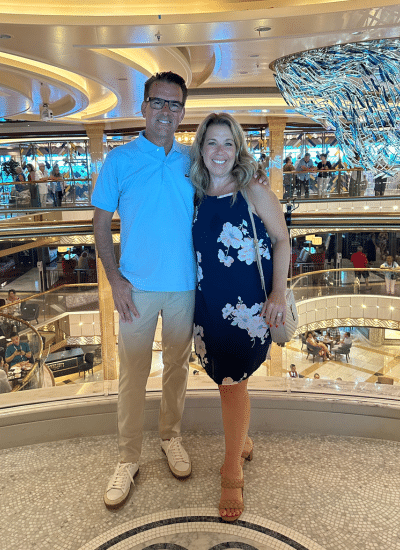 Recommended: Floral dress (see reviews & price on Amazon here)
I wore this blue and white sundress during the day as well as in the evening.
Tip: If you're trying to pack light for your cruise, consider doing some laundry if your cruise ship has self service laundry room (I did a couple of loads on my Princess cruise). You can also use the ship's laundry service.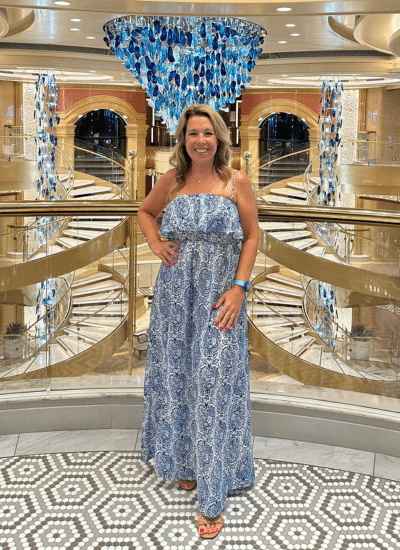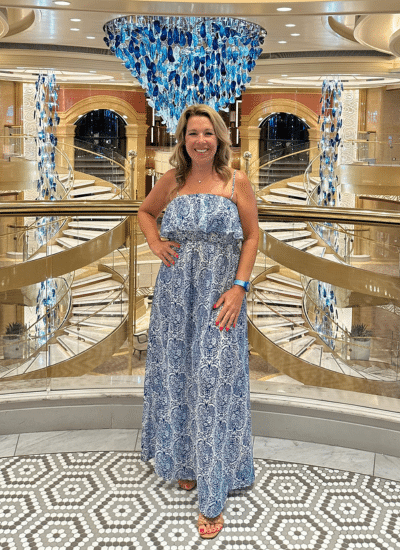 Recommended: Blue & white off the shoulder dress (one of my favorites)
Ilana: Short sleeve long black dress and black sandals – Frank: Blue/grey polo style shirt and black jeans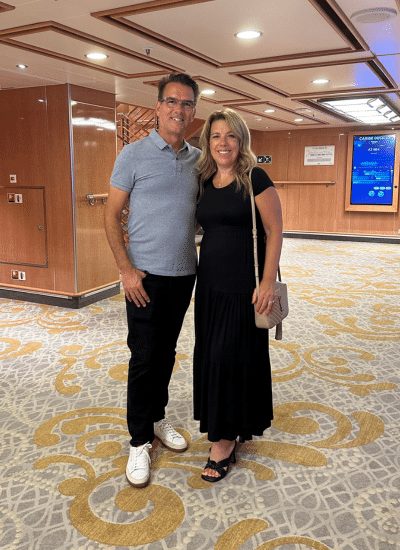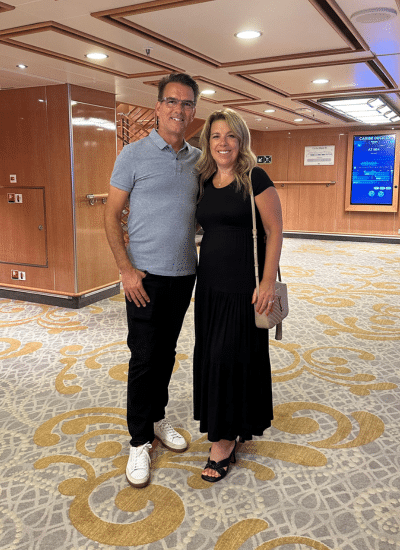 Blue print dress & tan sandals with straw woven handbag
I wore this pretty Zara dress for dinner while in Barcelona during our pre-cruise stay. I also wore it for dinner one of the evenings on our cruise.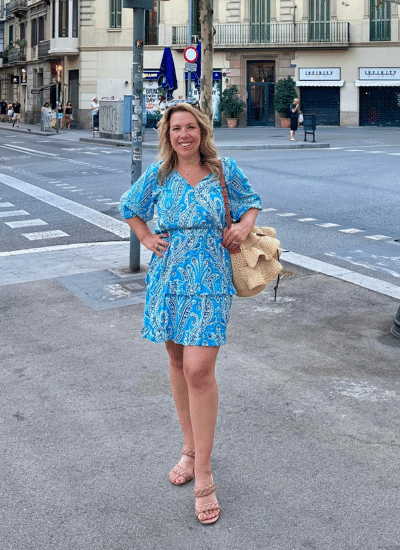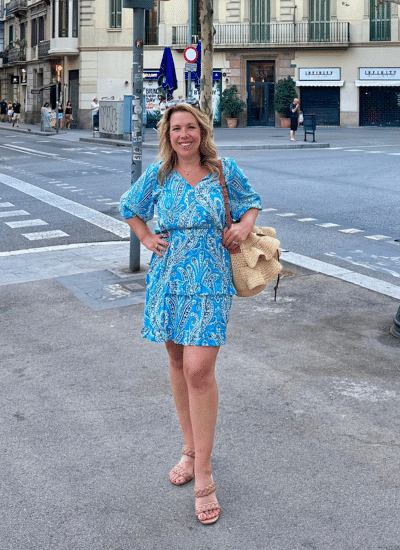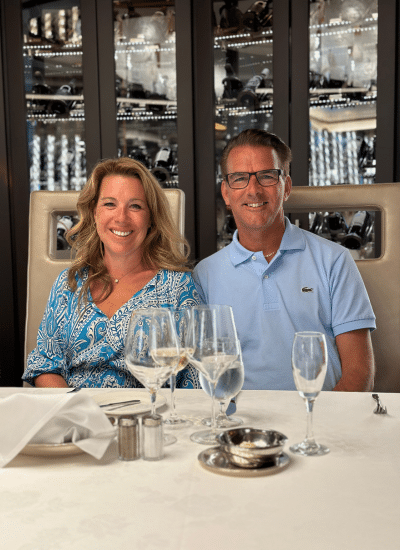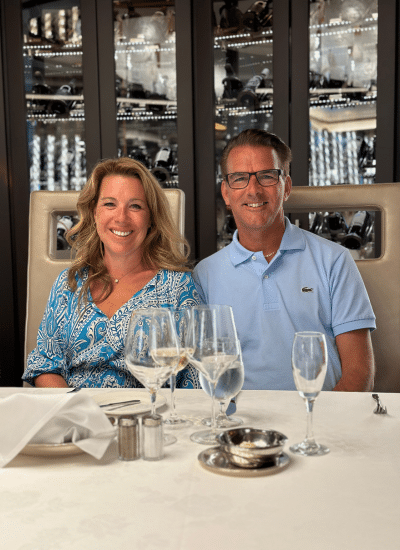 Important Items to Pack for Your Mediterranean Cruise
While not a full packing list, these are some essential items to pack for your Mediterranean cruise.
Cruise Luggage Tag Holders
Video: What Not to Forget to Pack for a Mediterranean Cruise
Related & Popular Posts
Get The Ultimate Cruise Planner
Regular price: $27 Now just $17!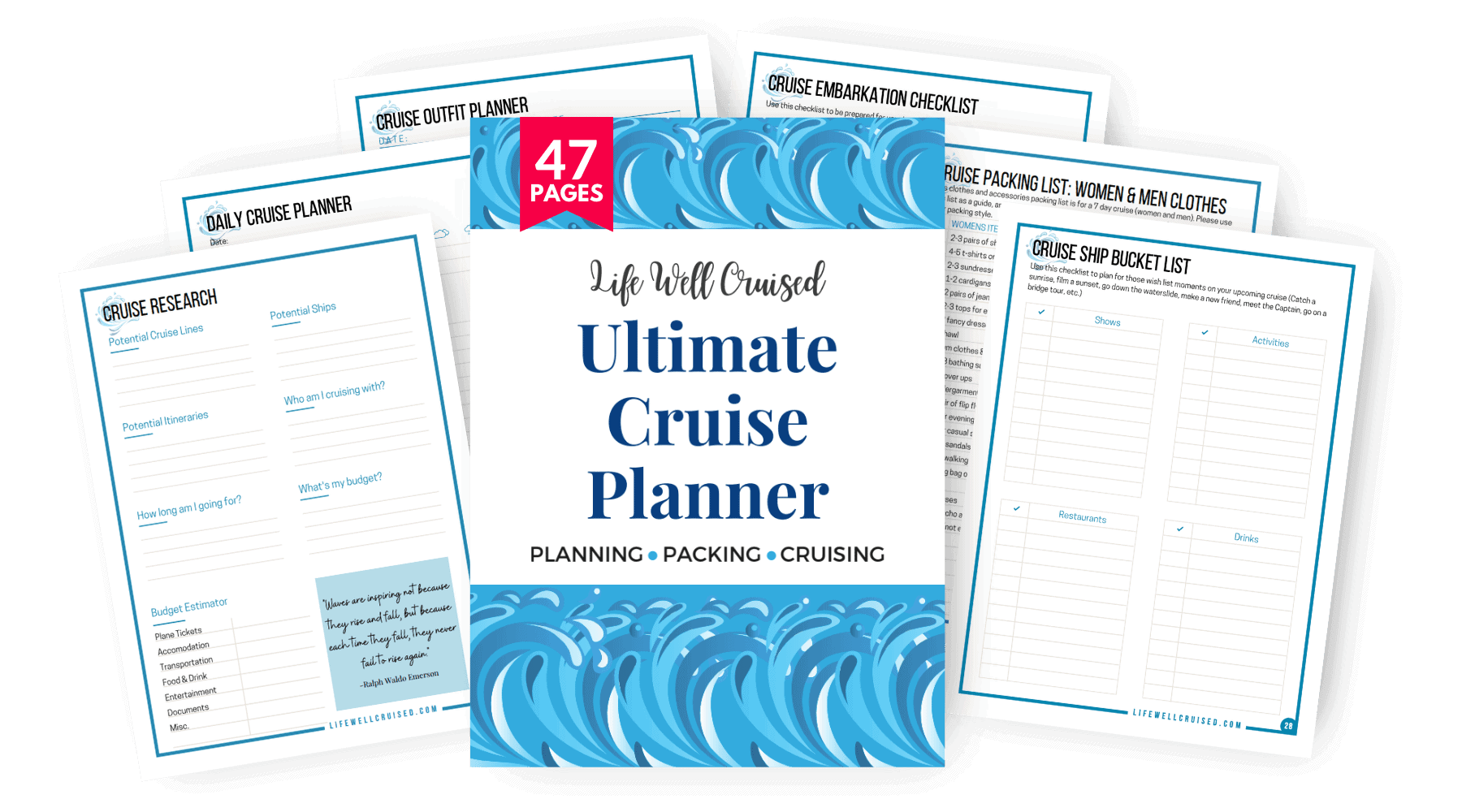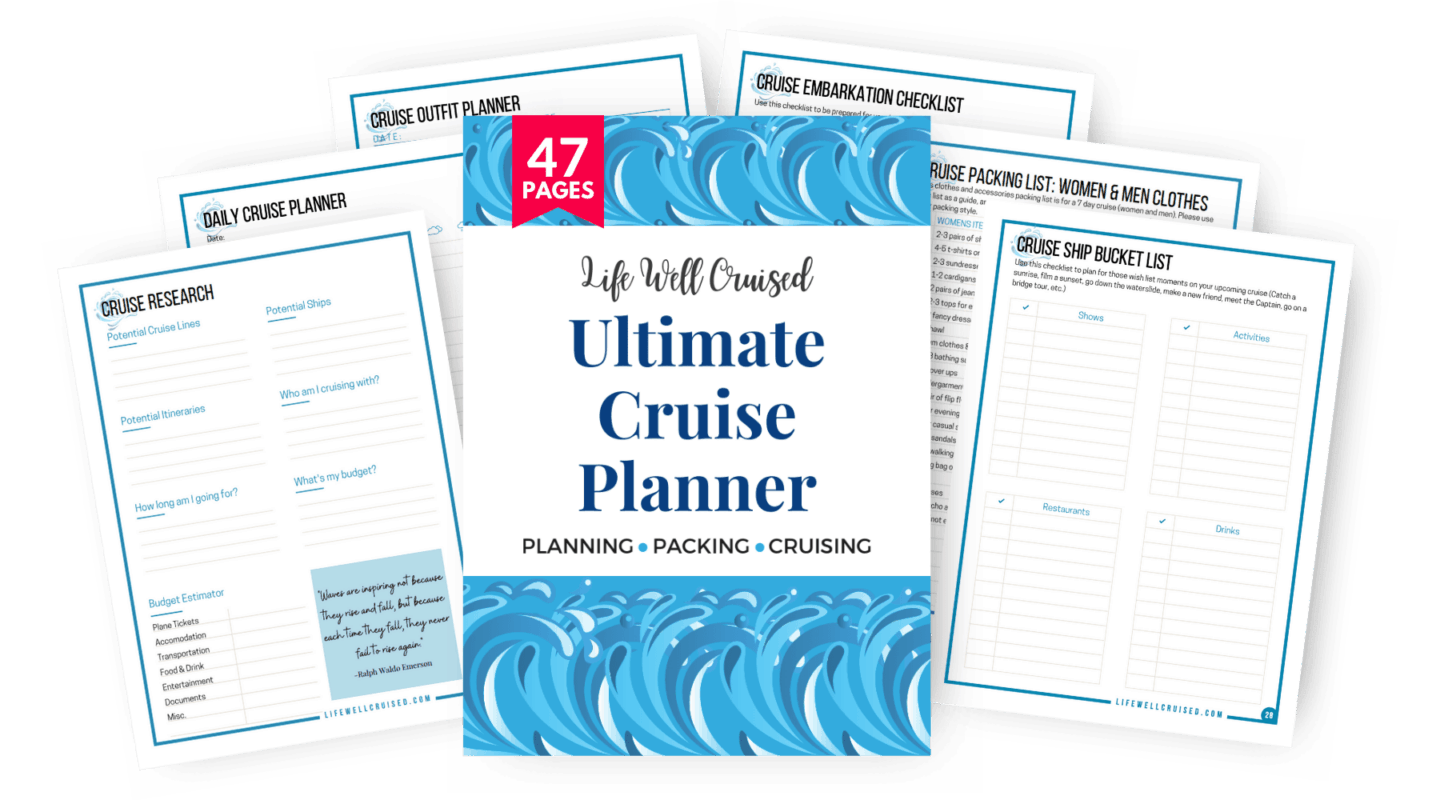 Final Thoughts on What I Wore on a Mediterranean Cruise
These are the outfits and shoes that I wore on my Mediterranean cruise. Our cruise was in August, and the temperatures were very hot. To plan for your cruise, be sure to check the weather forecasts.
Please let me know if you have any questions about what to pack and bring on a Med cruise.
Happy Cruising!
Ilana
If you found this article helpful, please pass it along. Please feel free to share on Facebook or PIN to your favorite Pinterest board (share buttons at the top). Thanks so much!