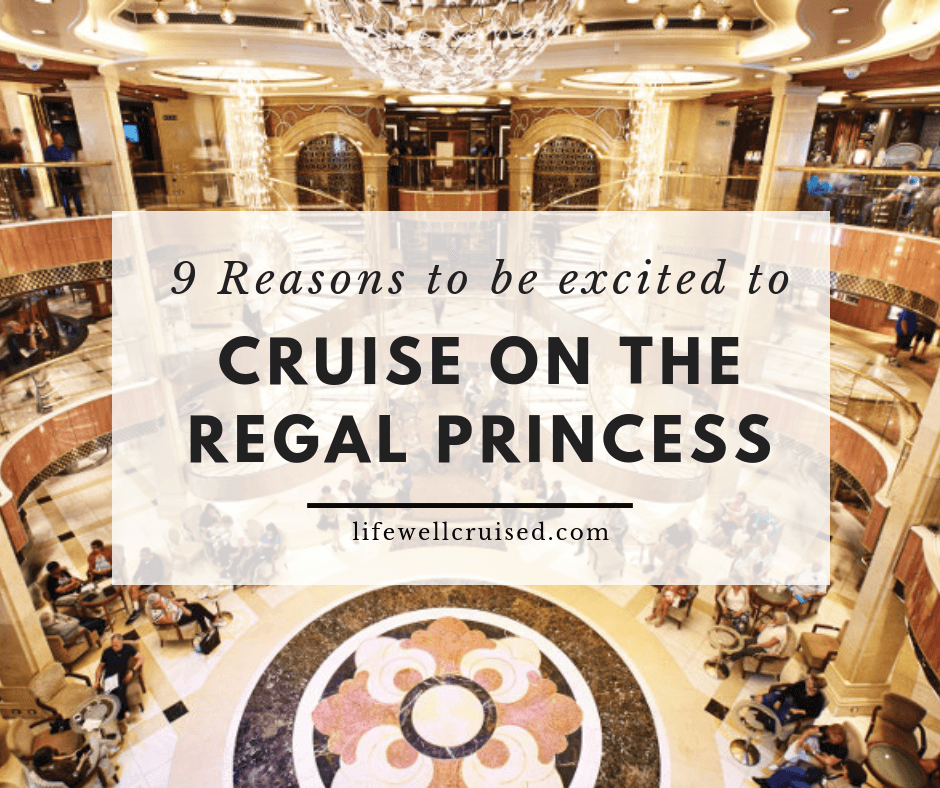 Great things about cruising on the Regal Princess
I recently booked a cruise on the Regal Princess and I am genuinely super excited – and I think you will be too!
I have cruised with Princess several times, but this will be my first time sailing on the Royal class. I figured if I wanted to know all about the Regal Princess (before sailing), there's a good chance others will too.
I have done a few cruises with Princess, and I can attest to the fact that we always feel comfortable on Princess and have enjoyed every one. We've cruised on the Caribbean Princess, Emerald and Crown (more than once).
Fun fact: The Crown Princess is actually one of my very favorite cruise ships. When you intimately know the layout of the ship and all its "secrets" it kind of feels like coming home, which is a great feeling!
But trying a NEW SHIP – ooohhh there is some excitement and mystery to this.
I've been spending the last few days scouring the internet for best Regal Princess cruise tips – the must do's, must see's and must eats ;-). I've been chatting with friends, clients and Facebook acquaintances gleaning all the info so I can bring it all right back here.
The feedback has been so good, that I knew this information just had to be put down in writing, to help any new Regal Princess cruisers.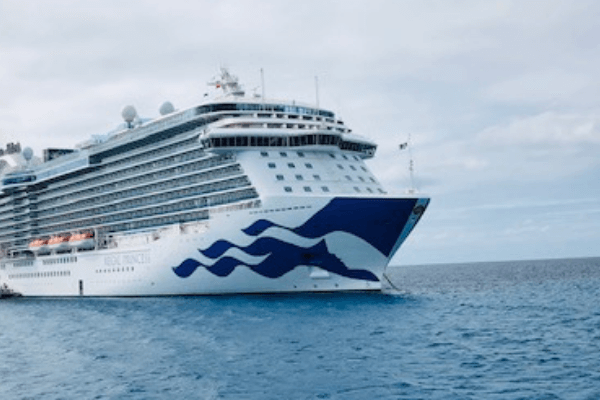 9 Reasons To Be Excited To Cruise on the Regal Princess
1. The Regal Princess is a gorgeous ship – check out the Piazza
As soon as you google images of the Regal Princess, you can see that she is a true beauty. I happen to love the Piazza concept (the atrium on Princess Cruises), but this ship takes it to another level. The largest and most grand of the Princess fleet, this atrium is simply stunning – glitzy and elegant all at once!
The Piazza is the central hub of the interior of the ship, housing bars, casual restaurants and shops. It's also a great place to see some live entertainment and hang out and relax a bit.
Now, I've cruised with Princess before, so I know that the Piazza often has some musicians playing and some demonstrations going on. However, this is definitely the most beautiful atrium I've ever seen, so I'm looking forward to experiencing it all first hand.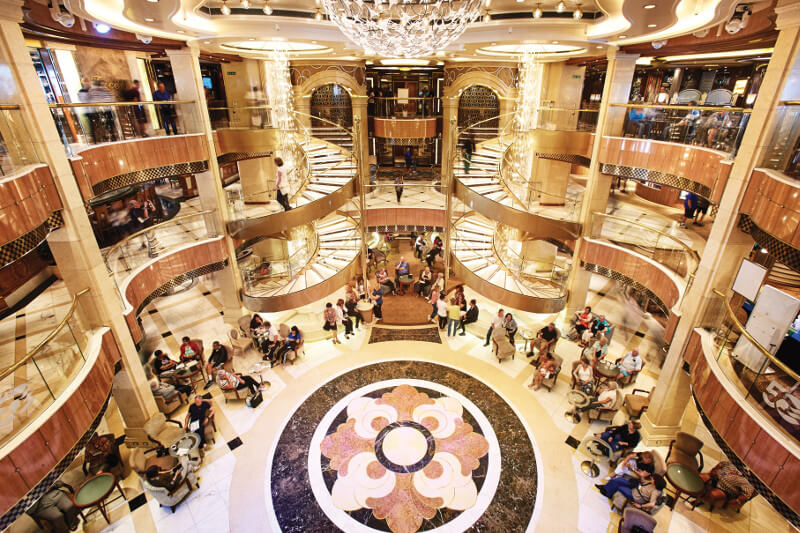 Isn't she gorgeous? (photo credit Princess Cruises)
2. The Seawalk
The Seawalk is a sort of walkway on either side of the main pool area. However, what makes it striking is that the floor is made of glass. 16 stories over the ocean and we will be walking on glass!!
Will I take the "Seawalk challenge"? Is that even a thing? I feel like it should be!
I actually don't love heights. However, this see-through glass walkway, cantilevered off the side of the ship looks completely safe, while making for a great photo op. Bets are, that I'll do it.
Plus, there's a bar in there. Yes, the Seawalk Bar is off to the side of the pool on the Lido Deck (I haven't been yet, so this is my understanding). Do you want to meet me there? Let's do it 😉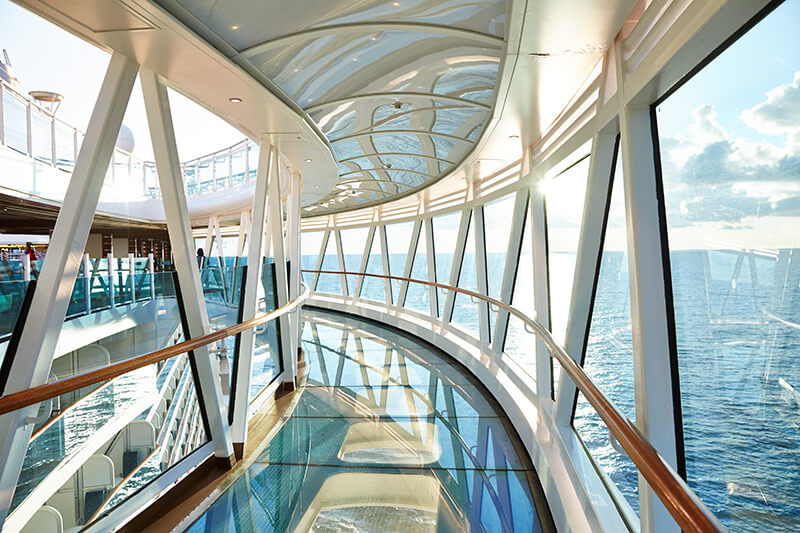 3. The Retreat Pool
I love a good adult-only pool, and this one looks heavenly. I have seen some photos and videos, and it appears spacious and uncrowded, and those cabanas – so pretty! Being honest I probably won't spend money to rent the private cabanas, but they are eye candy just the same.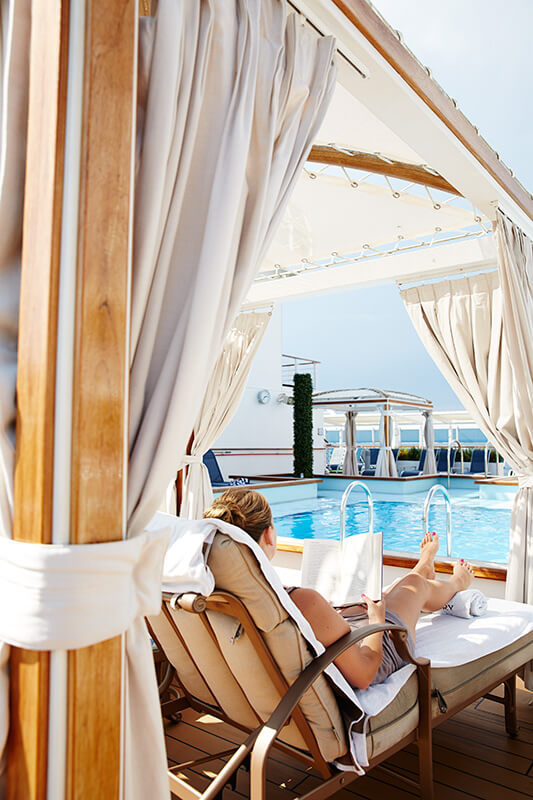 4. The Fountain Pool and Show
This raised platform on the main pool deck looks like it would be pretty nice during the day, however at night – BIG WOW! The bright colors set against the darkest sky and sea. The Regal Princess has fountain shows at night that look incredible. This one is worth watching (see below and click play).
From the addition of music and the use of the MUTS big screen imagery, I'll need to drag myself away from the Seawalk Bar, but I think it will be worth it!
5. Alfredo's Pizzeria
I already really like the Princess Pizza available outdoors at the pool deck. So, when I heard that the Regal Princess has a sit down casual Italian restaurant right in the Atrium, I was very happy. It is also included, so there is no extra charge.
Rumor has it that the salads and calzones are fantastic. I've also been told that I must have the sangria as well. I will be trying and reporting from the ship in a few weeks, so follow me on the Life Well Cruised Facebook Page for my honest opinion. I may even have that as my first lunch on board, so as to avoid the buffet, but we'll see.
Update
We have gone to Alfredo's (too many times) and it was delicious. Here is a review with photos and the menus: Princess Cruises Alfredo's Pizzeria – the Best Pizza at Sea
6. The International Cafe
Although the International Cafe can be found on other Princess Cruise Ships, it just wouldn't be fair to new cruisers if I didn't mention it. The International Cafe is on the first floor of the Piazza. It's a great place to pick up something quick and delicious in the morning, such as donuts and pastries, a breakfast egg sandwich or a yogurt parfait.
There's also tasty lunch sandwich options (my absolute fave is the tomato and mozzarella panini) and great snacks and desserts as the evening rolls along. It's really good!
I'm mentioning this as on each sailing, we will meet people several days into the cruise, that still haven't realized that the International Cafe foods are included. It's really a nice casual option, so do give it a try.
Tip: Coffees and teas are not included in the International Cafe, however you may purchase a specialty coffee package.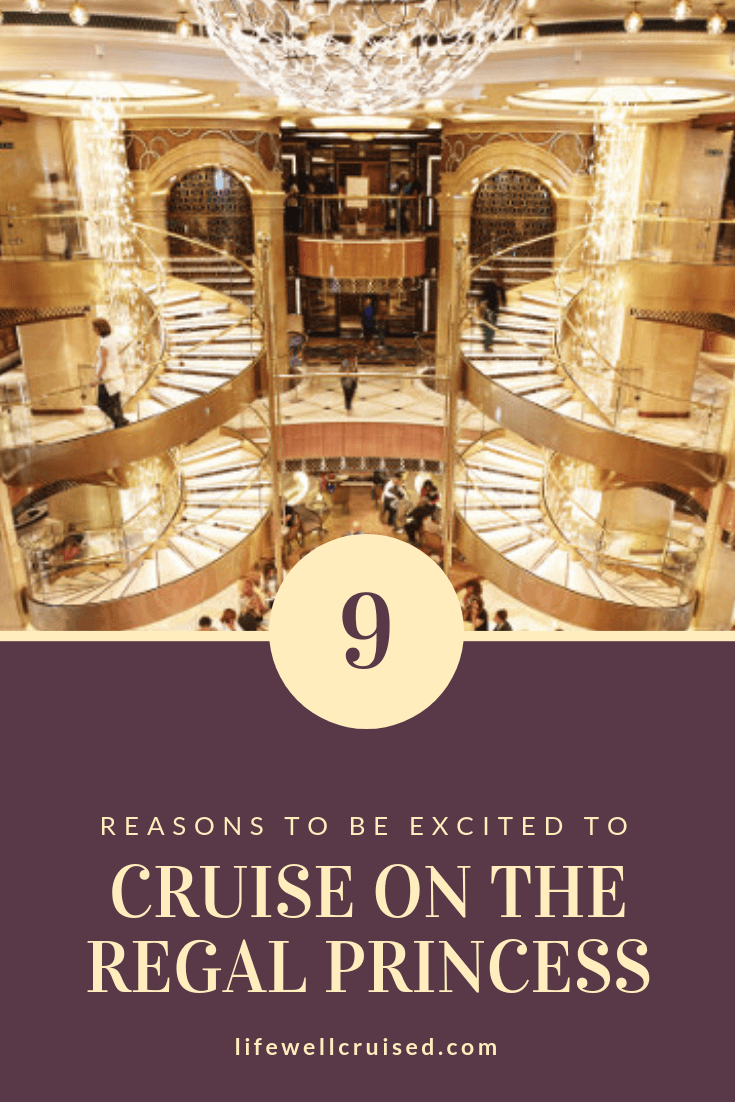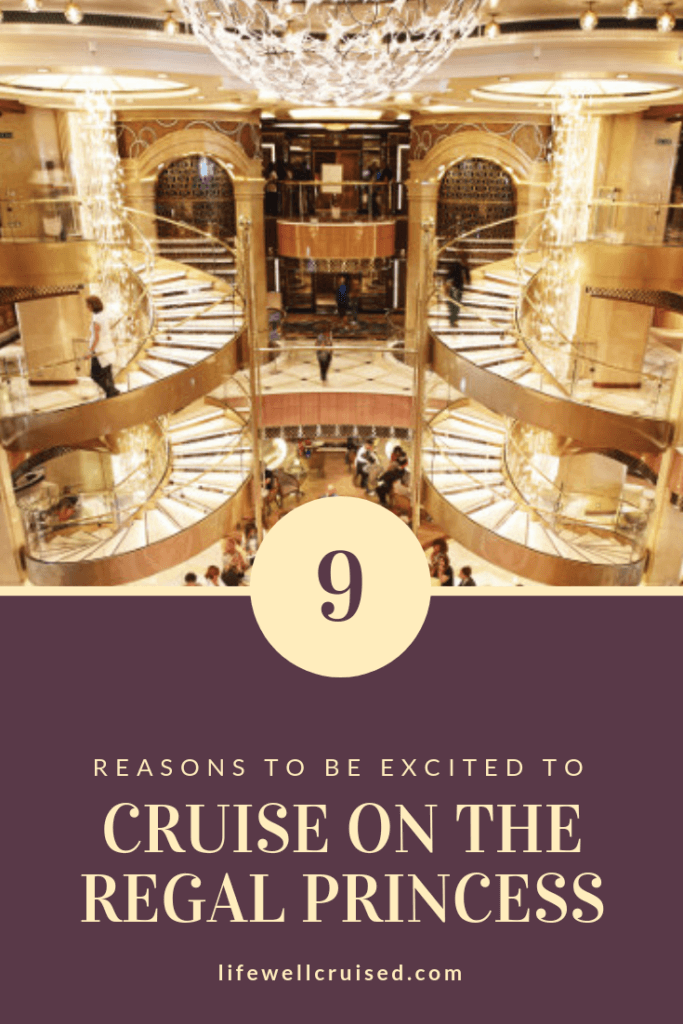 7. Bellini's Bar on Regal Princess
I definitely want to try this bar for the location alone. Bellini's is located on Deck 6, the second floor of the grand 3 story Piazza. It looks so elegant and it may just have the best view in the house!
A Bellini, is typically a drink made with Prosecco combined with a peach puree. However, according to menus I've found online, there are many creative variations to choose from.
Usually, when cruising with Princess, I'm a big fan of the Crooner's Martini Bar. My husband and I will spend some time (and money) hanging out there having a Milky Way (me) and Lemontini (him). I'm wondering if I'll even like a Bellini, but I'm willing to give it a try ;-).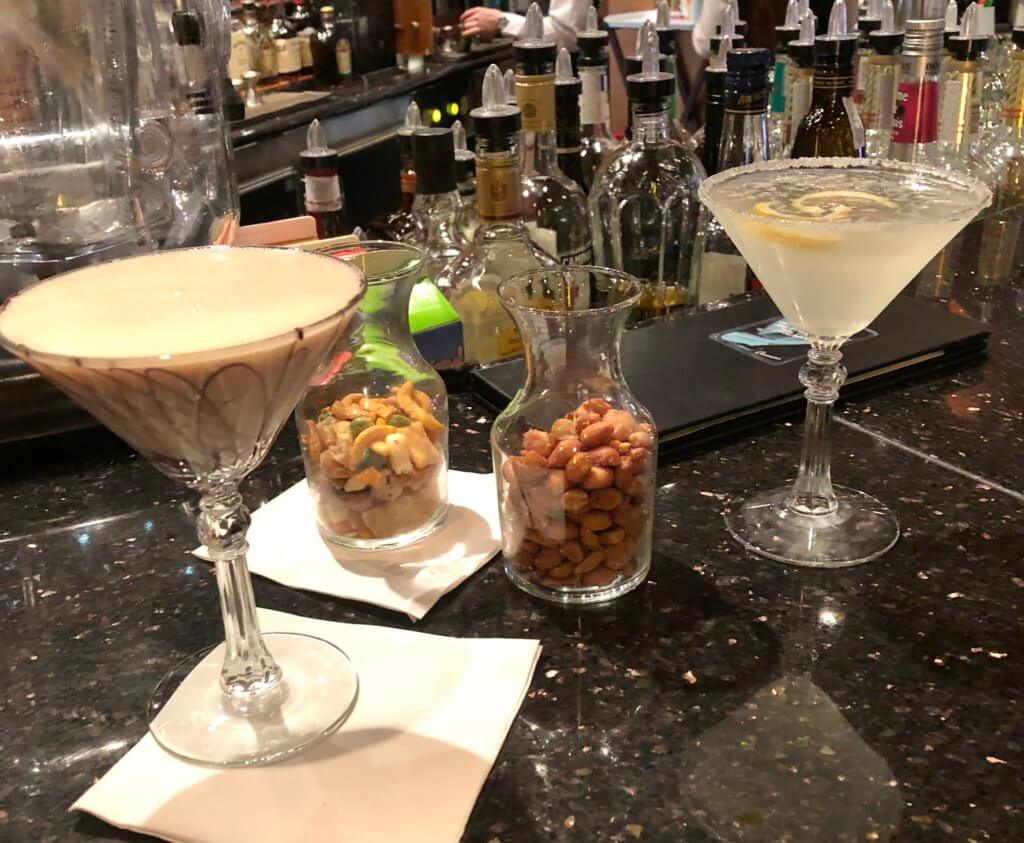 8. The Balloon Drop
One of my favorite parts of cruising with Princess, has always been the Balloon Drop. We've actually experienced this twice on New Year's Eve, including last year when we did a large family cruise for my parent's 50th Anniversary. I love the lighthearted and festive atmosphere that we always find when we cruise with Princess.
Now, the Regal Princess has a much larger Piazza than we've experienced in the past. I wonder if it will be better (less crowded), or if it will take away from the intimacy of the venue? I'll have to let you know, but I am excited to find out!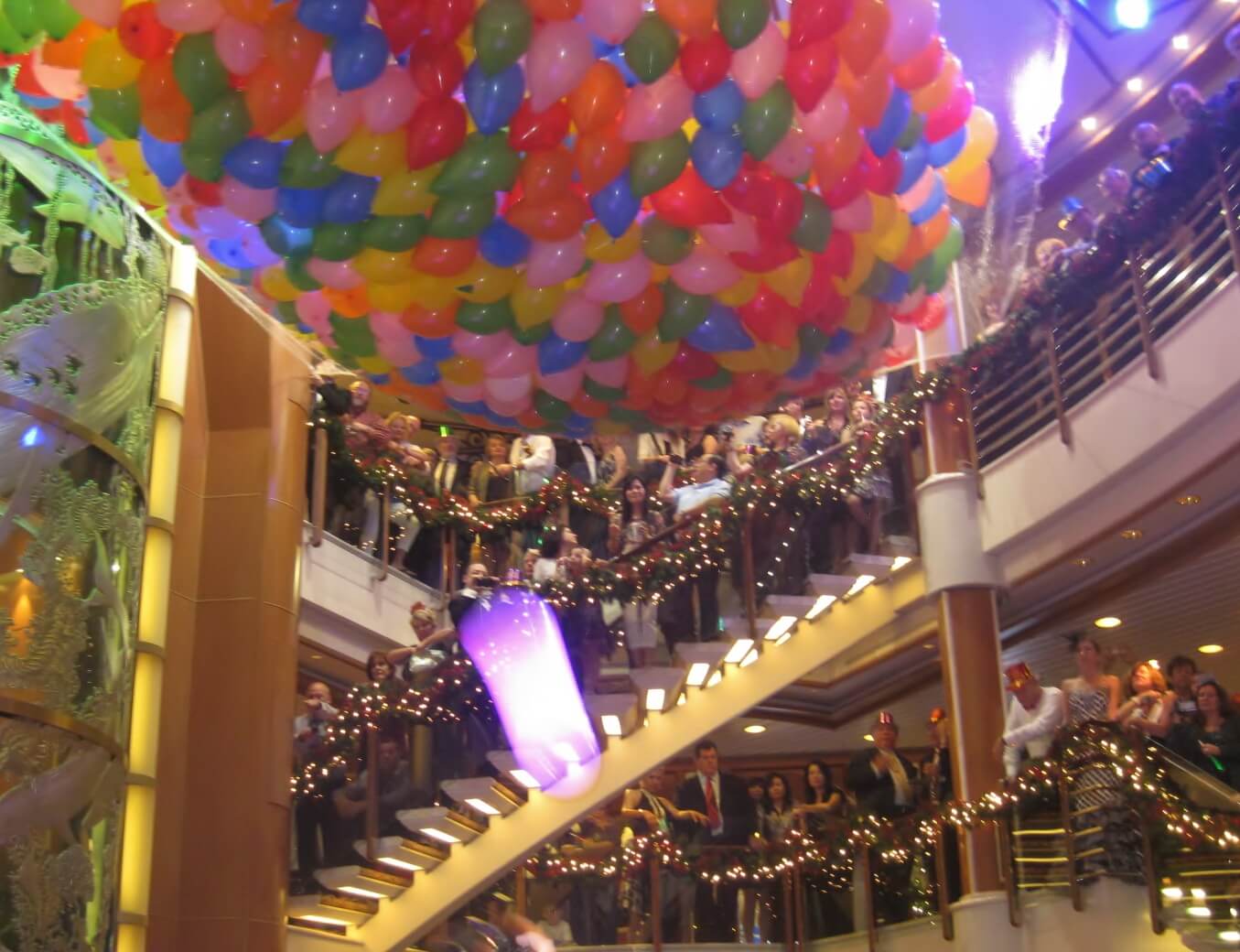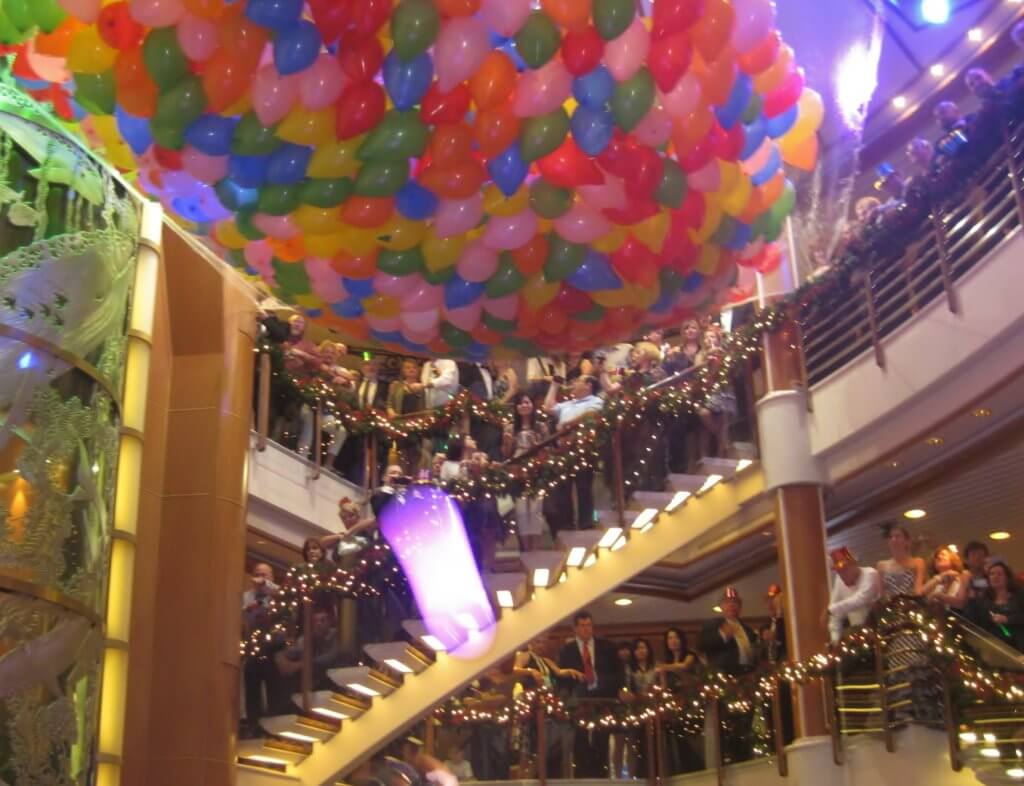 9. The Love Boat Nostalgia
Did you know that The Love Boat Cast actually christened the Regal Princess? 6 members of the Love Boat Cast are the Godparents of this ship. This came about as the cruise line was celebrating its 50th anniversary.
Along with this, some nostalgic Love Boat elements were brought in to the cruise line, highlighting its strong connection. I for one, love it! And many cruisers do too. After all, The Love Boat reminds us of romance on the high seas, friendship, adventure and perhaps a simpler time of enjoyment and relaxation.
Don't worry, its not over-run with Love Boat paraphernalia (at all!). But, you can watch episodes of The Love Boat in your cabin. When I cruised on the Crown Princess last year there was also a Love Boat Disco Deck Party. I actually have an embarrassing video of me disco line dancing (which I did not share, lol).
Here's the Love Boat theme song for your enjoyment 🙂 "The Love Boat, soon will be making another run…"
Recap: The 9 Reasons to be excited to cruise on the Regal Princess
These are the main reasons that stand out as to what I think looks pretty amazing on the Regal Princess, however I'm sure once on board, I'm going to find some extra surprises that I'll enjoy.
Some things I am intrigued by and may try out include the Winemaker's Dinner. My understanding is that this intimate dining experience, can be booked on board. I will keep an option to reserve this for a special night if we can.
I've also had strong recommendations to attend the Afternoon Tea served in the main dining-room. In our many years of cruising, I have not yet gone for tea and scones. Although it sounds delicious, I am usually a "nachos and salsa" kind of girl, hanging out at the pool in the afternoon. We'll see if that changes this cruise. You never know.
I can see there will be no shortage of good food on this cruise! I think I'll be checking out the gym and running up and down the stairs to minimize the damage. Hmmm, fitness center, jogging track, spa? I'll have to check that out.
Finally, MUTS (Movies Under the Stars). I may just check out a movie one night on the big outdoor screen, sitting under a blanket with popcorn. I think it's a pretty cool option to have, but haven't done this in many years.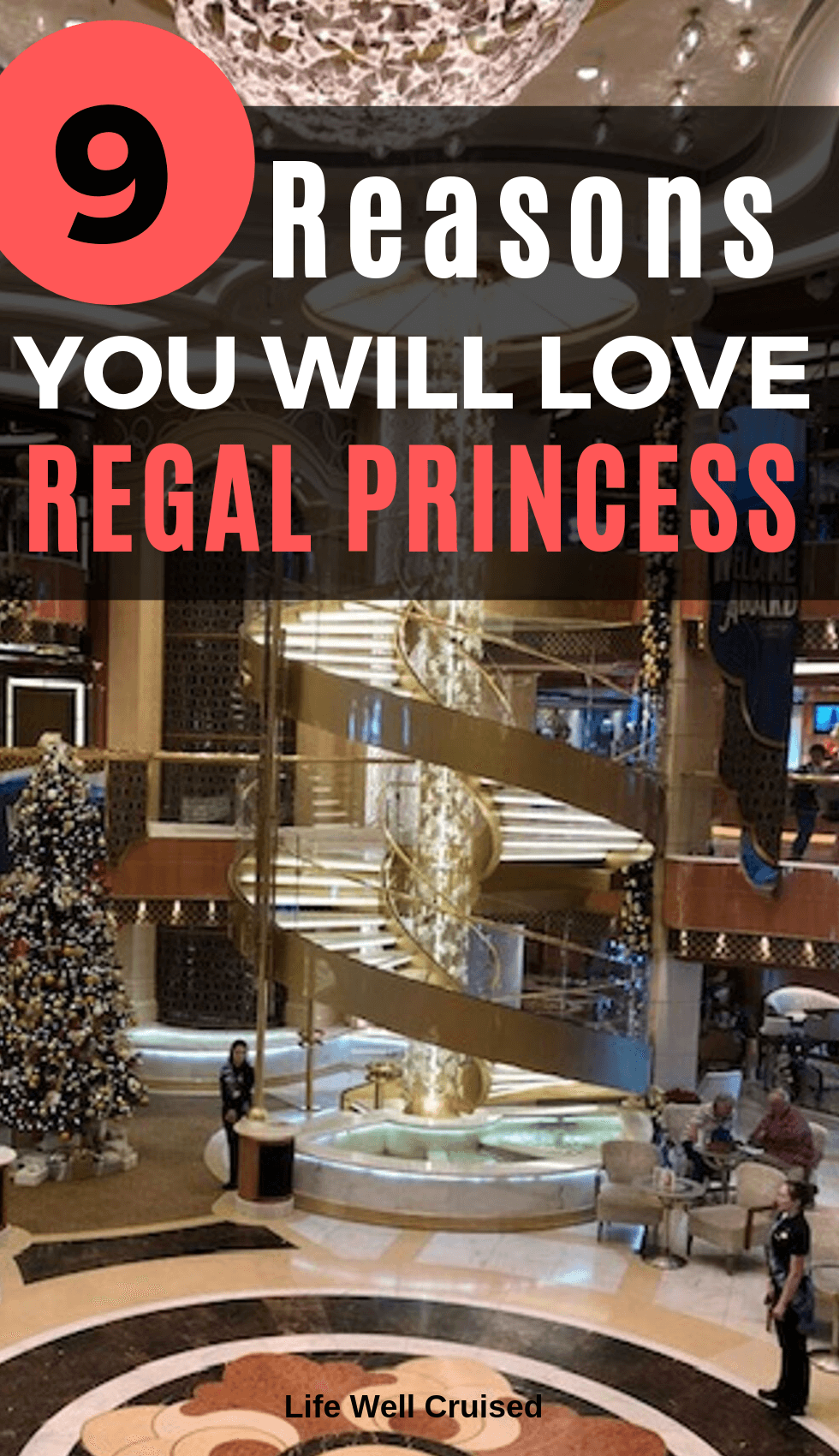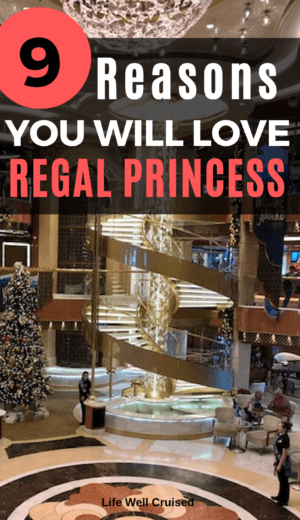 UPDATE:
Here is our review (spoiler alert – a great cruise): Regal Princess Cruise Review; A Back to Back Holiday Sailing
Have you cruised on the Regal Princess or are you planning to soon? Let me know what you think in the comments below.
Happy Cruising!
Ilana xoxo
P.S. If you enjoyed this post and found it helpful,please don't keep it to yourself. Please PIN to Pinterest to save,or share on Facebook. Thanks so much!
Popular posts:
Princess Cruises: 15 Best Tips for First Timers
21 Things You Need to Know About Ocean Medallion
27 things To Do on a Cruise Sea Day (and not be bored)
Let's connect:
Life Well Cruised on Instagram
Life Well Cruised on Pinterest