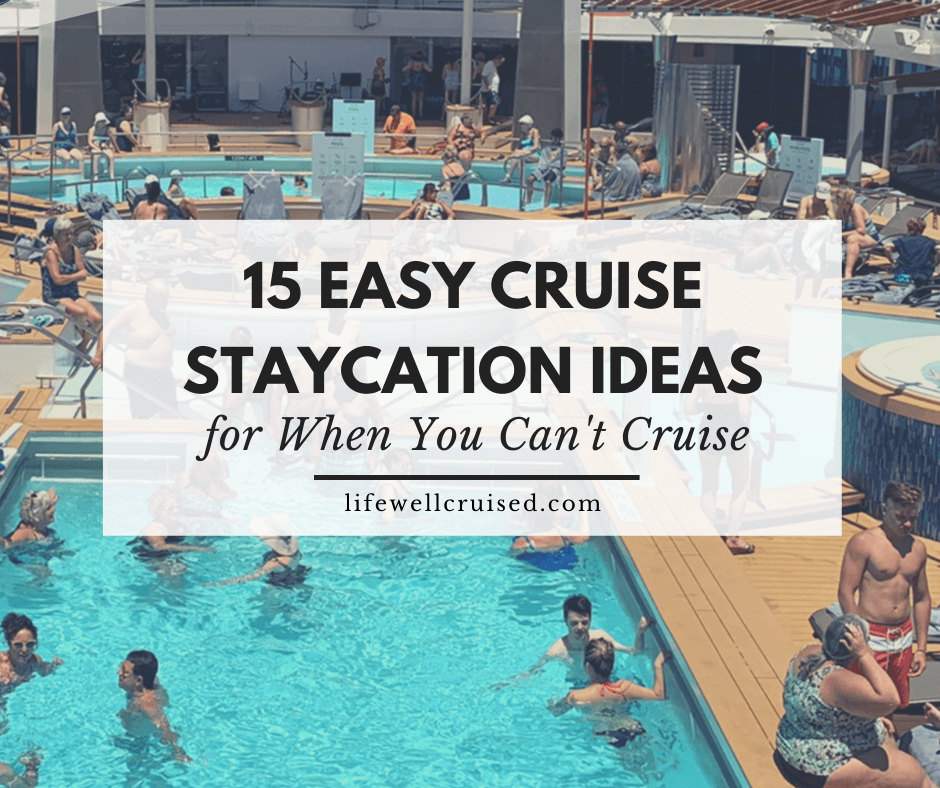 Virtual Cruise Vacation Ideas That Are Easy to Do at Home
I don't know about you, but I'm having some serious "cruise blues" these days. We all work hard and look forward to getting away and having a real vacation (which is a synomym for a cruise, right?).
Perhaps you've had your cruise canceled for now, or you've decided to postpone your cruise vacation for a few months. I know how tough and disappointing this is, even if it's the right thing for us at this time.
But I'm all about positivity and solutions, and creating your own cruise staycation, can be a welcome distraction in these times.
I know we'll cruise again in the future, but right now, the most important thing is that we take care of each other and keep well.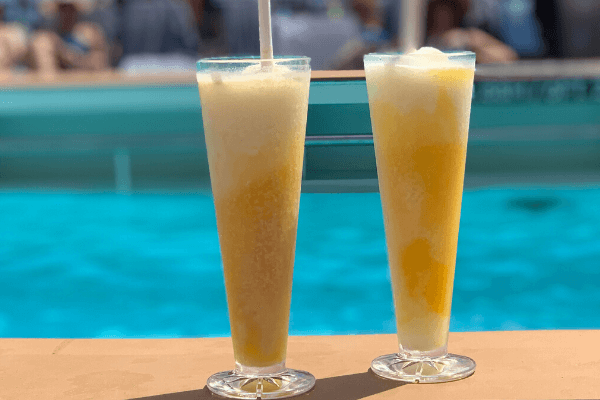 Cruise Staycation
Guess what I was singing today?
For real, this song, well really a parody of this song (Vacation) popped into my head.
Queue the music and sing it with me –
"Staycation, not what I wanted. Staycation, I'd rather get away"
So, until we can cruise again, and especially if we're house-bound, I've put together a fun list of cruise theme staycation ideas. Use them now and/or save for later.
If we can't cruise right now, we can certainly go on a virtual cruise!
I've actually hosted Love Boat Cruise Theme Days for kids in the past as well as Cruise Sailaway parties for our adult friends who love to cruise.
I'm also seeing people share some innovative ways that people are continuing to have those cruise vacation experiences, by recreating them in their own homes.
Have some online cruisey friends? Consider hosting your very own Virtual Cruise
15 Simple Cruise Staycation ideas – to bring the cruise fun into your home
I wanted to make sure that these cruise staycation ideas are easy, and actually doable while you're at home. You could pick one or 2 things to do, or recreate a 7 night Caribbean cruise if you're feeling really creative.
If you're home schooling your kids right now, there's so much you can do to make staying at home actually fun. Create a family project where the kids can plan or participate in activities, just like on a cruise.
1. Cruise destinations – Pick a fantasy cruise itinerary
If you have kids, have them research where they'd like their cruise ship to go. If you've already been on a cruise, maybe there are some favorite destinations you'd love to go back to. Perhaps there are news ones that would be fun to explore.
You can take a look on any cruise line website to get some ideas of itineraries, but don't feel bound by them, as after all, you're the Captain of this ship ;-)!
It can be a great learning experience for the kids to find out the history of an island, as well as research some of the unique things to do once there (and recreate if possible).
To give you some ideas, Cozumel is a popular cruise destination. It has great things to do from beach days, water activities, chocolate and tequila tours (this one's for Mom and Dad), and even an "Amazing Race" for families.
Have the kids write out a mock cruise itinerary based on their research, and pick shore excursions they can somehow recreate at home.
If you don't have kids and it's the adults having a virtual cruise, that's ok too!
2. Beach days at home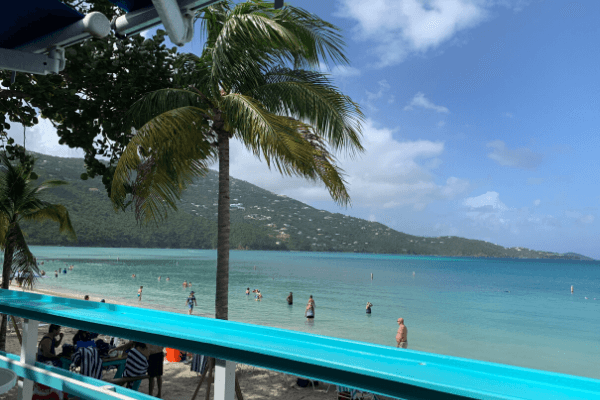 Getting off a cruise ship and heading to the beach is so much fun! Recreate a beach day either outdoors or indoors.
If you can get outside and have a pool, do it. Otherwise you can set up your inflatable or plastic pool, or put on the sprinkler. Set out the lounge chairs and put on some music. We need to relax and enjoy, even if we're stuck at home.
If the weather doesn't allow you to head outdoors just yet. You can still recreate that atmosphere, and even let the kids get into bathing suits and have fun.
3. Play Your Favorite Cruise Songs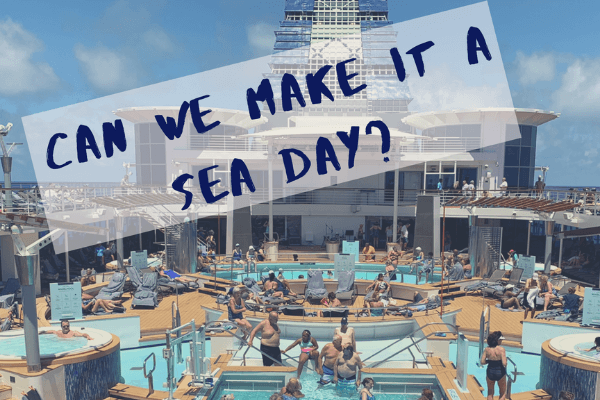 Do you have a cruise playlist already? If not, why not create one so you can listen to your favorite cruise songs that get you in a happy mood?
Plus, it will be ready for your next cruise vacation!
Turn that music up at your cruise party, even if it's only you and your family or spouse.
Here's a list of 20 awesome cruise songs that will get you in a cruise mood for sure: 21 Best Cruise Songs: The Ultimate Cruise Playlist
4. Dance to the Cupid Shuffle
Do you participate in the line dancing on cruise ships? I actually do, especially if there's a sailaway party. It just gets me feeling happy!
Since we all need movement, here are some tips on how to recreate the Cupid Shuffle and Chacha Slide, and more, at your own home pretty easily.
Head over to YouTube where you can find video lessons as well as cruise videos where people are dancing, and join in.
If you're recreating a 7 day cruise, consider having poolside line dancing every day, and add it to a pretend daily cruise schedule.
5. Watch Cruise TV Shows
Love Boat Marathon anyone?
You can find and watch old Love boat episodes on YouTube. I'm a bit of a cruise nerd and actually do this on occasion in preparation for a cruise. You could probably keep busy with some old favorites from now until your next cruise!
There are also some amazing cruise movies, series and documentaries that you can find on Netflix or Discovery channel, including "The Mighty Ships", which cruisers are just loving!
6. Recreate your favorite cruise ship foods for your very own "Captain's Night"
Consider making a special Captain's or Formal Night menu, or recreate some of your cruise line favorite dishes.
Here are some recipes you may want to try:
This list of famous cruise line favorite recipes includes Carnival's Chocolate Melting Cake and Princess Cruises Fettuccine Alfredo recipe.
You can also be flexible and create your favorites from what you have at home. Sometimes it's the thought and presentation. Consider dressing up and having a 3 or 4 course meal, with your own version of cruise line recipes.
Print out an invitation to Captain's Night and a menu and the mood is set!
You may even want to take out the cloth napkins and end the meal with "La Viva Italia" and some napkin waving.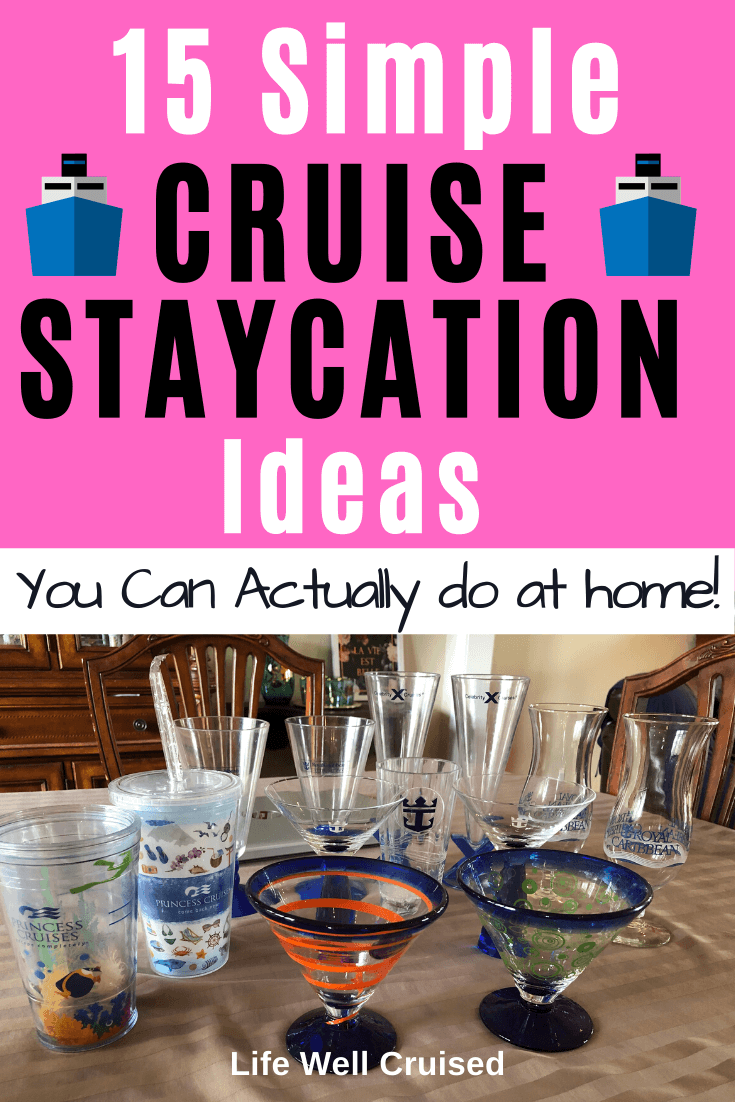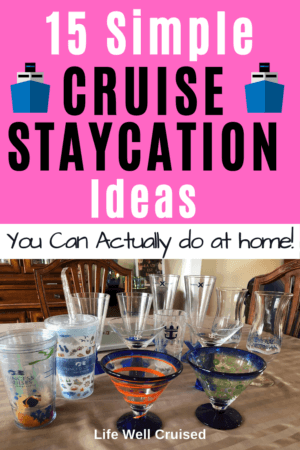 7. Take a cruise ship tour – a virtual one
On many cruise line websites, you have the ability to take a virtual ship tour, right from your home computer or ipad.
If you have a cruise planned for the future, take time to learn all the ins and outs about this cruise ship.
8. Cruise YouTube Videos and Vlogs
Since we canceled our Alaska cruise for this year, and it was really a "bucket-list" trip, we are fully planning to go to Alaska next summer.
In the meantime, since we are spending so much time at home these days, we're using some of this time to watch some cruise vlogs and cruise vacation videos on YouTube for now.
One of the regular things we do before every cruise, is do a search on YouTube for our cruise ship and itinerary. There are so many amazing cruise videos out there, from Cruise Vloggers who offer great tips, to folks who upload fun vacation videos as well.
Ofcourse, you can also read and save blogs and articles from Life Well Cruised and the many other fabulous cruise blogs.
Do you have some favorite vloggers and bloggers we should know about? Please leave a comment below.
9. Cruise Cocktails and mocktails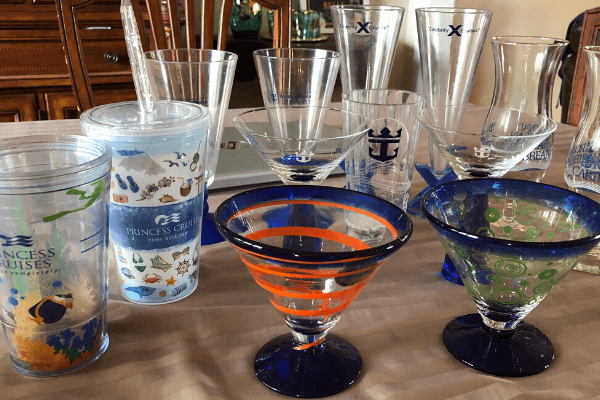 Recreate that cruise feeling on your staycation by making some favorite frozen drinks or cocktails.
It can be pretty easy to make either alcoholic or non-alcohlic drinks at home. The frozen Barcardi Pina Colada mix is often what I use as a base, even here in summer when we aren't cruising but want to feel cruisey. You can add some frozen mango or strawberries for more flavor (and it's healthier).
You can also find margarita mixes and other drinks in the grocery store.
Add rum or the appropriate alcohol for adults, and make virgin cruise drinks for the kids.
10. Set the tone with Nautical party decorations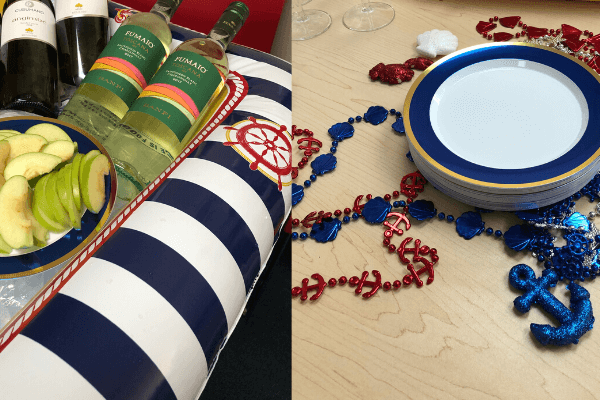 Decorate your livingroom, family room or kitchen with a nautical theme to make it this cruise staycation feel like a private cruise party!
Here are some cruise theme decorations that you can print out on your home computer. There are banners and cake toppers and more!
These FREE printables from Catch My Party are adorable!
11. Kid's Club – Cruise theme crafts for the kids
If you've got kids at home and are struggling to keep the occupied and having fun, recreate a version of the cruise kid's club.
If you have beads at home and some gimp, they can make friendship bracelets. If you have some paint, put on the aquarium channel and have them paint the fish and sea.
Virtual cruise ship coloring – Check out these online coloring pages to keep kids busy and having fun. They can color this cruise ship and personalize it again and again.
12. Cruise photo time
Create a fun backdrop or green screen and take your very own virtual cruise photos. Dress up or dress down and have some fun.
Some photo ideas:
Cruise ship backdrop
Backyard sunset with wine in hand
Sunrise at the lake or from your front yard
Beach or pool photos with cruise drinks in hand
Family staycation photos – perhaps create a lifesaver banner for your front door as a backdrop
13. Cruise Spa Day
There are days when we'll want some R & R, so create a cruise spa day at home. You can set out a baby pool, soak your feet and do pedicures. If you have girls at home, get the nail polish out and do manicures.
Why not feel fancy and serve some citrus infused water? Simply slice an orange, grapefruit or lemon and fill a glass pitcher. Water always tastes better with a little flavor.
14. Specialty coffee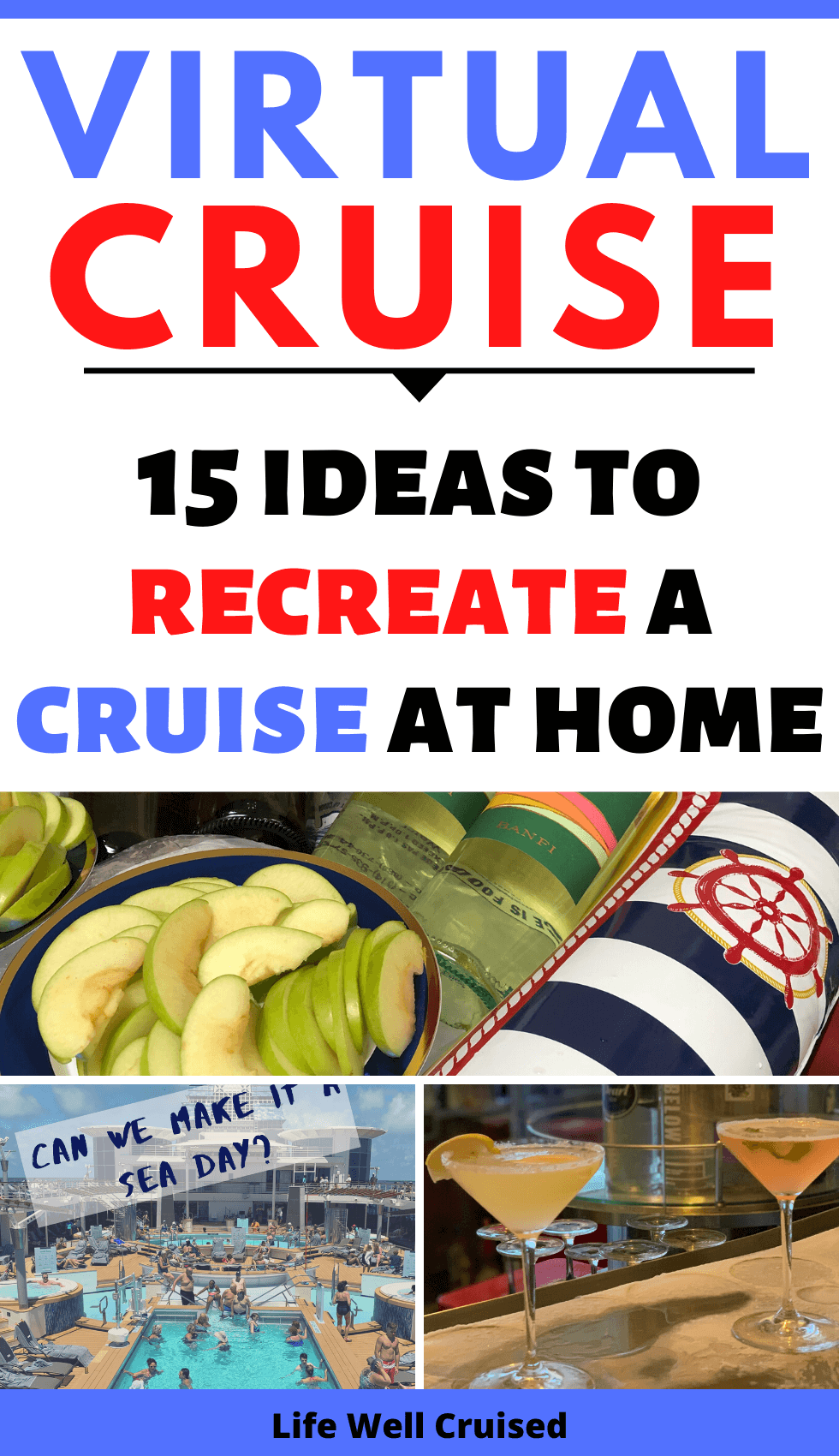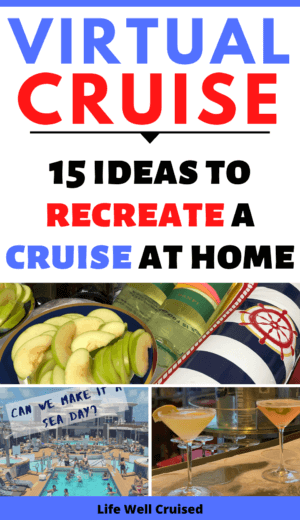 Some people love cruise food and cruise drinks, and others love cruise line specialty coffee (or all three). Serve some Irish Coffee or Cappucino at the end of your meal, for the perfect staycation cruise evening.
If you need a little inspiration, check out the menus and decadent specialty coffee selections at Celebrity's Cafe Al Bacio (menus and a Life Well Cruised Review)
15. Listen to Cruise Travel Podcasts
Take a break from the news, and put on a favorite cruise podcast. 2 that I listen to and enjoy are Cruise Tips TV and Cruise Radio.
Sherri and her hubby, Mr. Cruise Tips TV are so upbeat that I can't help but smile and feel good whenever I listen to one of their podcasts (their videos and vlogs are great too!).
Doug from Cruise Radio has an interesting current events type format, often with interesting and timely guests.
I haven't listened to that many cruise podcasts, so I'd love to hear your suggestions. If you have a favorite for cruise fun or cruise news, please share in the comments below.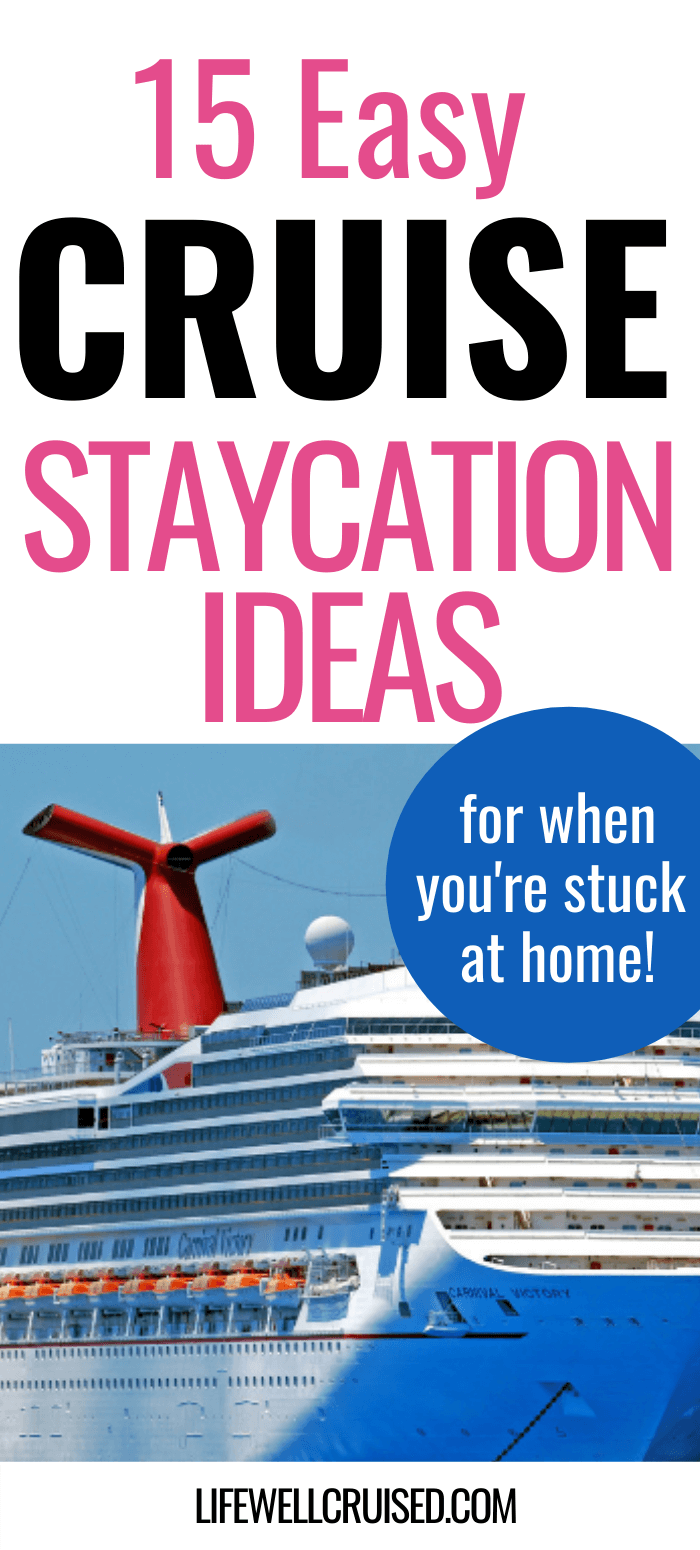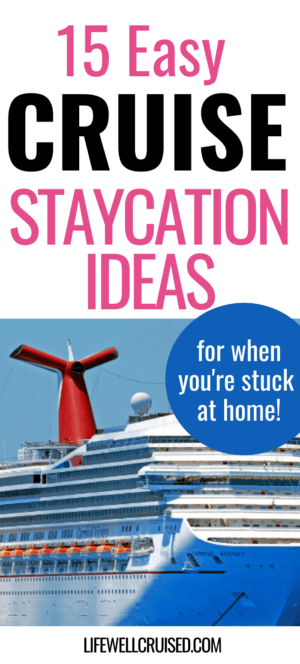 Recap: 15 Easy Cruise Staycation Ideas for When You Can't Cruise
In this post we went over 15 ways to have a virtual cruise vacation right at home. While a real cruise holiday may be better than a cruise staycation, making the best of this time when we are stuck at home, will be stories and memories we'll cherish in the futue.
I hope these ideas serve to spark some imagination, as to how you can create your own little part of cruising, while at home during this time.
Have you been doing anything to keep your spirits up during this time? Do you have a fun cruise idea that we can add to this list? Please share in the comments below.
Happy (virtual) cruising!!
Ilana xoxo
P.S. If you enjoyed this post and found it helpful, please don't keep it to yourself ;-). Feel free to share on Pinterest, Facebook or Twitter (share buttons at the top). Thanks so much!
Popular posts:
30 Cruise Cabin Hacks Every Cruiser Needs to Know
What's included in your Cruise Price (and What Isn't)
25 most recommended Amazon Items to Bring on a cruise
Let's connect:
Follow me on Facebook at Life Well Cruised
Follow me onYouTube at Life Well Cruised (Vlogs and cruise tips)
Follow me on Pinterest at Life Well Cruised
Follow me on Instagram at Life Well Cruised