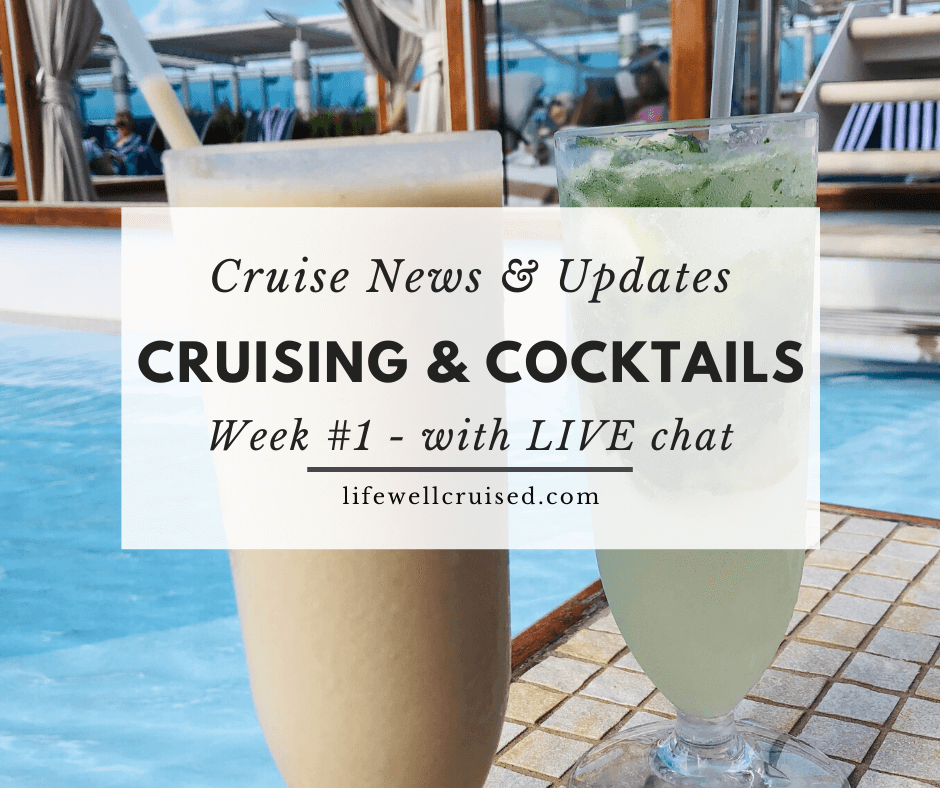 Cruising and Cocktails: What's happening in Cruise News this Week (plus LIVE chat)
To say this has been a tough week is probably the understatement of the year! We've unfortunately seen the current situation evolve from a cruise and travel "problem" to a serious concern around the world.
I've asked in my Facebook group just what people want to read about and talk about right now.
It seems many would like to hear light, fun stories and good things about traveling, including planning for cruise ports and excursions.
I'll be doing this, and more. We will get through this time together.
Before I share more about Cruising & Cocktails below (I'm excited!!), I did want to share a couple of blog posts that have some good information, even if for future when you plan your next cruise again.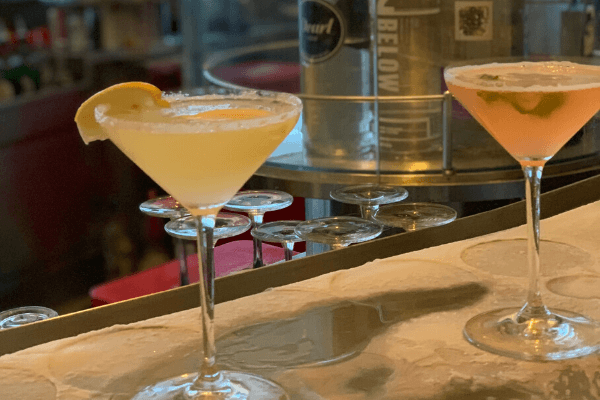 Cruise Packing essentials
There are just some things that are particular to being on a cruise ship, that make packing needs a little bit different than a land vacation.
Here are some of the most popular posts that you might find useful, to save for later or to know so you can save things as you go.
Feel free to pin any of these posts to your Cruise Pinterest boards, so you have them when you need them.
A Virtual Cruise Event – Cruising & Cocktails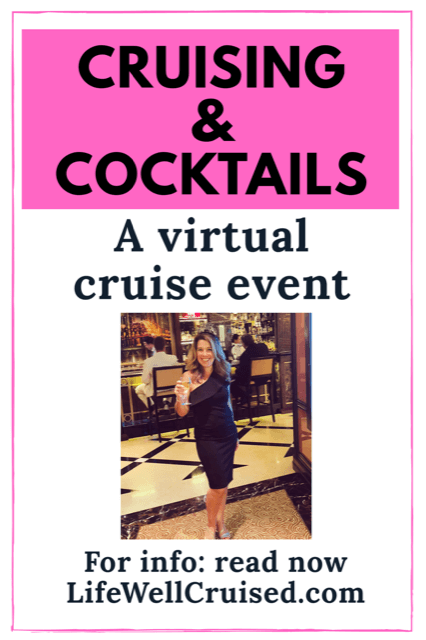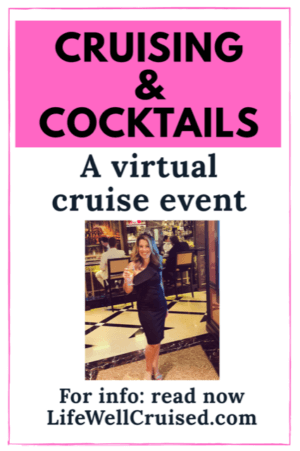 Please join me tonight on my Facebook page Life Well Cruised, where I'll be hosting a LIVE Cruising & Cocktails chat.
We can't meet in person, on a cruise ship or otherwise right now, but we can meet "virtually".
When?
What?
Make yourself a favorite Cruise cocktail, Mocktail or even grab a cup of coffee and be ready to chat about ALL THINGS CRUISE.
Here are a few talking points for this evening's cruise conversation:
Cruise News of the week
Current situation for cruising – cruise cancellations and upcoming cruises – what we know
Carnival Corp cruise ships may be used as hospitals during this crisis – is this good or bad? I'll tell you what I think
Government travel advisories – will this affect future cruise itineraries? I know it's on everyone's mind
Cruise fun and Cruising stories
We all cruise for the joy of travel, for the fun and entertainment on cruise ships, for the love of the sea… and more reasons than I can mention here.
That's why I have this post – with more than
100 Reasons to Cruise
(please keep cruising alive in our hearts by sharing this with a friend, in a message, cruise group or on Pinterest)
Light cruise topic suggestions:
Favorite Cruise bar or coffee bar
Whether you love Norwegian, Celebrity, Carnival, Royal Caribbean, Princess, MSC, Cunard or any other cruise line, we all have a love of cruising in common.
I'd love to hear what your favorite cruise bar is – and why. Let's share to let others know.
Is your favorite drink a Mojito, a Pina Colada or something more exotic? Which cruise line makes it best?
Share your cruise drink recipes – if you have a favorite cruise recipe, please feel free to leave it below in the comments for other to create and enjoy.
Cruise shore excursions – Caribbean cruise ports
These are the main topics we'll discuss, along with some questions you may have.
Please let me know what you think. Do you like this idea? Let me know your topic suggestions and perhaps we'll make this a "regular" thing. I can't promise every week, but can certainly try during this time when many of us are practicing "social distancing".
I'd love to read your ideas and comments, and do hope you can make it. Please feel free to share this as well as any blog posts from lifewellcruised.com! Thanks so much!
We'll be cruising again soon!
Ilana
Life Well Cruised