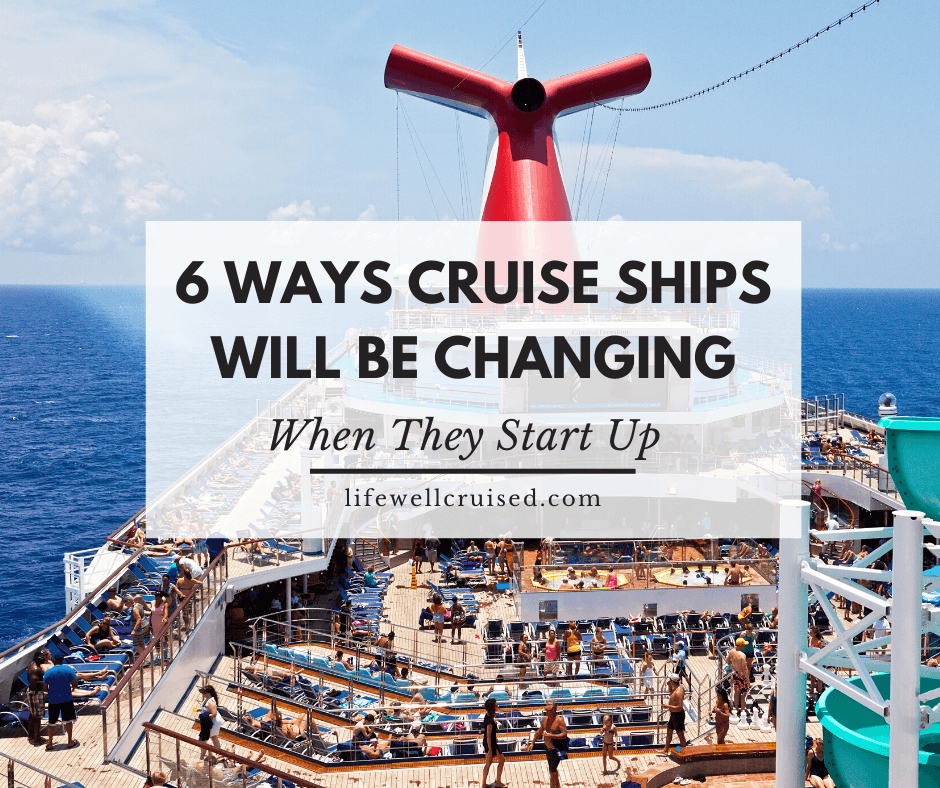 Over the last few weeks, many of us have been guessing what changes we'll see in cruising once it resumes. Cruise lines are still working with the CDC, World Health Organization and their own medical experts and have not yet released full policies and protocols for their return to cruising. However, we've been able to gather some news.
Keep in mind that many of the changes and restrictions to cruising are likely temporary, as cruise lines are adapting to the "new normal". As cruises resume, their priority is to make sure that they are keeping passengers and crew safe, while still ensuring that guests are having an enjoyable cruise vacation.
Here's what we know so far.
6 Things That Will Change on Cruise Ships When Cruises Start Again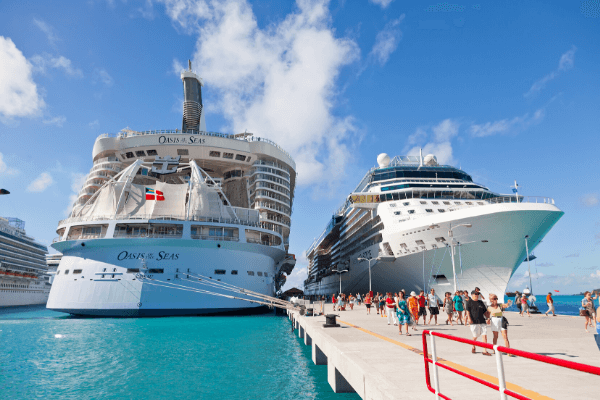 1. Enhanced Health Screening Upon Embarkation
While basic health screening and declaration forms have been in place for years, this will be more stringent when cruises restart. According to Princess' recently released cruise health guidelines, we can expect temperature checks at embarkation, more detailed health declaration forms, and possible second screenings with medical personnel.
This is meant to ensure that passengers are healthy and free of any serious contagious illness once onboard, and there are potential serious consequences for those who give false information.
2. Rigorous Sanitation and Disinfection
This one is pretty obvious, but of course really important. If you're cruised in the past you know how good cruise lines are at keeping their ships clean.
Over the years, we've noticed the ship's staff disinfecting stairway handrails at all hours of the day and just generally keeping the cruise ship very, very clean.
However, there's always more that can be done. Cruise lines have said that they will be cleaning and disinfecting even more, and this includes areas that are most often touched.
Of course, this is a change for cruises – consider more frequent disinfection of poolside deck chairs, door handles, elevator buttons, casino machines and chips.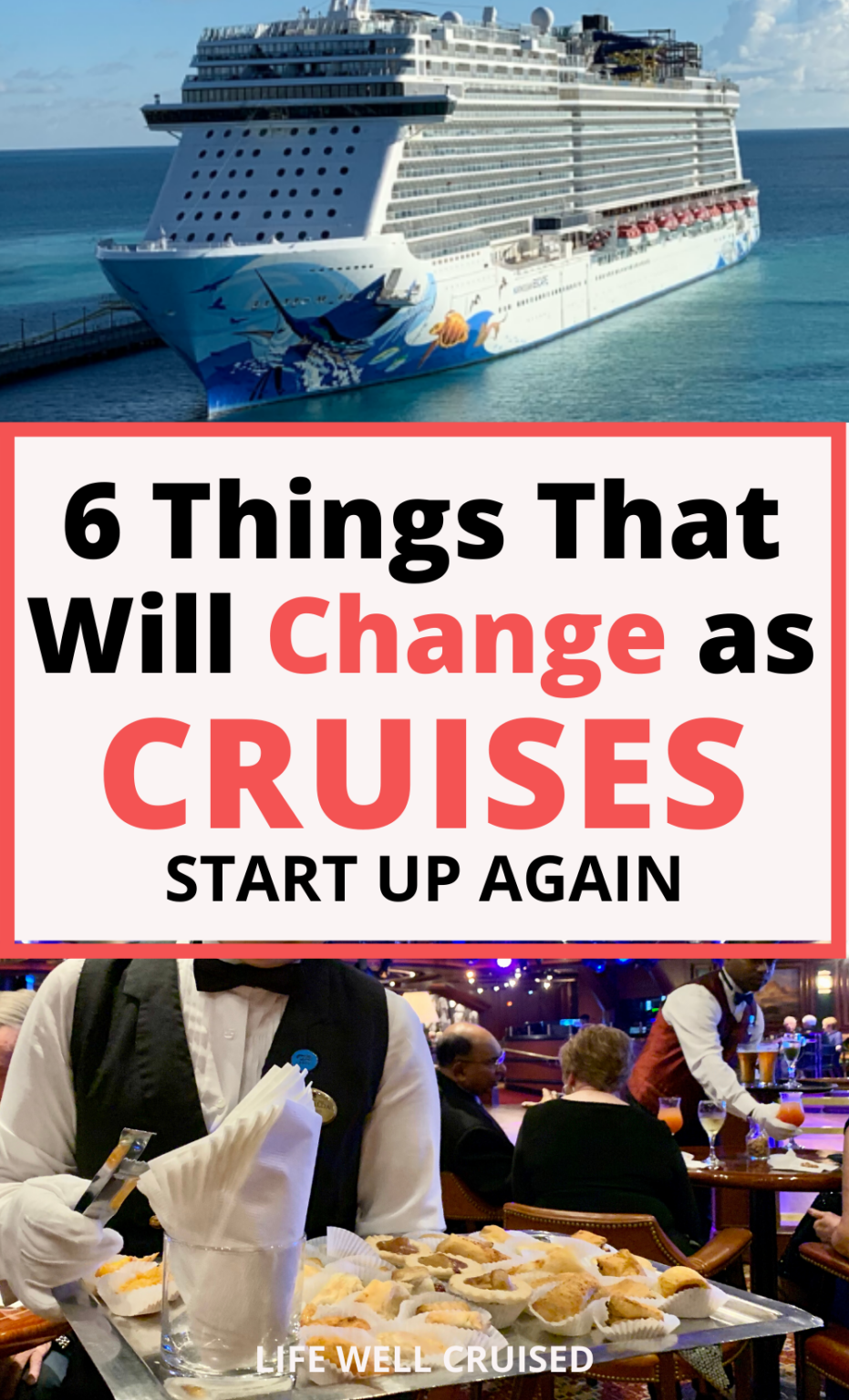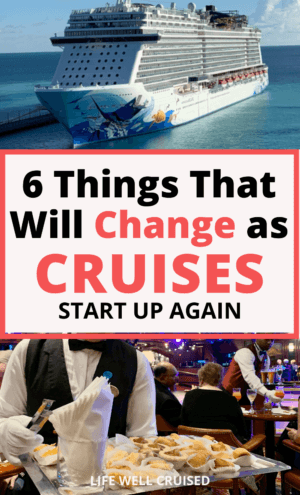 3. Hand sanitizers and hand washing
We've always seen hand sanitizer stations or hand washing stations as we entered the main dining room or the buffet, however we'll now see these stations set up in many areas around the cruise ship.
Many cruise passengers had experience with this in the week or two before the pause in cruising, and this should continue once cruise ships are ready to sail again. Hand sanitizers will be placed in public areas such as pool decks, lounges and theaters, just to name a few.
When entering dining areas, we can expect crew to monitor this.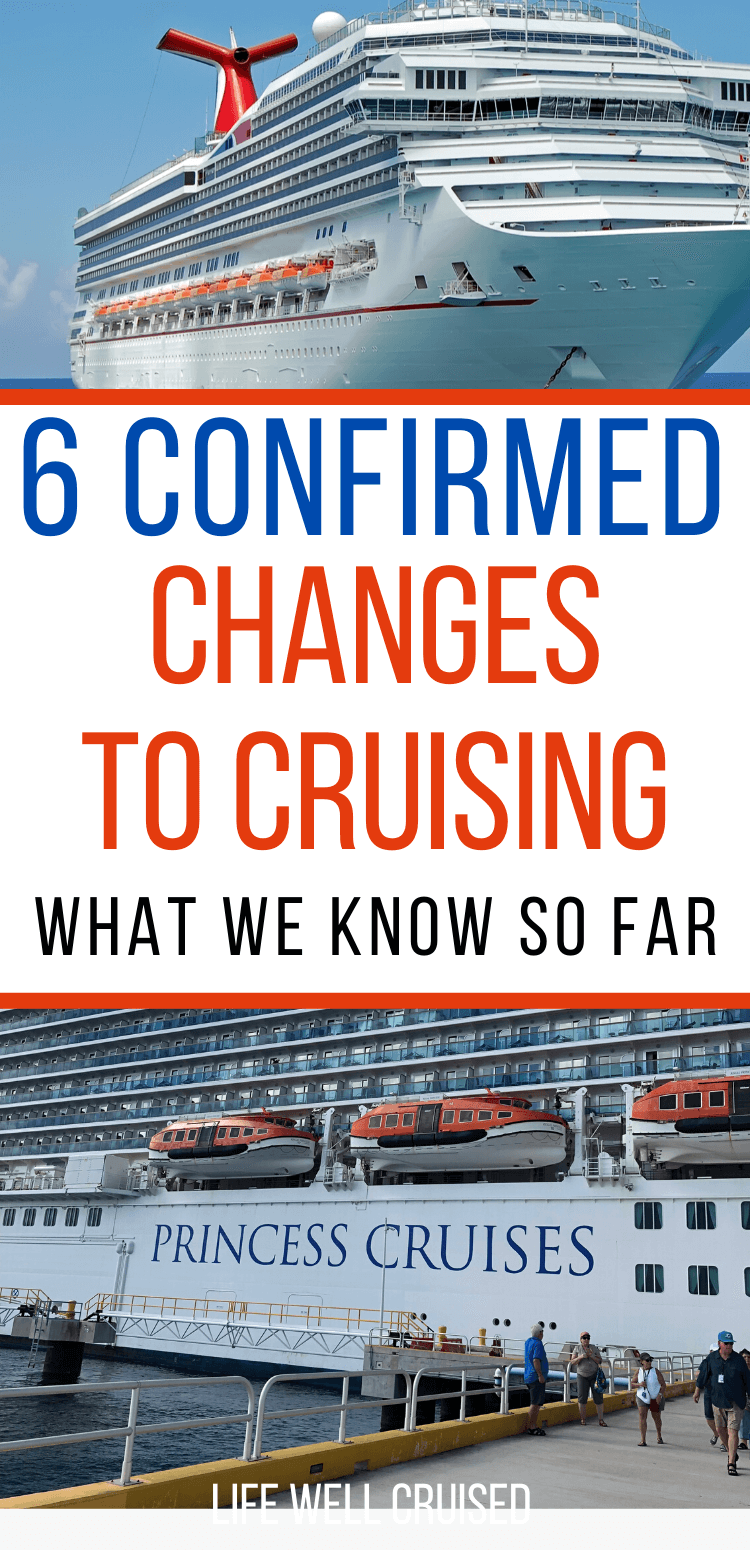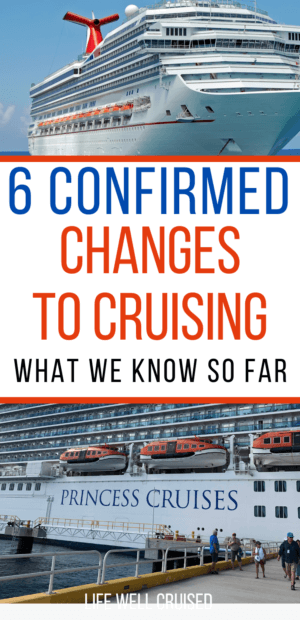 4. No self-serve buffets
This might be one of the biggest changes to cruising as we know it. The fact is, the cruise ship buffet is well loved by many, but may be going away, at least temporarily.
While this can be debated – some love it, some hate it, some eat there sometimes, some never do – the cruise ship buffet is almost always full of cruise passengers and is a staple of large ship cruising.
Princess Cruises has said that it will have crew serving and/or monitoring closely and changing utensils when not possible.
In recent news as covered by Royal Caribbean Blog, Royal Caribbean's CEO Micheal Bailey discussed Royal Caribbean's plans for how it may resume sailing. He talked about saying goodbye to the cruise buffet as we know it, and hinted at a new concept as a replacement for the Windjammer.
It should be interesting to hear more from various cruise lines as they announce their new protocols and procedures for this time.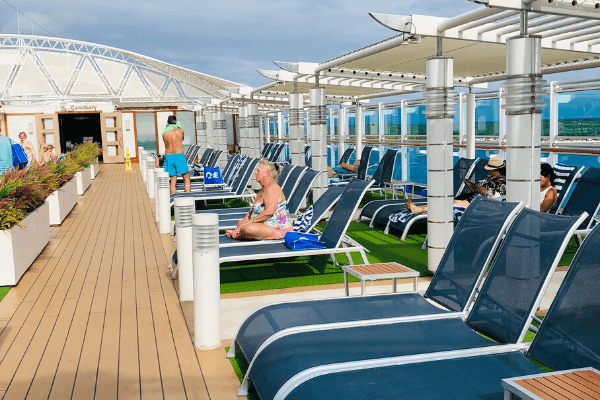 5. Social distancing
Is social distancing even going to be possible on a cruise ship? Initially my thought was ZERO chance!
However, it occurred to me that cruise lines have said that they don't plan to be sailing at full capacity, at least for the first week weeks once cruising starts up again.
Therefore, some social distancing seems possible and might even be pleasant. In the main dining room, tables will be spread apart. On the pool deck, deck chairs can be placed in a more spacious configuration. Cruisers won't have to be on top of one another. That's kind of nice.
It stands to reason that with less people on board, public areas will be less crowded.
While we don't know yet how things will work for lines and queues, cruise lines can implement some of the same protocols as the theme parks and other large venues which are slowly reopening in different parts of the world.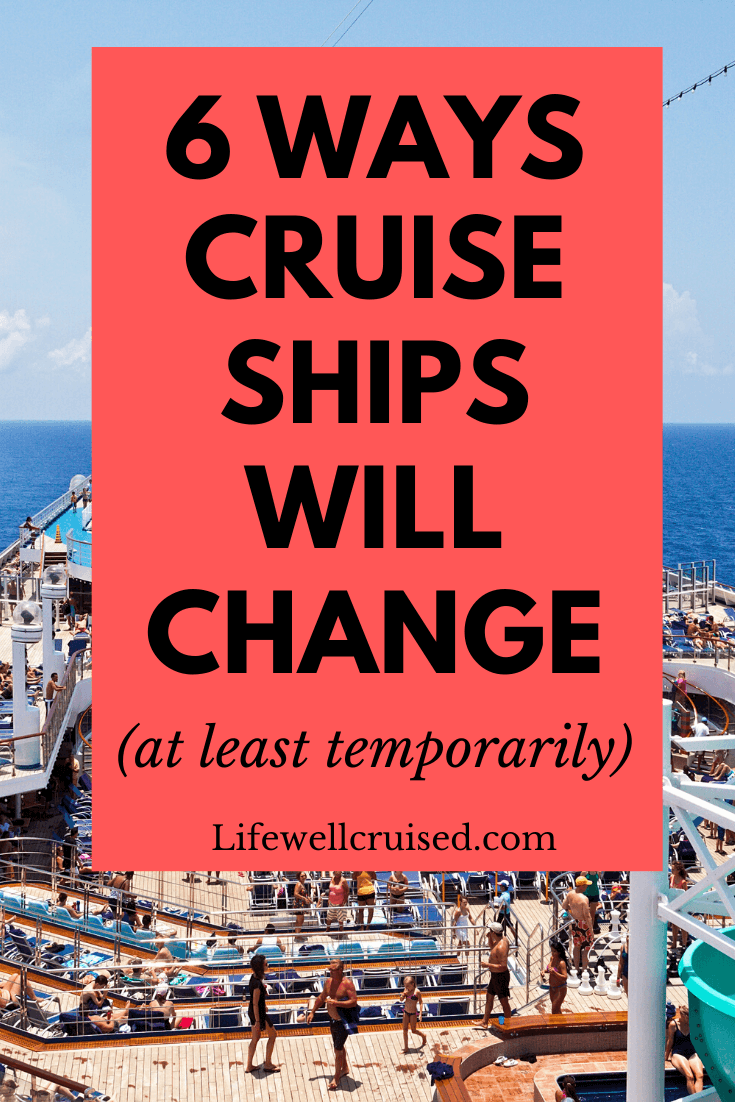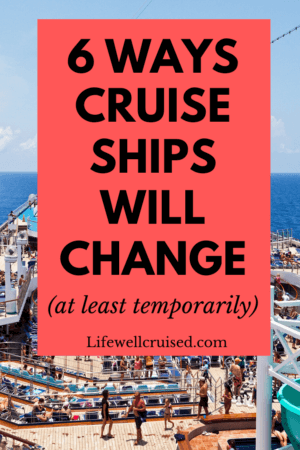 6. Flexible Cancellation Policies
To make things easier, cruise lines have also implemented flexible cancellation policies. If you're sick or don't feel comfortable cruising, you can cancel up to 48 hours before your cruise and receive a Future Cruise Credit (FCC) and use it towards another cruise.
This won't last forever, however major cruise lines have extended their "cruise with confidence" or "peace of mind" cruise cancellation policy for several months, due to the ongoing extension of cruise cancellations.
For now, this is a good thing for cruisers.
Are you curious about more cruise plans and the updates? I go into detail in this YouTube video below
Final thoughts: 6 Ways Cruises Will Be Changing Once Cruising Resumes
As we get closer to cruising again, whenever that will be, cruise passengers are wondering what changes we'll see and what cruising will actually look like when it resumes.
Based on statements from the cruise lines, we know that they're working on policies and procedures that comply with CDC and medical expert recommendations. So far, these are the 6 things that we can be fairly certain will change.
Will there be other changes you may ask? I think so.
However I also believe that cruise lines are looking closely at the world situation and other tourist destinations around the world which are slowly adjusting their business practices and guest experiences. It looks like we'll have to live with this "new normal", at least temporarily.
How do you feel about the changes we know about so far, and what changes would you propose for the cruise lines as they resume sailing? Please let me know in the comments below.
Happy Cruising,
Ilana xoxo
P.S. If you've enjoyed this, please don't keep it to yourself ;-)! Please share it on Facebook or save for later on Pinterest. Thanks so much!
Popular and related posts:
How Will Cruising Change, Recover and Restore Cruiser's Confidence Once Again
How to Get the Best Deals, Specials and Promotions on a Cruise (in 2020-21)
17 Cruise Stateroom Essentials Every Cruiser Needs
Let's connect:
Follow me on YouTube at Life Well Cruised
Follow me on Facebook at Life Well Cruised
Follow me on Pinterest at Life Well Cruised
Follow me on Instagram at Life Well Cruised