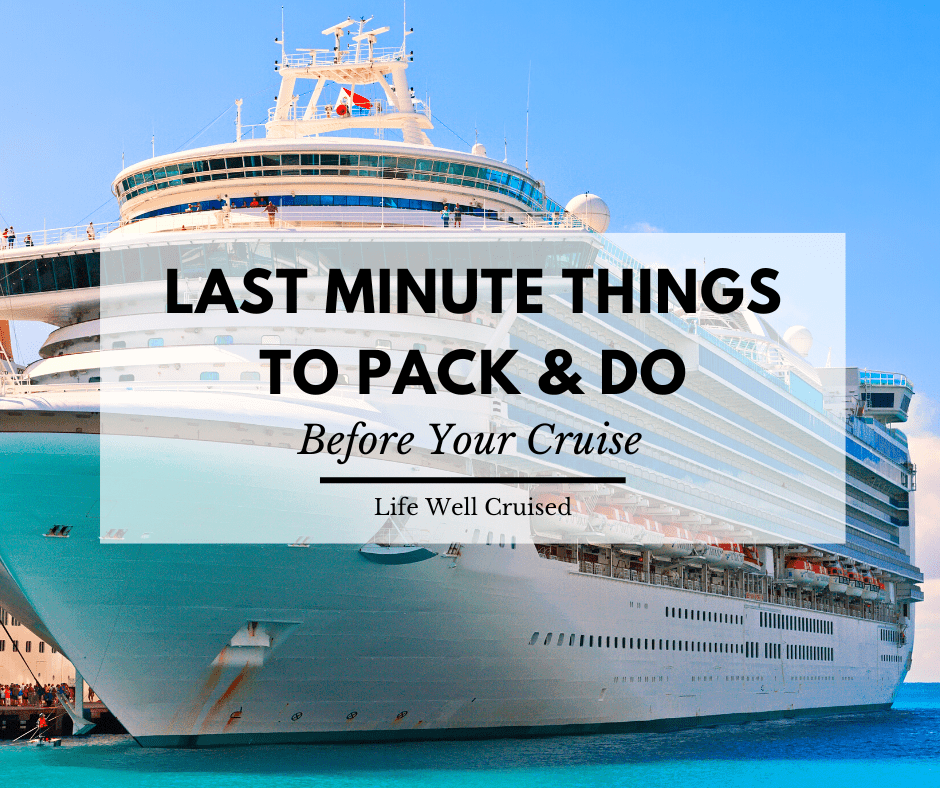 No matter how organized you are as you get ready for your cruise, there are always last minute things to pack and do right before you travel. Unfortunately, if you forget to do some of these things before your cruise, it can cause some real problems.
I know first hand. In fact on a cruise last year, I forgot my prescription medication at home. What a hassle that was and the solution wasn't that easy (I'll tell you more below).
In this post I share a last minute cruise packing list, as well as some of the things you'll need to do the day that you are traveling.
This post contains affiliate links which means if you click and buy that I may make a commission, at no cost to you. Please see my disclosure policy for details.
As an Amazon Associate I earn from qualifying purchases.
Things to Do and Pack Right Before Your Cruise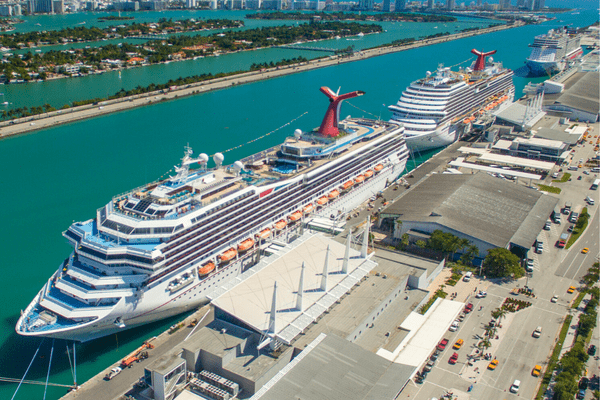 1. Pack Your Passport and Government Identification (as required)
There's nothing more important than bringing your passport and/or required government ID. Not having these items will likely result in being denied boarding for your cruise.
When getting ready for your cruise, make sure you have your passport on your last minute packing list, so it's not forgotten at home!
Remember, this cannot be packed in checked luggage – keep this on you at all times. A passport holder or passport wallet is a great idea to keep your most important items for travel.
Recommended: Passport wallet RFID protected (check price & reviews on Amazon here)
2. Pack Your Phone Charger
There are a lot of things you can pack in advance for your cruise, but chances are you're going to need your cell phone charger right up until the morning of your cruise or flight.
There are a couple of options. You may want to pack an extra phone charger that you use every time you travel. The other option is to keep an electronics organizing bag to keep all chargers and wires, along with a quick list of last minute items to pack.
Remember to fully charge all electronic items, from iPads and laptops, to your mobile phone.
Recommended: Electronics Travel Organizer Bag (see details & 6000+ 4.5* Amazon reviews here)
3. Everyday Toiletries
It's a good idea to have some toiletries in a travel size that you can prepare and have ready. However, don't forget some of the things you may use right up to the day before your cruise vacation.
I like to keep a quick list of last minute things to pack, such as:
Deodorant
Razor & shaving cream
Toothbrushes & toothpaste
Moisturizer
Make up bag
Manicure items (tweezers, nail clippers & nail file)
Related: What Toiletries to Pack for a Cruise – The Ultimate Guide
4. Portable Charger
I won't travel without a power bank or portable charger. Whether your phone battery runs low on a shore excursion or your ever in a situation where you just can't charge your mobile phone
Recommended: Portable charger (check price & over 50,000 reviews on Amazon here)
5. Take Photos of Your Luggage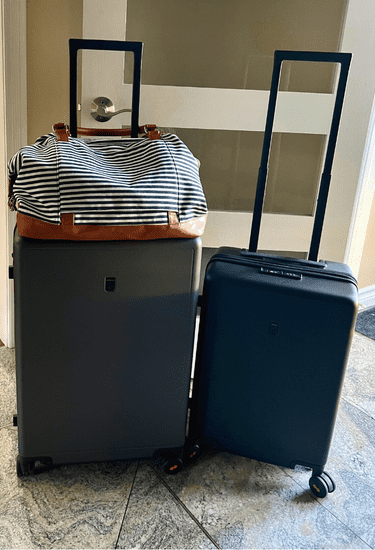 This is a recent cruise packing tip I learned. Take photos of both the outside or your luggage, as well as the inside (items you packed).
If your luggage is damaged or lost and you need to make a claim with the airline or travel insurance, you'll be happy you did!
Related: Cruise Luggage Restrictions and Baggage Rules Every Cruiser Needs to Know
6. Weigh Your Luggage
There's nothing worse that getting to the airport and finding out that your luggage is overweight. That means shuffling items from one suitcase to another, or even paying a fee.
Make sure to weigh your luggage at home before you head over to the airport.
You can use the bathroom scale trick. To do this, weigh yourself on the scale, then step on the scale with your luggage. Subtract the difference.
An easier way is to use a travel luggage scale. The good thing is that it's light and you can bring it on your cruise, so you can use it before flying home.
Recommended: Travel luggage scale (digital with batteries included)
Get The Ultimate Cruise Planner
Regular price: $27 Now just $17!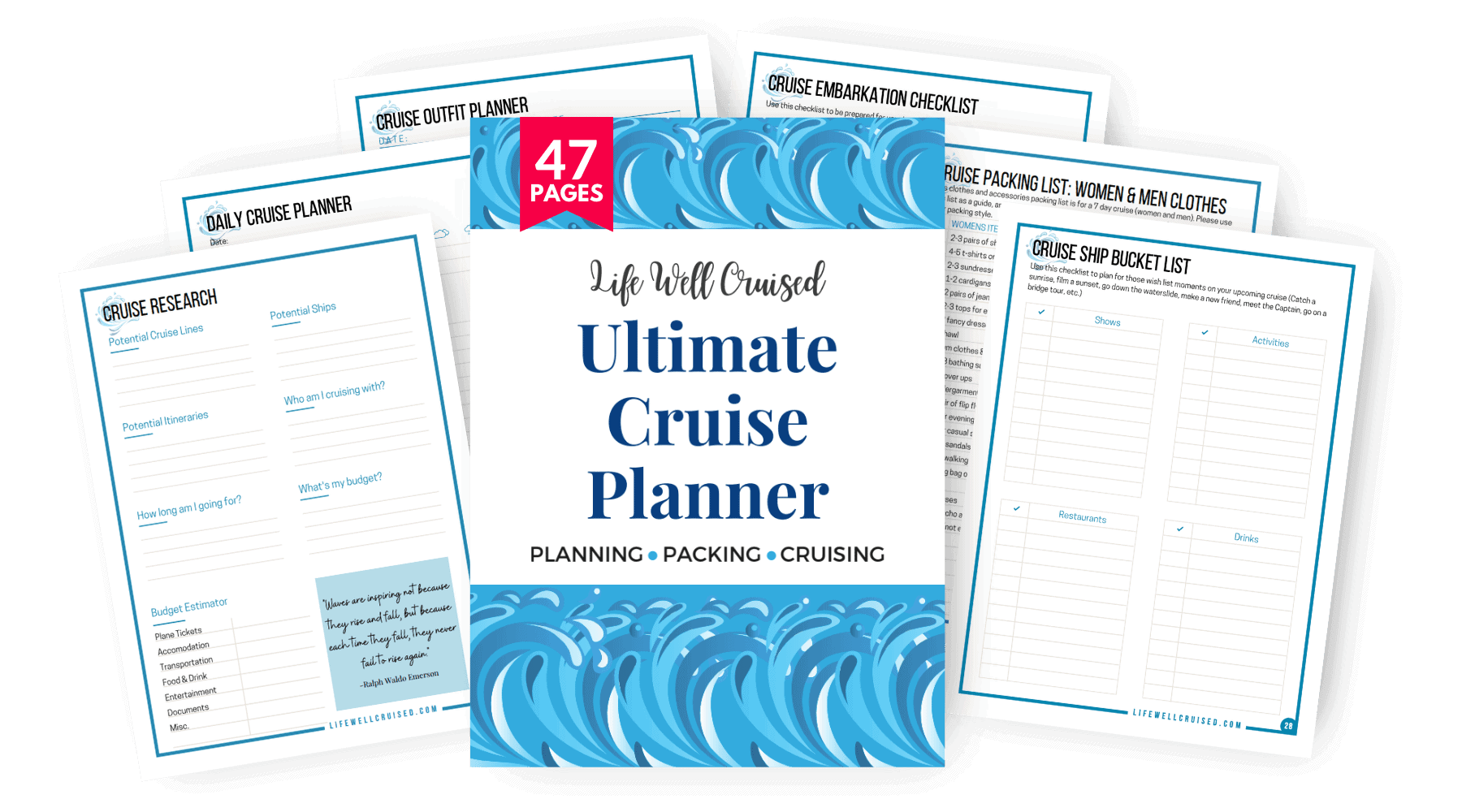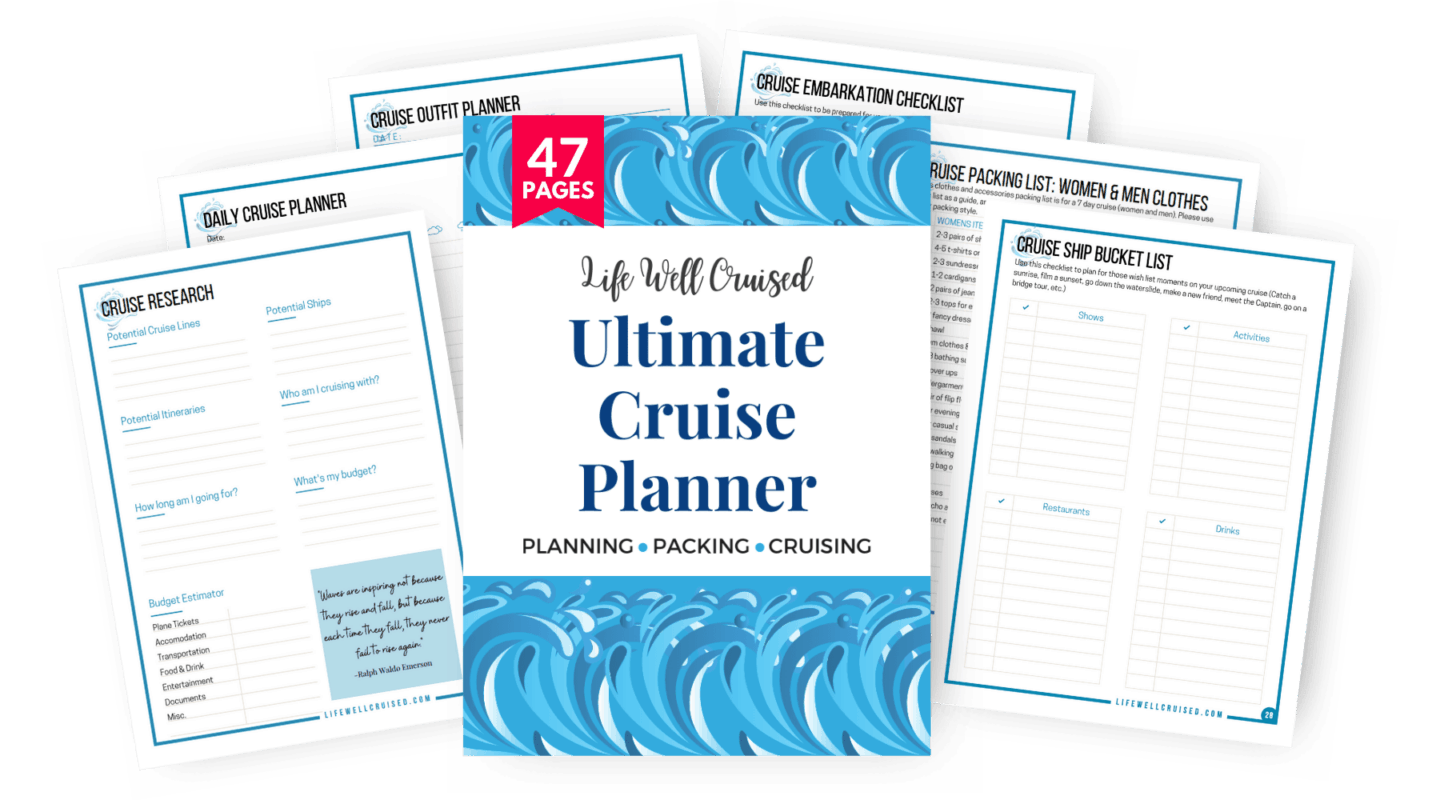 7. Print & Put on Cruise Luggage Tags
Be sure to remember to print out your cruise luggage tags as you complete your online check in. If you want to make sure your printed paper luggage tags are secure, it's a good idea to get some plastic luggage tag holders.
There are some differences between the cruise lines, and you'll either need short or long luggage tag holders.
Here's a list for luggage tag holders for different cruise lines:
8. Air Tag
If you're planning on checking your luggage, placing an air tag into each piece of luggage can help you to always be able to know where it is and locate it. These can be handy even for when going onto the cruise ship.
Recommended: Air tags (check price on 49,000 5* reviews on Amazon)
9. Print Out Your Documents
Don't forget your to print your cruise boarding documents as well as any booking confirmations. You may want to print out hotel reservations and shore excursion reservations as well.
In particular, make sure to print out any local or non-cruise operated tours. If you have difficulty accessing your emails while in port, you'll appreciate having a printed copy of your confirmation along with contact information for your excursion operator.
Related: 25 Cruise Embarkation Day Tips and Secrets You Need to Know
10. Cash and Credit Cards
Be sure to pack your cash, from small bills to $5, $10 and $20 bills that you may want to use for tips for crew and in cruise ports of call.
It's a good idea to pack at least one credit card for use or for emergencies.
11. Remember to Pack Your Prescription Medication
Make sure to pack both over the counter, but especially prescription medication. If possible, consider packing a small travel size container with enough for the time you're away (plus a bit extra in case).
Don't make the mistake I made of waiting until the day we traveled to pack my prescription medication. While I could swear I packed it, I arrived at our destination and did not have it.
Unfortunately, this mistake meant that I needed to see a doctor in another country, and have a new prescription issued, which took up about half of our day. I'm definitely more cautious now, but did want to share this so you don't make the same mistake I did.
Related: 31 Cruise First Aid Kit Essentials to Pack for a Cruise
12. Prepare Your Travel Outfit
Something else do last minute as you get ready for your cruise is to plan your travel outfit. It's a good idea to check the weather forecast, and also dress comfortably.
Pack a light sweater or shawl which you can use on board your cruise in the evening as well. Keep in mind that your travel outfit can also be used to travel back home on disembarkation day.
13. Plan Your Cruise Embarkation Outfit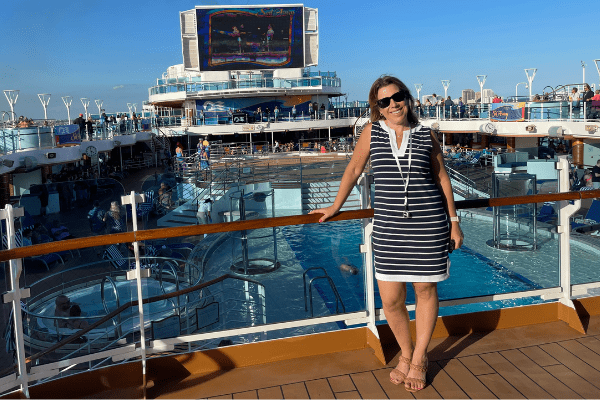 There's nothing like embarkation day! While there's no right or wrong when it comes to cruise embarkation day outfits, you'll likely want to wear something comfortable to explore the cruise ship on the first day.
There may also be some picture taking, so plan accordingly :-).
Related: 25+ Affordable Cruise Outfits for Ladies
14. Pack a Personal Bag for the Airplane
If you're heading to the cruise port by airplane, don't leave packing your personal bag to the last minute. Consider packing items to make your flight easier and more comfortable.
Some things to remember are motion sickness medication (if needed), ear buds, a book or kindle, a travel pillow and chewing gum.
15. Cruise Embarkation Day Carry-on Bag
Whether you're going straight from home to your cruise ship, or staying at a hotel before your cruise, all cruisers should pack a carry-on bag for embarkation day.
While many of the items can be similar to your flight carry-on bag, there are a few things you just need to bring on your cruise for the first day!
Consider packing a bathing suit and sunscreen if you're going on a Caribbean cruise, or any other tropical cruise. Other items to pack in your cruise embarkation bag include medication, valuables and electronics.
Recommendation: Nautical stripe cruise carry-on bag (see different styles & over 5000 Amazon reviews here)
Video: 15 Last Minute Things to Pack and Do Before a Cruise
Related & Popular Post
Get The Ultimate Cruise Planner
Regular price: $27 Now just $17!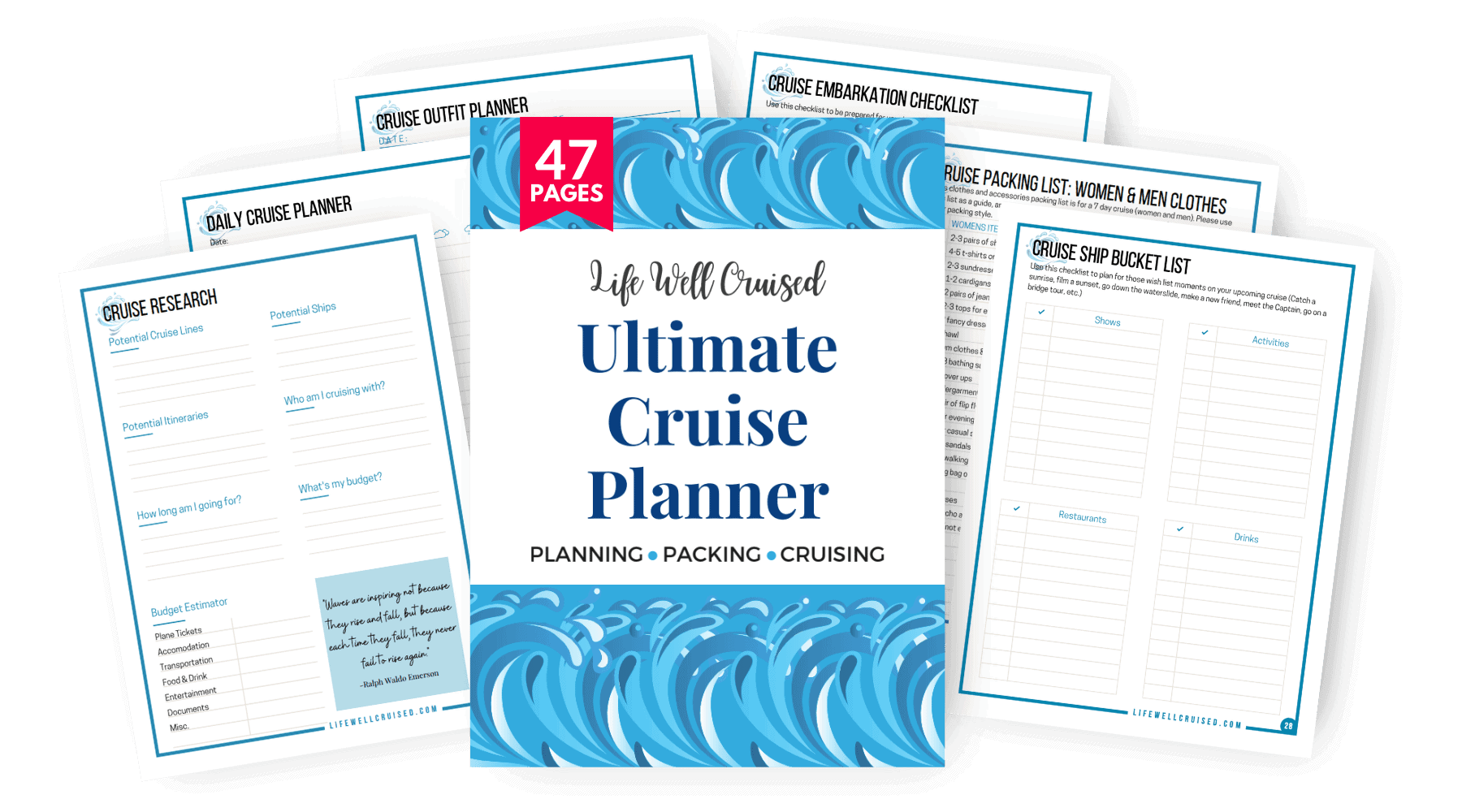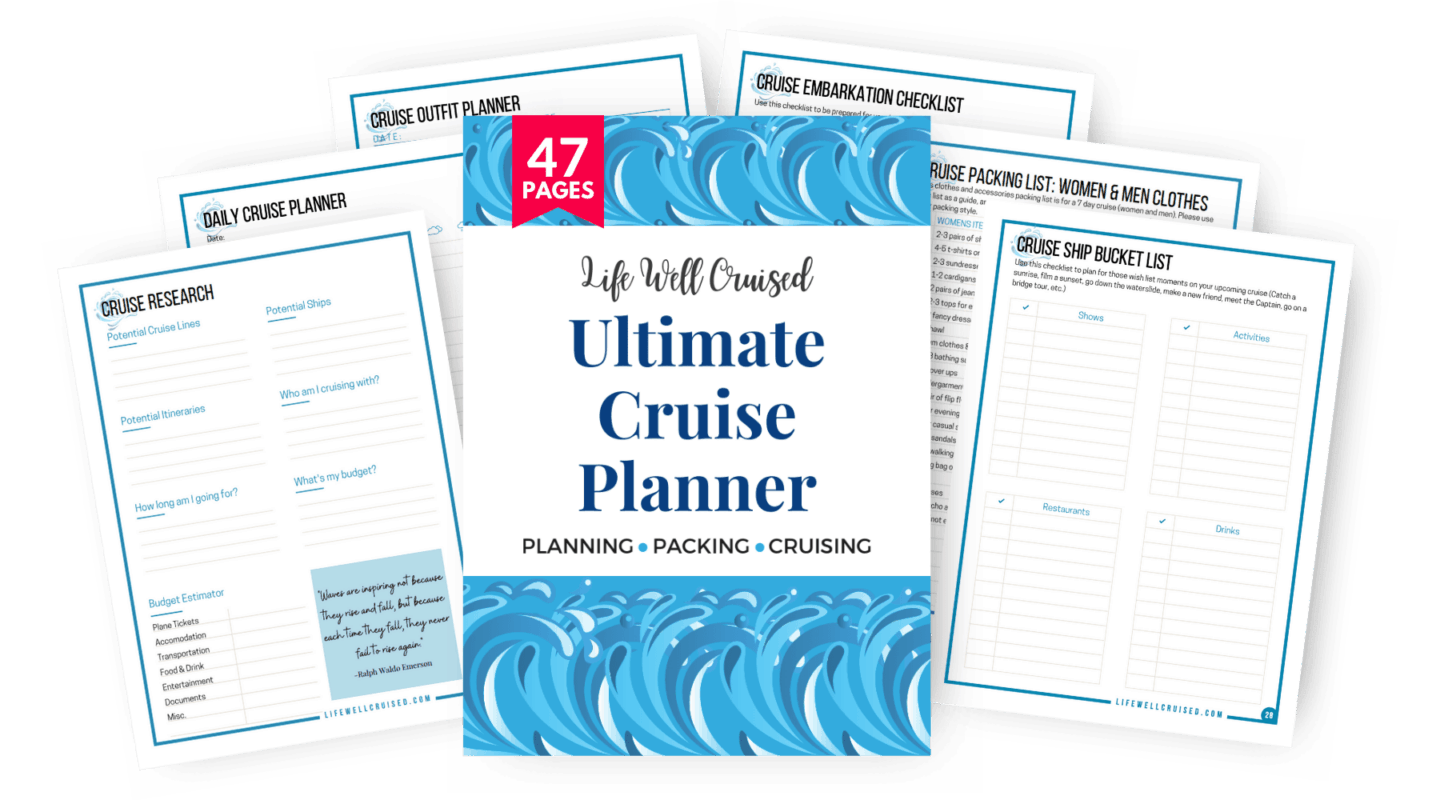 Final Thoughts on Last Minute Things to Pack and Do Before a Cruise
There's so much we can do to be ready and organized for our cruise in advance. However equally important is keeping track and having a short list of last minute things to pack and do in the last day or two before a cruise.
Is there anything you'd add to this list? Please let me know in the comments below.
Happy Cruising!
Ilana
If you enjoy this post, please don't keep it to yourself. Please feel free to share it on social media, like Facebook and Pinterest (share buttons at the top). Thanks so much!