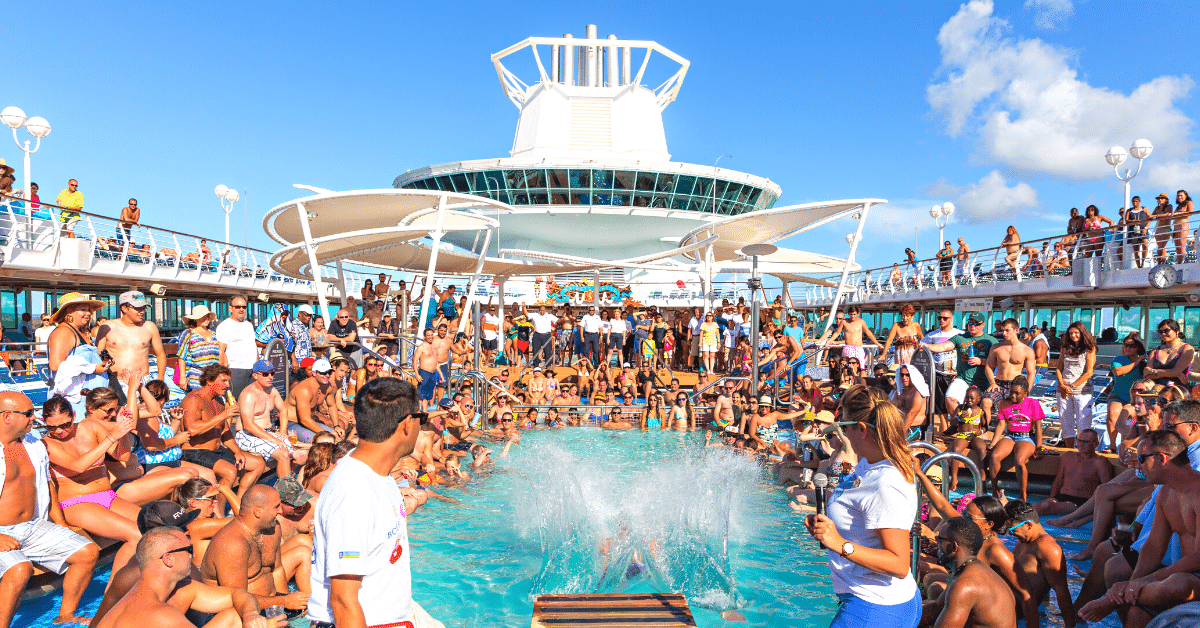 If you're planning or thinking of going on a cruise, one thing you might not be excited about is the idea of crowds. After all, many cruise ships have 3500 passengers or more all on one ship. However, there are solutions – besides booking a suite!
I love cruising, but one of my pet peeves is queues, line ups & crowds! These tips will help you outsmart the crowds both on the cruise ship & in port.
This post contains affiliate links which means if you click and buy that I may make a commission, at no cost to you. Please see my disclosure policy for details.
As an Amazon Associate I earn from qualifying purchases.
How to Avoid the Crowds on a Cruise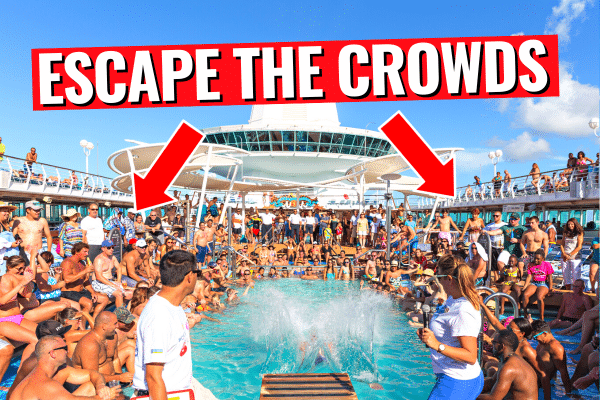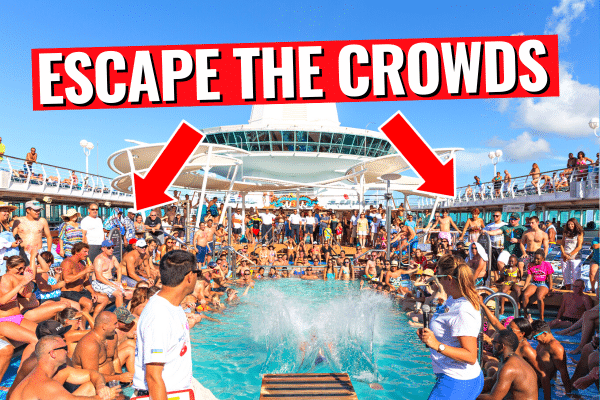 A few things to know right off the bat, is that there are some times that crowding is almost inevitable on most popular cruise lines.
These times include:
Parades, Deck Parties & Formal Night Parties
Tendering
Lido deck on sea days
That said, there are still ways to avoid & get away from the crowds throughout most of your cruise.
1. Picking Your Cruise Ship
There are differences in cruise ships, besides size. Some ships have a better space to passenger ratio than others. This makes them feel less busy.
When choosing a cruise ship, look for one with a high space per passenger ratio. This isn't always easy, as you can't tell based on the size of the ship.
To calculate a vessel's passenger space ratio, you'll need to divide the overall gross tonnage by the ship's passenger capacity. This number indicates how much onboard space there is per person.
Many larger and mega cruise ships have systems in place to manage the amount of people onboard & ease congestion.
However, as a general rule, a premium cruise line will have more space per passenger than a contemporary one.
If you really want to avoid crowds when cruising, small luxury cruise lines are your best bet. These smaller cruise ships have significantly less passengers on board, with a high passenger to crew ratio.
Plus, these cruise ships tend not to attract families, so are generally more quiet and subdued.
2. Choose Your Cruise Date & Itinerary Wisely
Opt for cruise dates that are less likely to be at full occupancy. Avoid peak times, such as spring break, summer holidays, Christmas, and New Year's. Longer cruises over 7 days often attract an older clientele and fewer children.
3. Dining Strategies
Skip the Main Dining Room (MDR) on formal nights and the first night of the cruise, as they tend to be busier.
Request a table for two for a quieter dining experience.
Dine earlier or later to avoid peak dining times.
Consider booking a specialty restaurant on the first night of your cruise.
Explore casual restaurants and buffets in the first few days when they're less crowded.
4. Embarkation Day
Embarkation day can be hectic, so plan ahead. Arrive either early or later to avoid the rush. Consider purchasing early embarkation packages for added convenience. Avoid the buffet for lunch on embarkation day, as it tends to be overcrowded.
5. Discover Quiet Spots on the Ship
Every cruise ship has quiet spots away from the main action. Move a bit away from the pool, live bands, or DJ on the pool deck.
Look for secluded areas, such as buffet tables after closing, libraries, card rooms, lounges, and bars in the aft of the cruise ship.
6. Wake Up Early
Early mornings on the ship offer tranquility and fewer crowds. Catch a beautiful sunrise, go for a peaceful walk on promenade deck, or secure a lounge chair without the hassle.
If you like to eat in the cruise ship buffet, head there before 8 am before most of the other passengers arrive.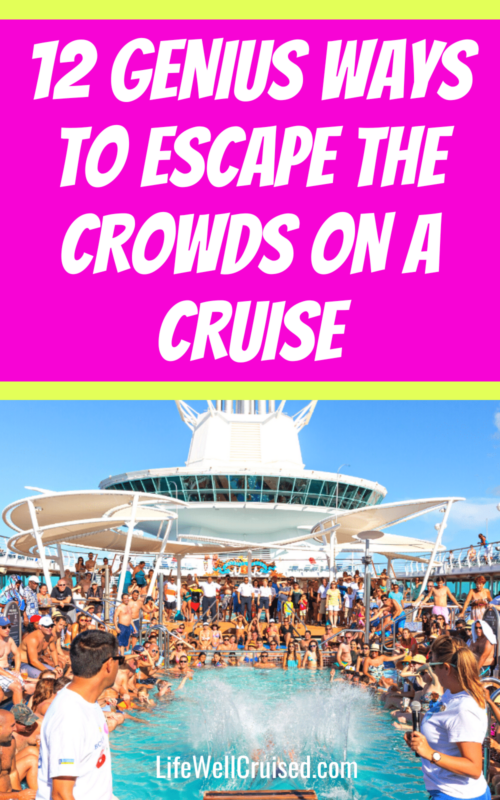 7. Cruise Port Days and Excursions
Consider staying on the ship while most passengers go ashore. Alternatively, leave the ship early and return early to avoid crowds.
When booking shore excursions, opt for small group tours offered by your cruise line or a local tour operator. Consider off-the-beaten-path experiences instead of heading to the busiest spot for tourists.
8. Escape to Your Cabin
Choose a balcony cabin to relax in the privacy of your own space. Another option to consider is booking a suite within a "ship-within-a-ship concept" like Norwegian Cruise Line's The Haven, Celebrity's Retreat, or the MSC Yacht Club.
Get The Ultimate Cruise Planner
Regular price: $27 Now just $17!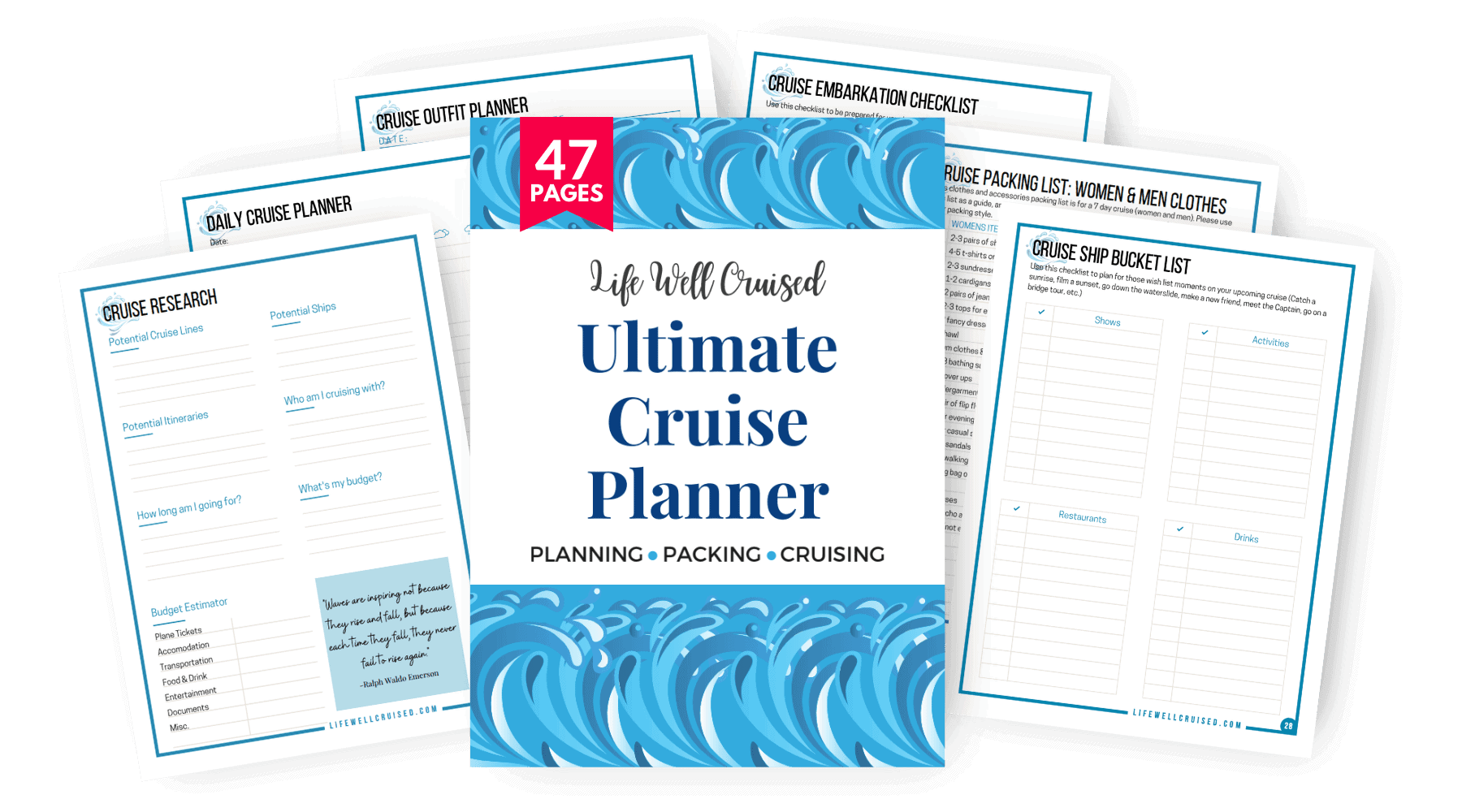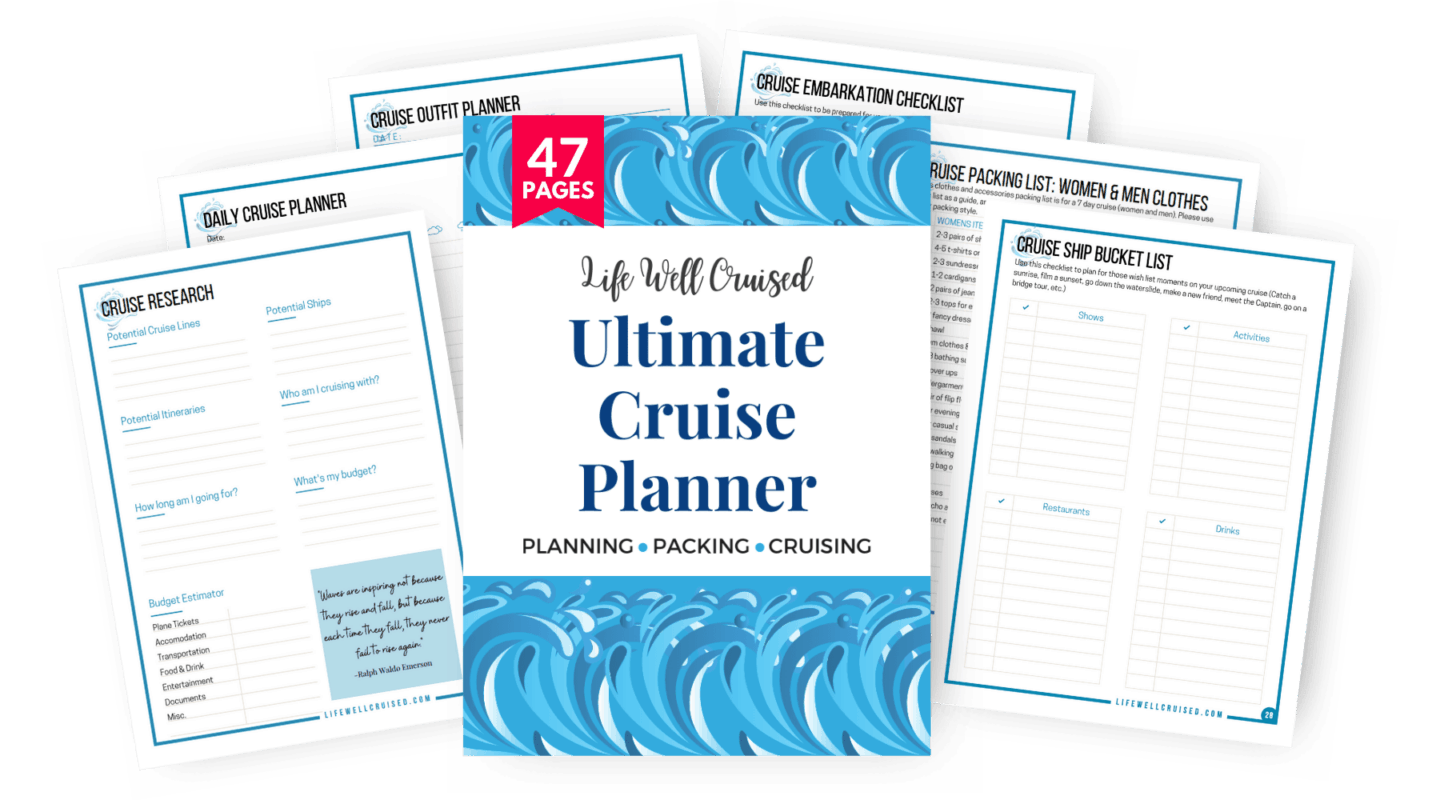 9. Sea Days
On sea days, it's a good idea to avoid the main pool deck during peak hours, which are typically in the late morning and early afternoon. During these times, the pool area can get quite congested, with sun loungers quickly claimed, and the pool itself may be crowded.
Instead, try using the pool during early morning or the late afternoon. Late afternoon is often the ideal time to visit the lido deck. By this point in the day, many passengers have either gone back to their cabins or have gone indoors for other activities.
As a result, the pool deck tends to be less crowded, and you can easily find a comfortable lounge chair without the struggle of searching for one during the busiest times.
10. Elevators
Navigating crowded elevators on a cruise ship can be a frustrating experience, especially during peak times of the day and evening. To bypass crowded elevators, take the stairs whenever possible and if you can.
When returning to your cruise ship after a day in port, consider walking up to main decks or another elevator.
11. Book a Thermal Spa Package
Many cruise ships offer thermal spa packages that provide a relaxing and less crowded environment. This is an excellent way to unwind during your cruise.
If you enjoy a hot tub, but can do without the crowds on the main pool deck, consider purchasing a thermal spa pass for the day or even the entire cruise.
12. Book an Adult Only Exclusive Access Area
A cruise extra that might be worth the splurge are exclusive adult-only areas, which limit the number of guests, providing a more peaceful experience.
You'll find the Vibe Beach Club on many NCL cruise ships, The Retreat on Princess cruise ships, and Retreat cabana rentals on Holland America.
Bonus: Zig When Others Zag
This is a great strategy to avoid crowds on any cruise ship. Do the opposite of what most other cruise passengers are dping.
If everyone is heading to the pool area on a sea day, consider exploring other areas of the ship to find tranquility. Consider using the hot tubs in the evening, and even skipping a show.
If most other guests are at the buffet, consider having a meal in the main dining room or specialty restaurant.
Video: How to Avoid Crowds on a Cruise Ship
Popular & Related Posts
Get The Ultimate Cruise Planner
Regular price: $27 Now just $17!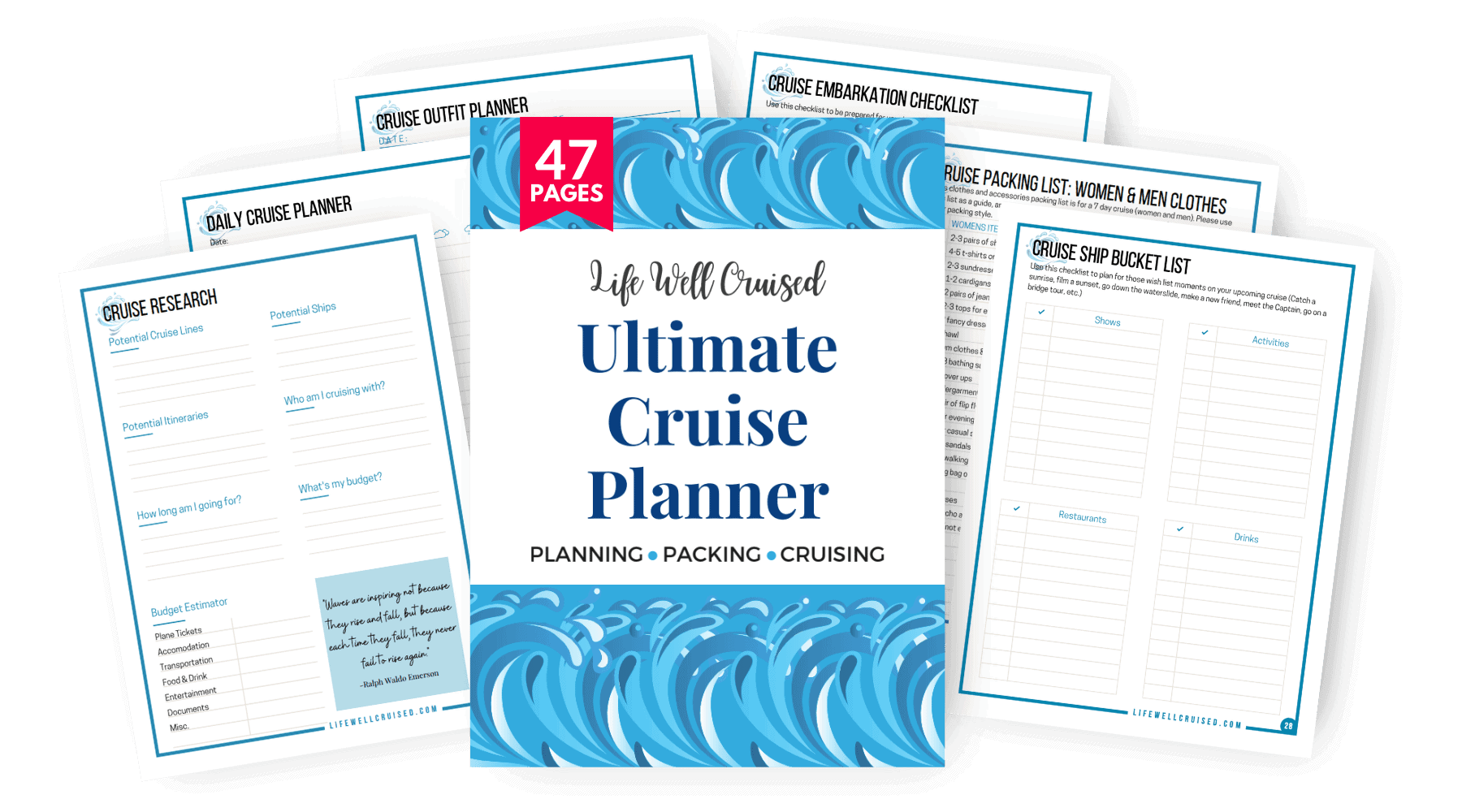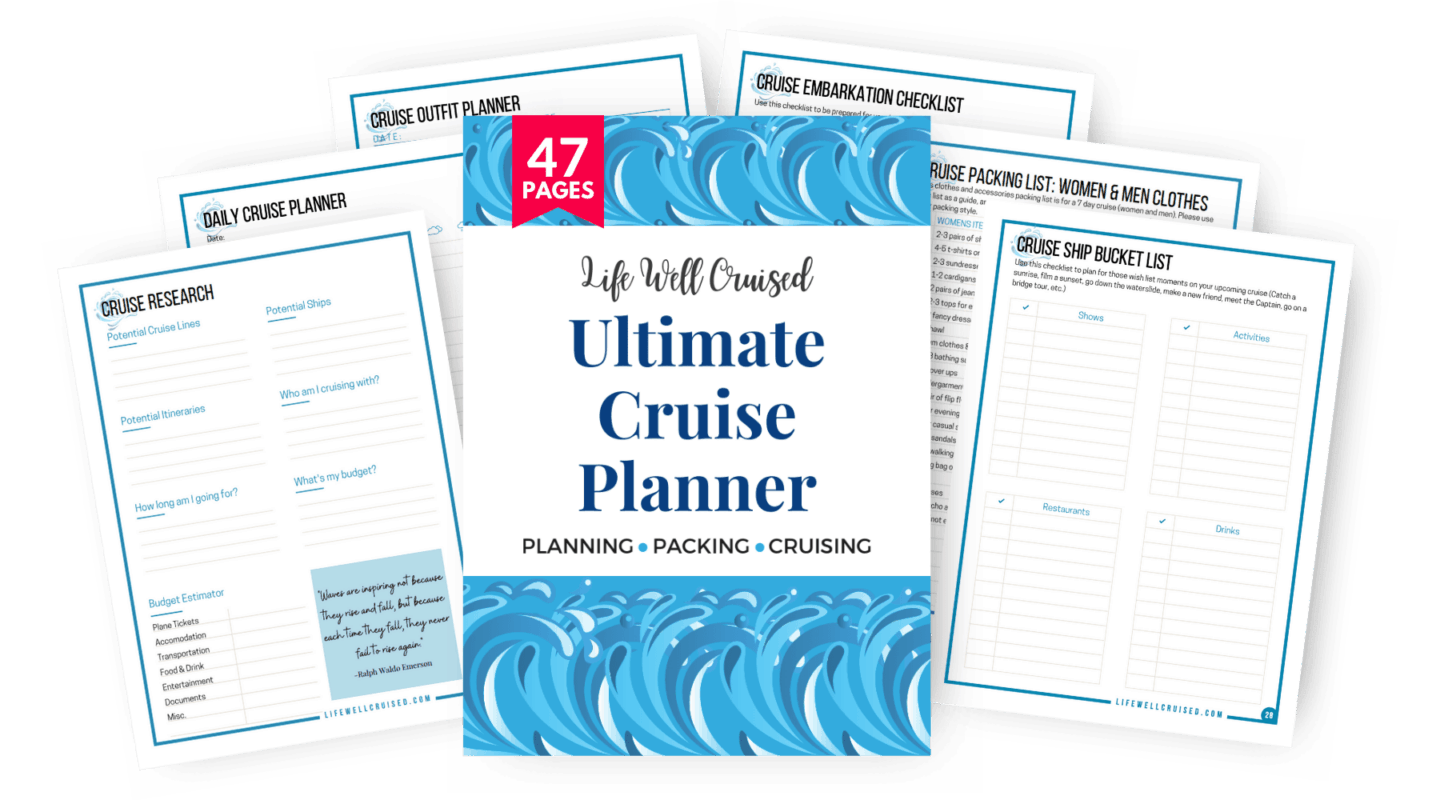 Final Thoughts
While cruise ships can be crowded, there are some tried and true ways to get some personal space and avoid the crowds. In this post we went over some practical tips and tricks that you can use to have a better cruise vacation!
What tips do you have to escape crowds on a cruise? Please share your thoughts in the comments below.
Happy Cruising!
Ilana
If you found this article helpful, please pass it along. Please feel free to share on Facebook or PIN to your favorite Pinterest board (share buttons at the top). Thanks so much!