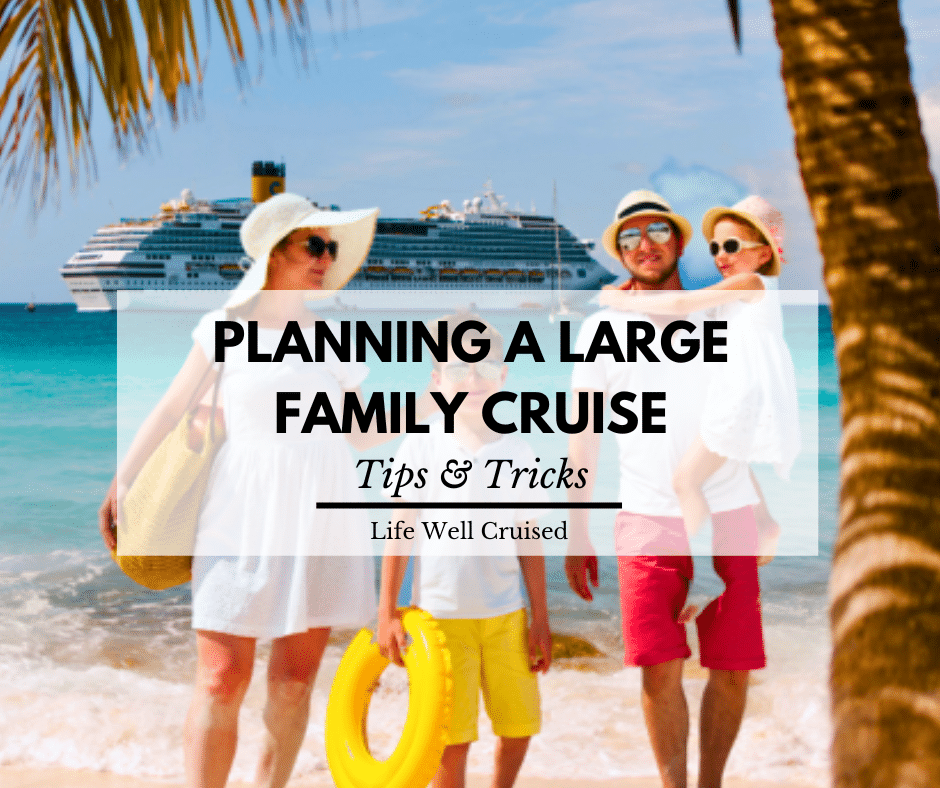 Planning a cruise for a large family comes with its own unique challenges. Cruising with three, four, five or more children might feel impossible. From choosing the best destination, picking from cruise line amenities and even deciding how many rooms you'll need – there is a lot to decide!
Which leads to the question….
How do I plan a cruise for a large family?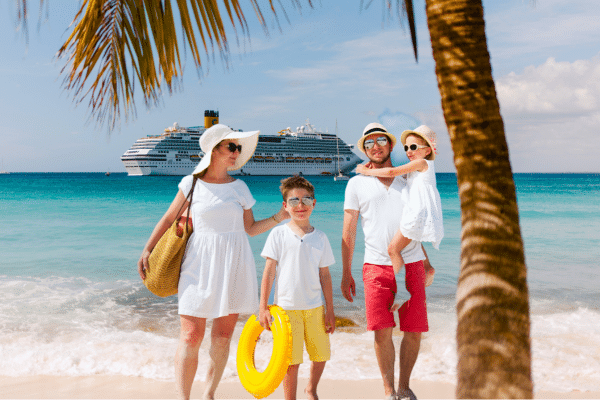 If you're planning a cruise for a family with more than three children, you'll need to choose a family friendly destination, book early for the best room availability and gather all of the necessary travel documentation.
There are also many extra planning tips that will make your cruise more enjoyable for the entire family.
As a mom of five kids, I've learned a lot of solid travel tips and tricks over the past 19 years. This article contains 15 of the best tips and tricks for large family (more than 3 children) cruise planning.
If you are looking to plan a cruise with your extended family, large groups, or for a family reunion check out these posts:
How to Plan a Perfect Group Cruise
20 Frugal Ways to Save on Your Family Cruise
If you have a large nuclear family you want to cruise with, keep reading for the ultimate guide for large family cruise planning.
This post contains affiliate links which means if you click and buy that I may make a commission, at no cost to you. Please see my disclosure policy for details.
As an Amazon Associate I earn from qualifying purchases.
Why are cruises a good vacation for a large family?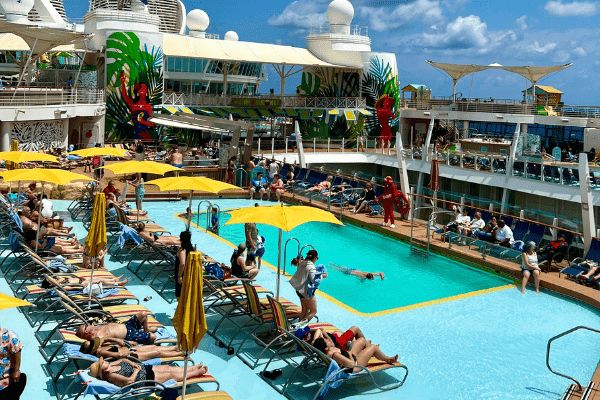 Planning vacations for a family with more than two children involves a considerable amount of thought and effort. Not only do you have more personalities to entertain, you also have to worry about things like room size, larger rental cars, meal planning and activities.
Cruising is a great way to remove many of the pain points of planning a large family vacation. With all-inclusive dining, loads of built-in entertainment and no need for costly rental cars, a cruise makes vacation planning feel like a breeze.
Plus, on a cruise there is something for everyone. From included kids and teen clubs to adult oriented entertainment, no one can be bored on a cruise!
How to plan the perfect cruise for a large family
Let's get into the nitty-gritty of planning a cruise for a large family. Here are some helpful tips and important information to ensure everyone in your family has a good time.
1.
Involve your kids in planning the cruise
Invite your kids to research destinations and look at cruise ships with you. Not only will this increase their excitement for the trip, but they'll also learn about different people, places and cultures.
Pro-tip: It is easier to narrow down the choices (especially budget-wise) before having kids help with the planning.
2.
Look for Kids Sail Free Promos
Some cruise lines offer free or reduced cruise fares for kids on certain dates and itineraries. Using "Kids Sail Free" promotions is an excellent way to reduce your overall cost and make a large family cruise more affordable.
Typically, this promo will greatly discount the cruise costs for kids under the age of 18 (and sometimes under the age of 12) who are cruising as a 3rd or 4th guest in a cabin with adults.
It takes some sleuthing to figure out which sail dates and destinations offer the best deals, but it is well worth the work.
Pro-Tip: You will still need to pay the taxes, fees, and port expenses per person for kids cruising for free or reduced price.
What cruise lines offer Kids Sail Free Promotions?
Some of the cruise lines that currently offer Kids Sail Free Promotions include:
Holland America Line
MSC Cruises
Costa Cruises
Royal Caribbean Cruises
Norwegian Cruise Line
Your mileage may vary depending on the cruise line, so be sure to look at the fine print (or call a travel agent or the cruise line) when booking a Kids Sail Free Promo.
Related Post: 7 Affordable Cruise Lines for Families (Kids Sail Free Deals)
3.
Best destinations for a family cruise vacation
There's no wrong answer when choosing the itinerary for your family cruise, but it is a good idea to consider the activities your family enjoys.
Love beaches? Try a Caribbean, Bahamas, or Mexico Cruise
Enjoy Scenery and Wildlife? An Alaska cruise will fit the bill.
Are museums and history your thing? There are many European cruises that older kids and teens would enjoy.
Pro-Tip: If you have younger kids, consider departing from a nearby port you can drive to. Not only do you eliminate the cost and hassle of an airplane trip, it also allows you to bring a stroller and other equipment you need.
4.
Choose the best types of room for your family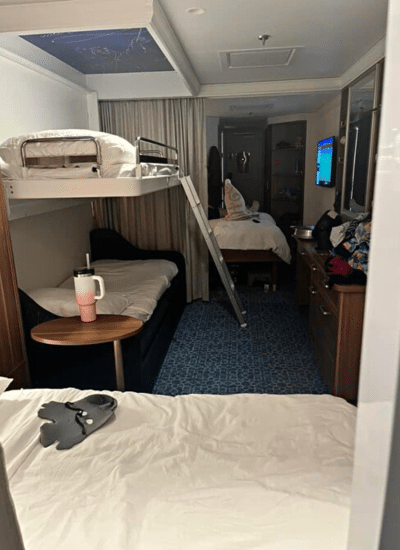 One of the more challenging aspects of planning a cruise with more than 3 kids is the type of room to reserve.
Cruise cabins are mostly made for double, triple, or quadruple occupancy (meaning they can hold up to four people). If you're a family of five or more, there are a few great options:
Multiple Cabins: There are several different configurations that can give you the space you need for your large family. You can book two or more cabins side-by-side (or connecting if possible). Another great option is to book one interior cabin and one balcony cabin across the hall. This gives you all of the benefits of a balcony cabin at a lower cost.
Specialty Cabins or Suites: Some cruise ships have a limited amount of cabins that can sleep five. You can also look for a suite configuration like Carnival Vista's Family Harbor cabins or Norwegian Cruise Lines' Villas. Be prepared to pay a premium for the larger suite-style cabins. However, some benefits that come with them (including access to private lounges) might be worth the cost.
More and more cruise lines are offering specialty cabins to accommodate larger families. You'll find the best large family accommodations on Holland America, Disney Cruise Line, Royal Caribbean, Norwegian Cruise Line, Celebrity Cruises, and Carnival Cruise Line.
5.
Check out the ship's best dining options for large families
When planning a cruise for adults, you might be researching the best cruise ships for foodies. When you're planning a cruise with your kids, you're probably trying to make sure all of the restaurants offer chicken nuggets and mac and cheese!
Many cruise lines have multiple included restaurants, as well as an all-you-can-eat buffet and main dining room. Furthermore, there are specialty restaurants. However, they do cost extra.
You can view restaurant and main dining room menus on the cruise line website. Although they are not free, specialty restaurants make for a great evening, and they are a nice way to celebrate a special occasion.
One option is to visit them without the children and have a parent's night out.
If you are bringing the kids, ask if any of the specialty restaurants on board include a kids' menu with food that is free or at a reduced cost. Many cruise lines provide children's options in their specialty restaurants.
6.
Book your cruise early
Booking your cruise early is essential for large families. With limited 5-person berths, connecting cabins, and family-sized suites, the early birds will get the larger nests!
If you cannot book a year in advance, you'll need to be more flexible with your itinerary, cruise line, and the type of room you want to stay in. With a little research and some elbow grease, you'll be able to find an option that will be perfect for your big family!
Related: What Is a Pullman Bed on a Cruise Ship (see cabin photos)
7.
Gather travel documentation as soon as possible
Once you've booked your cruise, you must get your family's documentation in order. This is more complicated with larger families, but it is totally doable.
Appropriate travel documentation, such as a passport, is required for each guest to get on and off the cruise ship. Clarify with your cruise line or travel agent the documentation necessary for your family cruise.
If you need to apply for passports or any other government identification, be sure to do this well in advance.
It is also a good idea to designate a special folder or wallet to store your documentation and decide who is the "keeper" of important documents.
8.
Plan excursions together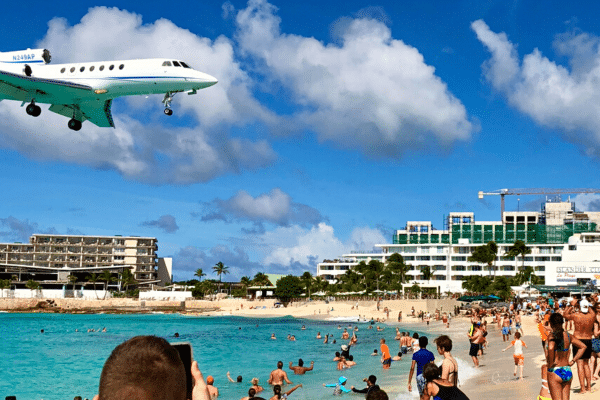 Shore excursions are best booked ahead of time. Plus, they are really fun to plan with your kids!
Start by looking at shore excursions offered by your cruise ship at each of the cruise ports. If you have older kids and teens, consider booking your own private excursions, which are less expensive and often less crowded. Just be sure to look for reputable companies that have a lot of really great reviews!
Pro-tip: There are benefits to booking your excursion through your cruise line. First, they are often refundable until a certain point. Secondly, the cruise ship will wait for you if your tour runs late. This is something to consider, especially when traveling with a large family.
9.
Set expectations
One of the best behavior tools in a large family tool belt is setting expectations ahead of time. The excitement of a gigantic cruise ship might cause your kids to behave differently, but establishing rules and expectations ahead of time will make everyone's vacation experience more enjoyable.
Before your cruise vacation, talk to your kids about:
A typical day:
Establish what your family's typical cruise day looks like. Will you stick together all day? Go your separate ways (kids club and teen activities) until dinner time. A mix? Make these decisions before you board.
Activities:
Do a "virtual tour" of the cruise ship and discuss all the exciting activity options.
Family time:
It is a great idea to talk about the fun ways you will spend time together as a whole family and when kids and teens will have time to do their own thing.
Communication:
This is important with older kids and teens. How do they get ahold of you? Is there a certain time each day you'll meet in the cabin and "check in?" What are your expectations?
If your kid has a smartphone, they can always contact you via the cruise line App.
Emergencies:
Talk to your kids about what to do if they get lost or injured.
Dining options:
Discuss the restaurants and food options available, dining times, how cruise buffets work, and drink options. Don't forget to tell them about room service (and decide how your family will use it.)
Bedtime:
In our family, sticking to normal bedtime is essential for good moods and best behavior. But maybe you'll have an extended curfew for teens or let younger kids stay up later for certain activities.
10.
Pack light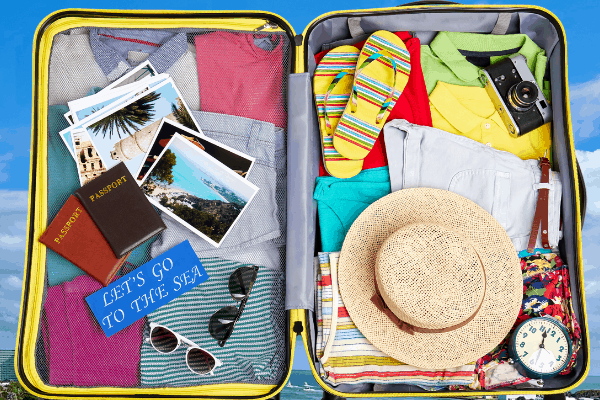 This might go against all of your large family instincts, but with cruising, less is more! Cruise cabins are typically smaller than hotel rooms, and storage can be limited.
When it comes to planning, consider how you can pack light for your cruise.
Depending on your itinerary, your kids might spend most of the day in their swimsuits anyway!
You'll want to pack clothing for evening dinners. However, you can mix and match outfit pieces. Cruise outfits can also be worn more than once.
Some cruise ships have self-serve laundry facilities on each deck, which is a huge benefit for large families. Other cruise lines have a laundry package that you can purchase.
I like to pack clothes for half of the days that we are traveling. That way, halfway through the trip, I can spend the evening washing clothes, and we are set for the rest of the vacation.
Laundry soap sheets are amazing for traveling. They pack compactly, and you don't have to worry about airline liquid restrictions.
Get The Ultimate Cruise Planner
Regular price: $27 Now just $17!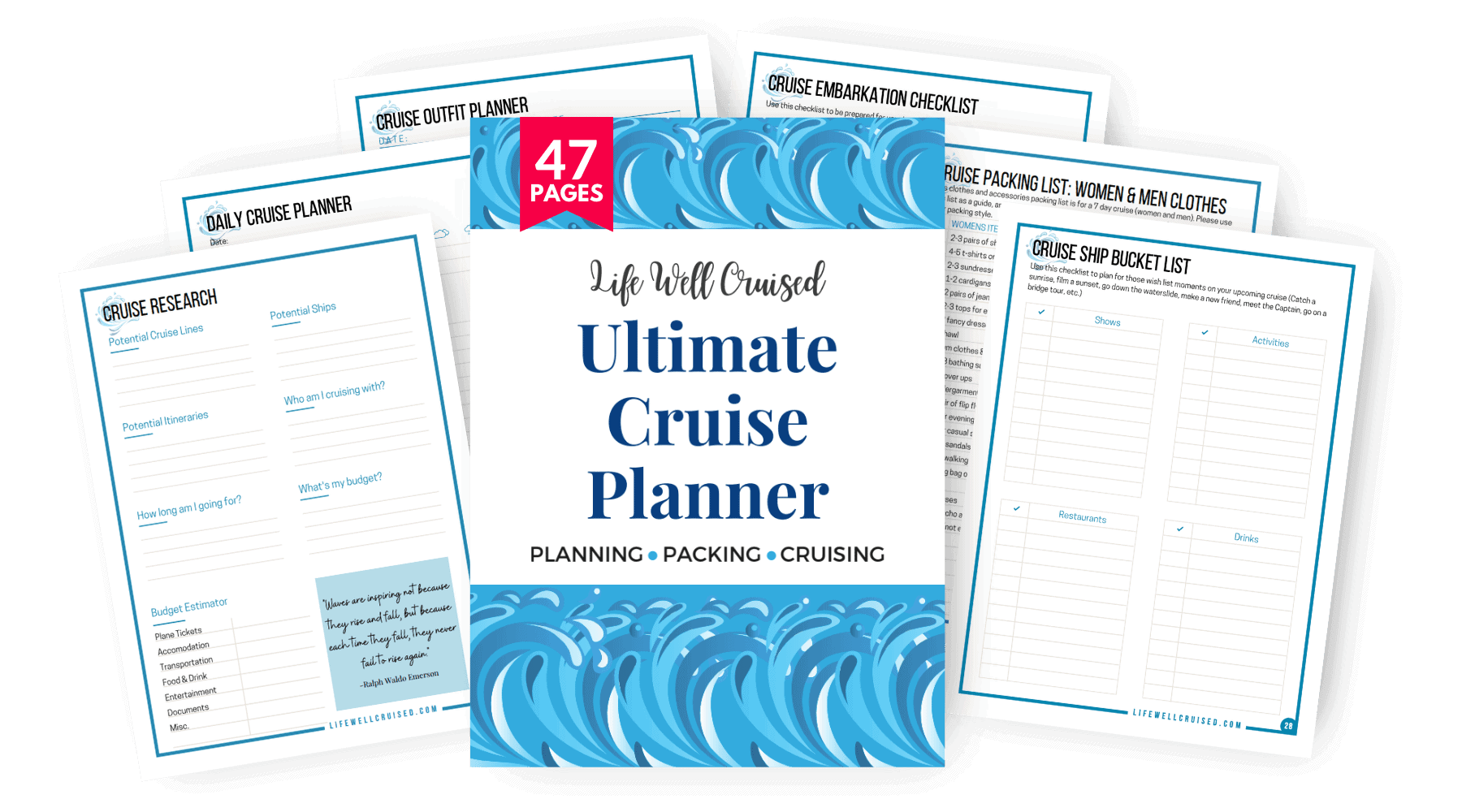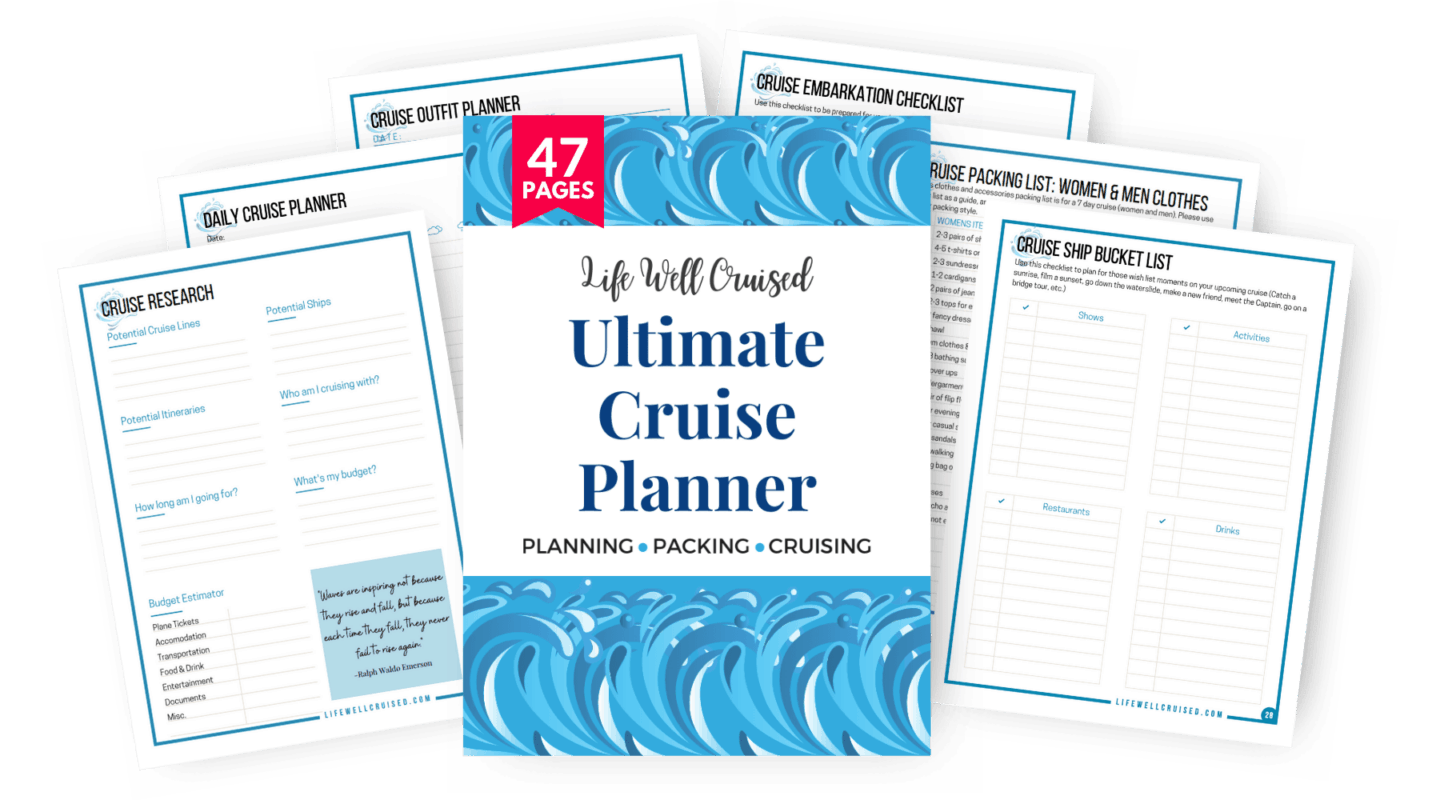 11.
Arrive to your port city a day earl

y

It's finally time for your large family cruise! Plan to arrive at your cruise port city a day early and stay at a hotel with a free shuttle service to make your cruise much less stressful.

Some cruisers will try to save money by flying to the port city on the day of the cruise, but if there are delays or cancellations, you may miss the cruise. The stress (especially traveling with a large family) isn't worth the savings.

It's best to arrive a day early to have a stress-free embarkation day!
12.
Tour the cruise ship together
Take time on the first or second day to tour the ship together and check out all the amenities and activities. This is a great time to decide on special meeting spots and point out safe people your child should talk to if they get lost.
It's a good idea to show your kids how to get to the cruise cabin and to teach them the cruise cabin number system. This way, they can get back to your stateroom on their own.
13.
Visit the kid's club and teen club
Younger children might be apprehensive about kid club options. One way to help alleviate fears (and get them excited) is to visit the club on the first day of the cruise.
Kids and teens clubs are usually available free for kids ages 3-17 and might include activities like science experiments, crafts, contests, sports, video games, and themed parties. They can be a great place for kids to have fun, meet new friends, and feel independent.
Find out what activities the kid's club offers, their hours of operation, and what you need to do to enroll your child.
14.
Decorate your cabin door
Decorating the door to your stateroom serves two important purposes for large families. First, it is a fun family activity you can plan in the days leading up to your cruise. Secondly, it makes it easier for kids and teens to locate your room.
You can read more about decorating your door in this post Cruise Cabin Door Decorations: The Ultimate Guide for Cruisers
15.
Plan the next day's activities each night
At the end of each day of our cruise, I find it valuable to talk to my kids about what went well and what we want to do differently the next day.
Hold a quick, informal planning meeting at dinner or before bedtime and plan out which activities you'll be participating in the next day. Kids feel safer, more confident, and behave better when they know what to expect.
Extra Tips for Large Family Cruises
Consider making matching group t-shirts for your family. Choose a color for each day and rotate through them. This makes it easier to find your family (and is so much fun!).
Bring medicine and first-aid supplies. There are medical centers available on cruise ships, but having basic medications for kids and adults and first aid supplies in your cabin will be a lifesaver.
Bring labeled refillable water bottles. This will make it easier for everyone to stay hydrated.

Don't forget about "down-time" activities. Kids and teens can get overstimulated and need some quiet time. Bring along books, games, or tablets with downloaded movies, music and podcasts for times when every needs to settle down.

Consider purchasing cruise travel insurance. Large family vacations can be derailed quickly by illness or other issues. Travel insurance will reimburse the non-refundable costs associated with your trip if unforeseen causes result in your cancellation. You can read more about why travel insurance is a must for cruisers in this post.
Related: Why Cruise Travel Insurance is More Important than Ever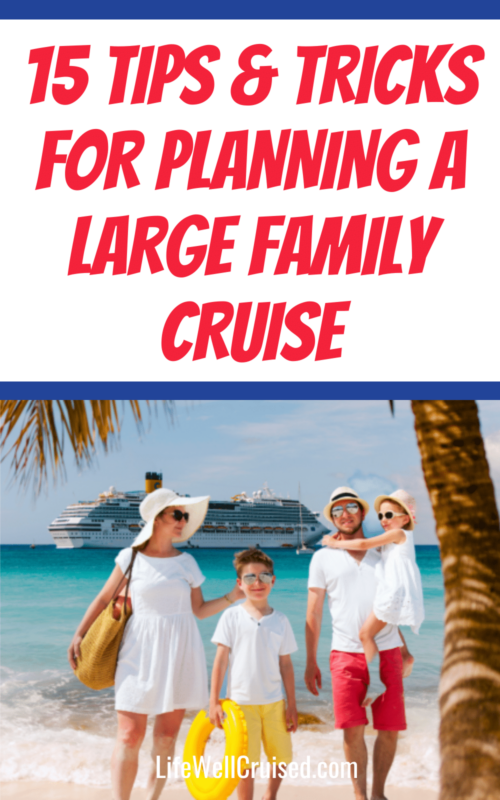 FAQs about planning a large family cruise
How far ahead do I need to book a cruise for my large family?
On cruise ships, there are a limited amount of cruise cabins that are big enough to fit a family larger than four people. These cabins tend to sell out, so it's important to book the cruise early if you are traveling with a large family. By booking the cruise a year in advance, you will have the best room options and availability.
What is the minimum age for babies on a cruise?
The typical age that babies are allowed on cruise ships is somewhere between 6 months and 1 year of age. This can vary from cruise line to cruise line and even for different destinations on the same cruise line. Be sure to verify infant age requirements with your specific cruise line and destination.
Is babysitting available on a cruise ship?
Many cruise ships offer paid babysitting services and/or drop off paid nursery services. If your kids are old enough for Kids' Club, there are often night activities (that go as late as 10 p.m.) that will allow you to do kid-free activities without needing a babysitter.
Late night group babysitting in the kid's club is usually available at a nominal charge.
What baby equipment do I need to bring on a cruise?
Things you do need to bring: lightweight stroller, carseat, bottles/formula, baby food, pacifiers, diapers and wipes (bring way more than you think you need!), baby wash/lotion, diaper rash cream, baby medicine.
Baby Items you don't need to bring: high chair.
Equipment you might need to bring: portable crib, inflatable tub
Cruise packing list: What to Pack for Kids on a Cruise
Be sure to check with your cruise line to be aware of any items that are prohibited on a cruise.
Popular and Related Posts:
Get The Ultimate Cruise Planner
Regular price: $27 Now just $17!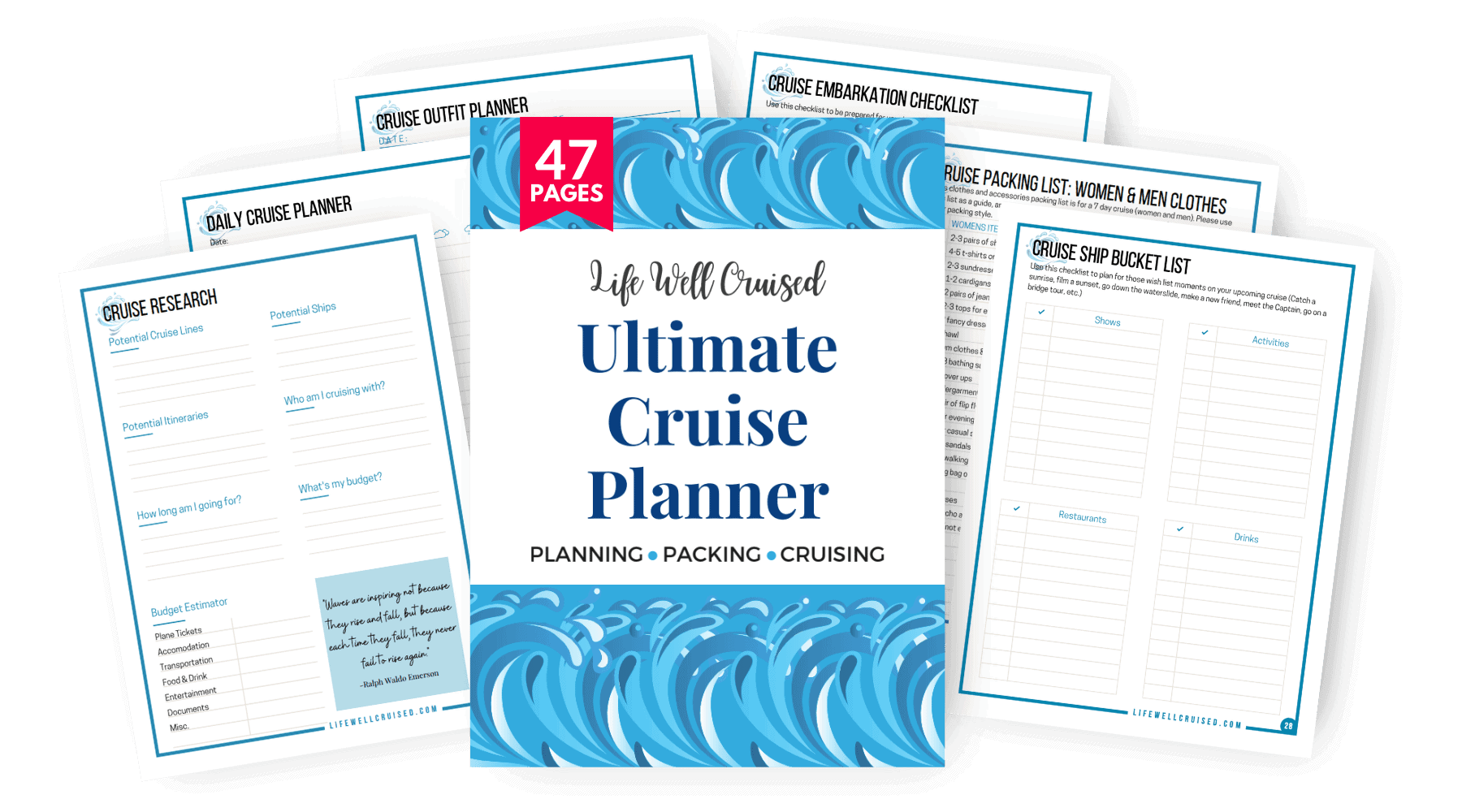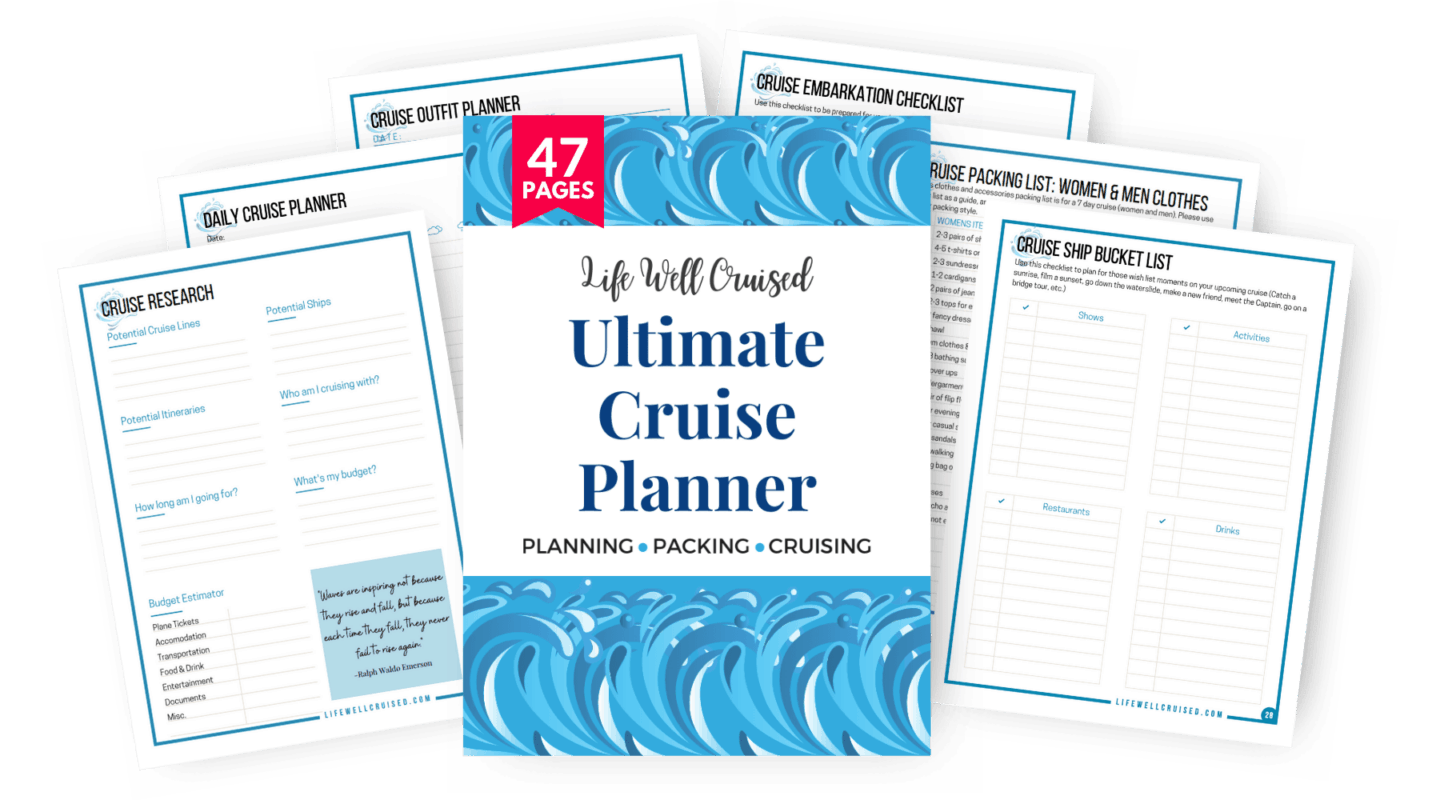 Final Thoughts on How to Plan a Cruise for a Large Family
A cruise can, in many ways, be an ideal vacation for a large family. By following these 15 tips for planning the ultimate large family cruise, including choosing the best destination, picking the correct room size, planning excursions, and setting expectations, you can ensure that everyone in your large family will have a fun and memorable time!
Have you been on a large family group or are you planning one? Please let me know your tips in the comments below.
Happy Cruising!
Stephanie
If you found this article helpful, please pass it along. Please feel free to share on Facebook or PIN to your favorite Pinterest board (share buttons at the top). Thanks so much!
Author Bio:
Stephanie Yrungaray grew up in gorgeous Eagle River, Alaska and now calls Utah her beUtahful home. She enjoys traveling and exploring with her husband and five kids any way she can, from cruising to RV camping and everything in-between! When she's not out exploring, you'll find her writing about travel, finances and parenting as well as gift ideas on her website, www.TheGiftyGirl.com.