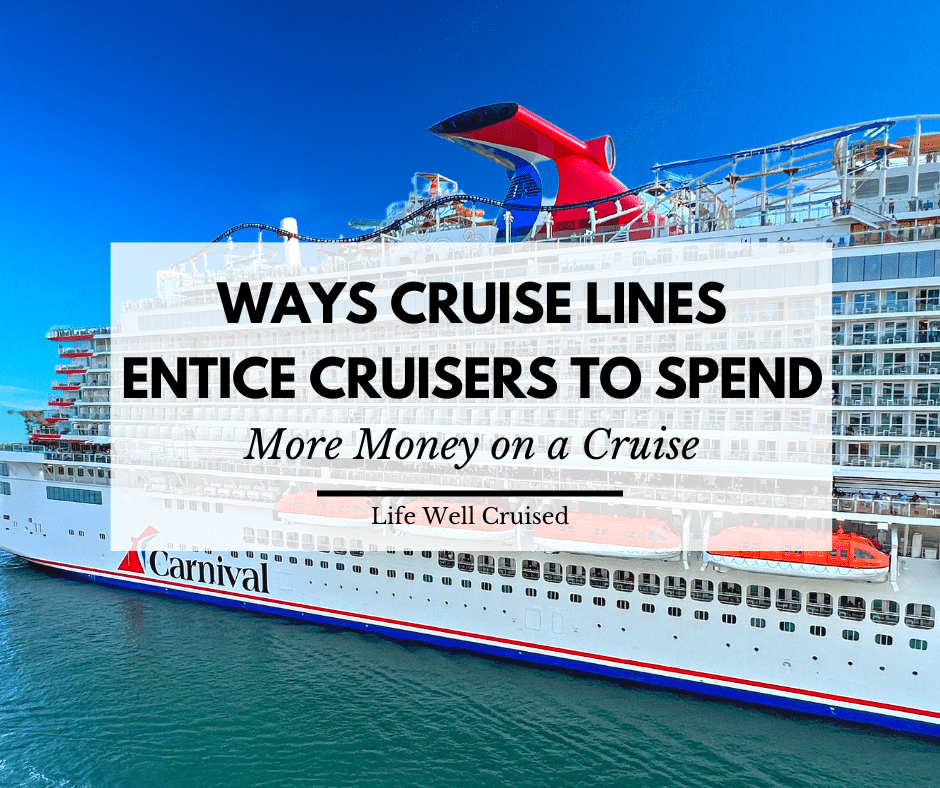 Cruises are a great vacation value. However, for cruise lines to make a healthy profit, they definitely have ways to get cruise passengers to spend more money.
In fact, over the last few years, popular cruise lines have found some creative tactics to entice cruisers to part with their dollars. Depending on how you look at it, some will say cruise lines have some clever or sneaky ways to get you to spend!
From pre-cruise sales, where passengers can purchase add-ons in advance, to onboard impulse spending, cruise travelers are spending more these days than in the past.
Of course, this doesn't mean it's wrong. After all, we can choose how we like to spend or save money on our cruise vacations.
In this post, I share over a dozen ways cruise lines entice cruise travelers to spend more money both before their cruise and while onboard.
This post contains affiliate links which means if you click and buy that I may make a commission, at no cost to you. Please see my disclosure policy for details.
As an Amazon Associate I earn from qualifying purchases.
Clever Ways Cruise Lines Get Cruisers to Spend More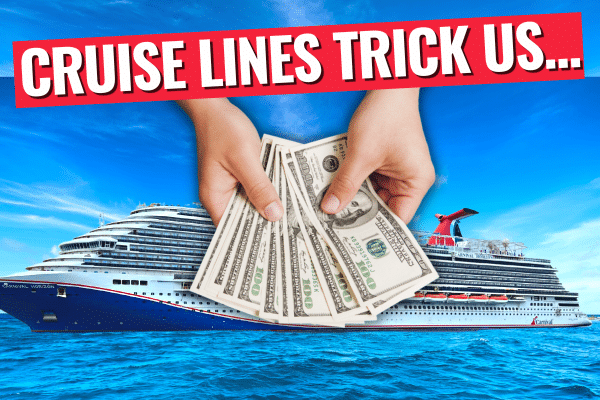 1. Confusing Promotions and Sales
If you're looking to book a cruise, you know how confusing cruise sales and promotions can be. Many cruise travelers say it's hard to know when they're actually getting a good deal!
BOGO sales. 60% off the 2nd passenger. Kid's Sail Free (on certain sailings). 30% off the 3rd and 4th passenger. Buy one, get the 2nd guest half off. You get the idea…
I think we can all agree that cruise line promos and pricing can make your head spin.
However, cruise lines are great at marketing, and these promotions work. Oftentimes, these sales create a sense of urgency, as they are offered for a limited time.
However, experienced cruisers know that they should keep an eye on the total price, as sales come and go. Most of the time, a new promotion will start just as one ends.
Tip: When you see a cruise fare that looks good to you, it's best to secure that price and book your cruise!
2. Farther Out Final Payment Dates
Cruise lines make final payment dates anywhere from 90 to 120 days before the sailing, far enough for cruise passengers to forget the price of their cruise as they get closer to sailing.
In this way, cruise passengers have a "fresh wallet" as their cruise vacation approaches. This leads cruisers to spend more money on shore excursions, drink packages and other onboard cruise extras.
Since the payment for the cruise was made about 3 months in advance, the impulse to spend a little more on ways to upgrade a cruise is common for many cruise passengers.
3. Main Dining Room Changes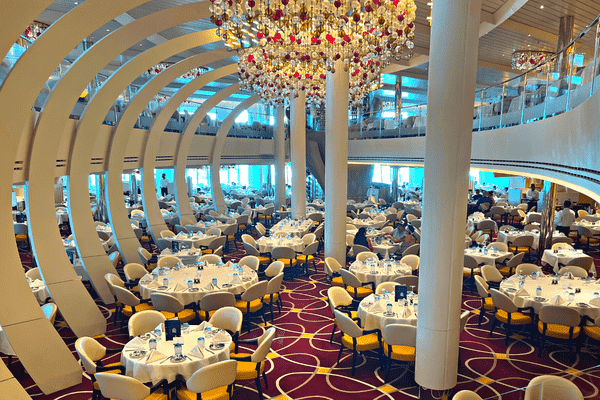 Many veteran cruisers have seen changes in the cruise ship main dining room over the last couple of years. Changes to menus, offerings and dishes in the included restaurants have not gone unnoticed.
This isn't to say that the main dining room is bad or that you won't still have a good meal. However, the main dining room menus and service isn't what it once was.
Many cruisers love to eat and have amazing dining experiences. This makes specialty dining restaurants even more appealing these days! This definitely entices guests to spend money eating in the cruise ship's specialty restaurants.
4. Extra Cost On-Board Attractions
Nowadays, many mega cruise ships have cool and exciting attractions and activities. Years ago these may have been included. However, on today's cruise ships, many of these activities will cost extra.
Whether it's Go-Karting on Norwegian Cruise Line, Robotron on MSC, or BOLT roller coaster on Carnival, cruise passengers will want to budget some extra cash for these onboard attractions.
If you're taking your kids or teenagers on a cruise, you will definitely be enticed to spend money on these onboard activities. Just plan accordingly.
5. All-Inclusive Packages and Bundles
For years, cruise passengers have been asking cruise lines to make all-inclusive packages and bundles that include a drink package, wifi and specialty dining. The more that's included the better!
These cruise packages have been very popular – from Princess Plus, Celebrity's All Included and Holland America's Have it All!
However, cruisers have seen these cruise packages change what's included. These changes to what's included and not included on a cruise makes these packages even more enticing and a better value.
While this isn't a bad thing, some cruisers have done the math and determined that these packages would have them spending more money on their cruise.
6. Casino Rates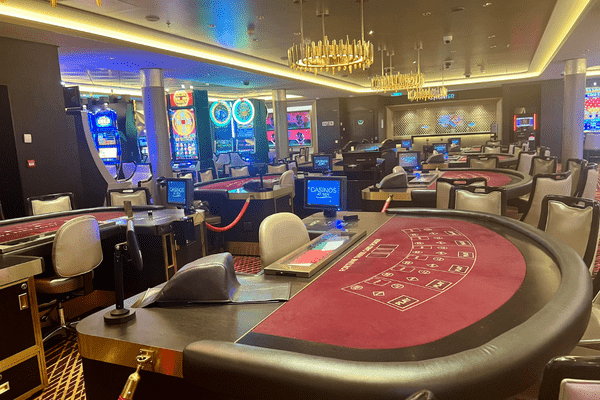 Although casino rates can give you some amazing benefits, including free cruises and great perks, they don't come without a cost. Often cruisers sailing on casino rates are spending thousands of dollars gambling on their cruise.
The casino is very profitable for cruise lines, which is why they do so much to get casino cruisers back on board.
So, unless you really enjoy gambling and spending time in the casino, you're probably better off avoiding trying to get a "free" casino rate cruise.
7. Cabin Upgrades and Bidding
When booking a cruise, people will pick the best cabin they can afford at the moment. This could be an inside cabin, balcony cabin, or even a mini-suite. However, as the cruise gets closer, many cruise lines now allow cruise passengers to bid for a cabin upgrade.
When bidding for a cabin upgrade, cruisers have an opportunity to get a better cabin, for a lower price than they likely would have payed originally. While there are no guarantees, bidding an extra $100-1000 per person (or more) can snag cruisers a cabin upgrade.
This does net more profits for the cruise line, as they aren't giving away free stateroom upgrades. However, this can actually be a way for some people to save money on a cruise.
Get The Ultimate Cruise Planner
Regular price: $27 Now just $17!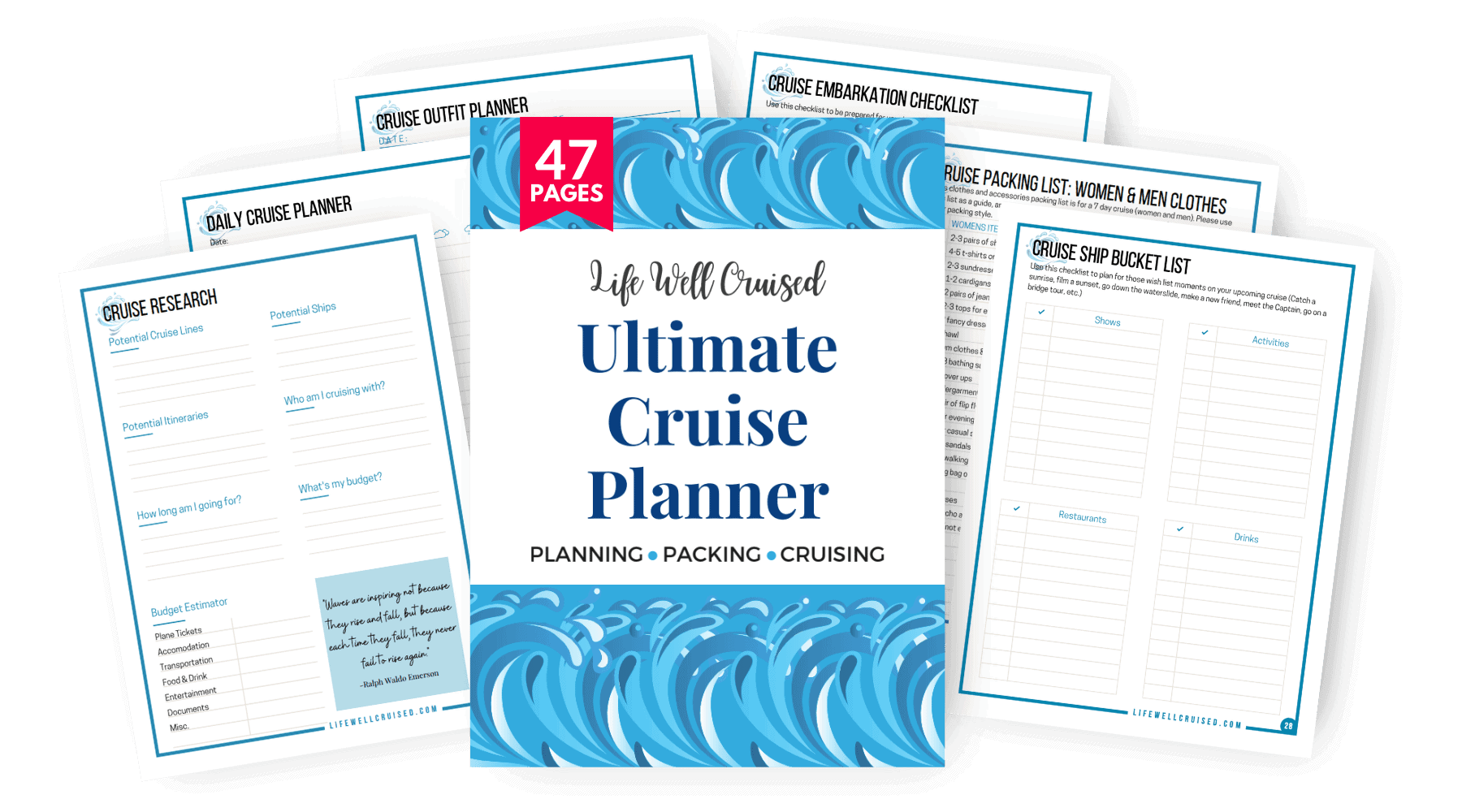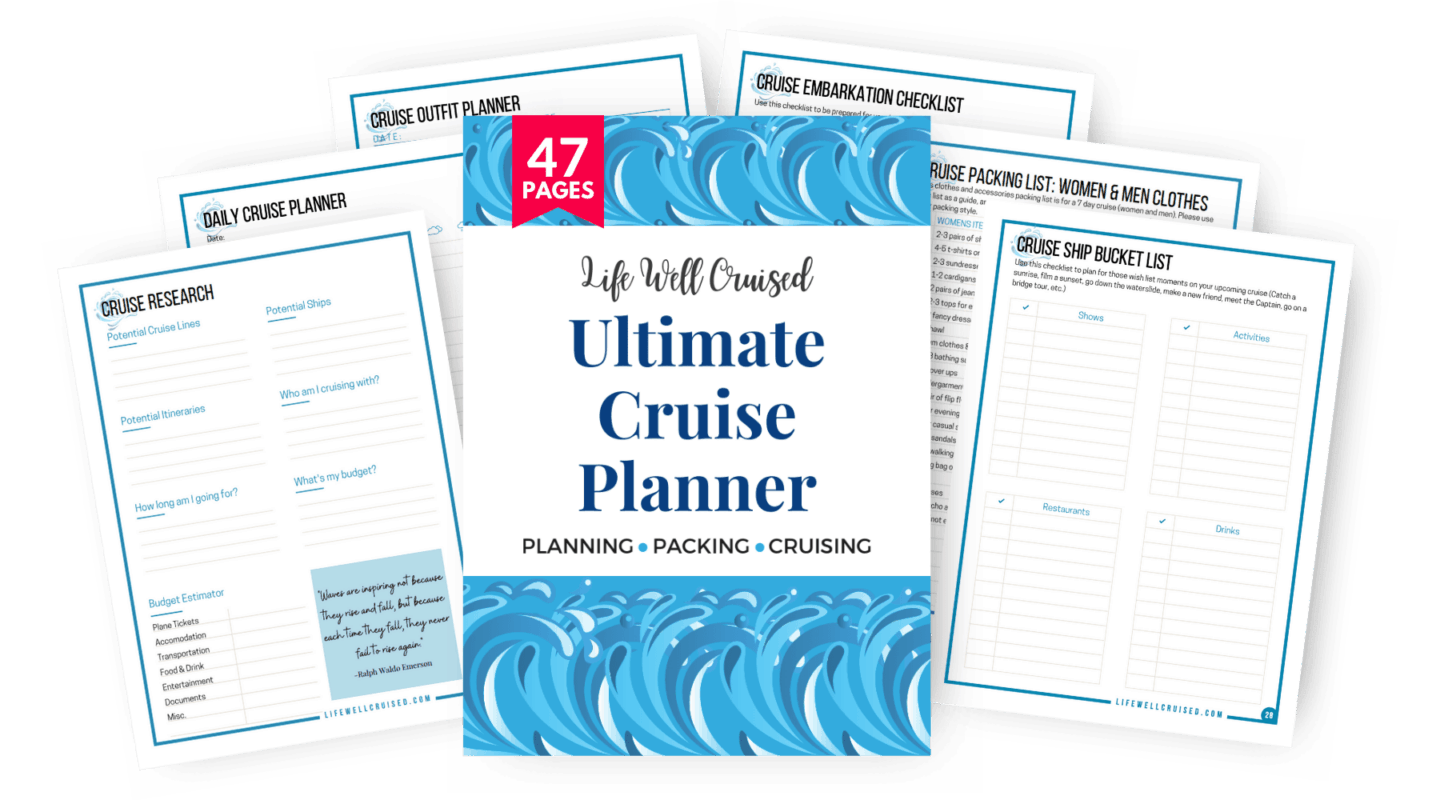 8. Spa Upsells
If you've ever gone to the spa on a cruise ship, you've probably experienced this. Once you are done with your massage or treatment, you'll likely be presented with expensive products that you might want to buy.
Many people have a hard time saying no, and end up with lotions and gels they may never use again. In fact, many cruise passengers say spa upsells are one of the things they don't like when on a cruise.
If this bothers you, let the spa personnel know you are not interested in purchasing products before your massage begins.
9. Onboard Sales
The duty-free shops and sidewalk style sales are more ways for cruise passengers to depart with their money.
Whether it's an EFFY sale or a sale for cruise line merchandise, onboard sales get cruise passengers excited for those deals. If you've ever passed by an EFFY store during a raffle or sale, you've seen how busy they can get!
These onboard sales are an excellent way for cruise lines to get passengers to spend money onboard during their vacation.
10. Onboard Credits
Onboard credits are great booking incentives. Who doesn't love getting free onboard credit from the cruise line to spend onboard?
However, many guests will use it and then spend even more once onboard (after all it's like found money).
For example, with Norwegian Cruise Line's Free at Sea program, cruise passengers receive $50 of onboard credit that can be used for shore excursions. However, most of the time, excursions cost more than $50, and cruise passengers must pay the difference.
In other cases, a $50-100 onboard credit can go towards a spa treatment or even an item in the duty-free shops. Many cruise passengers are happy to add any extra money to cover the difference.
11. Dynamic Pricing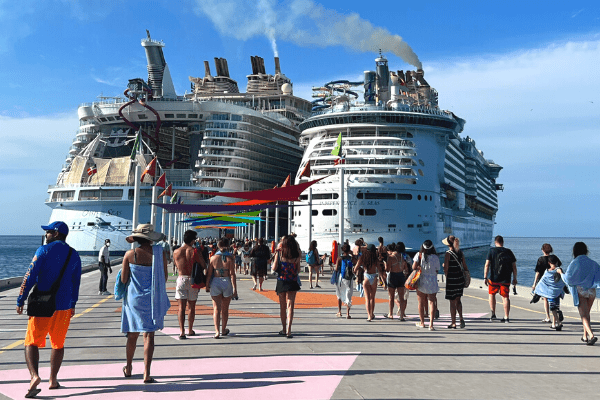 Dynamic pricing is a pricing model used by certain cruise lines, most notably Royal Caribbean. Royal Caribbean cruise passengers know that the price of almost any package can be different from one cruise to another.
This allows the cruise line to adjust pricing for the beverage packages, shore excursions and the waterpark at CocoCay with supply and demand.
The best way for Royal Caribbean cruisers to save money is to book those extras early, as most packages can be cancelled and re-fared if the price lowers later on.
12. Cruise Pricing Strategy
Cruise lines have been pricing cruise vacations as "per day, per person" for many years. The lower daily rate makes the cruise seem more affordable.
This is especially noticeable when you're in the midst of the booking process and a little box pops up to let you know that you can upgrade your cabin for only $32 per person, per day, as an example.
On a 7 day cruise for 2, that adds up to $448! Of course, the price per day sounds much more appealing.
13. YOLO!
Even if we set a budget before our cruise, many of us struggle to stick to it once we get onboard the cruise ship. When you're on a cruise vacation, it's easy to spend money on excursions, specialty restaurants and other cruise extras.
This "You Only Live Once" feeling is something many cruisers, including myself, have experienced while cruising.
As long as you can pay for your vacation, don't beat yourself up for spending a little more enjoying your cruise holiday!
Video: Ways Cruise Lines Get Cruisers to Spend More Money
Related & Popular Posts:
Get The Ultimate Cruise Planner
Regular price: $27 Now just $17!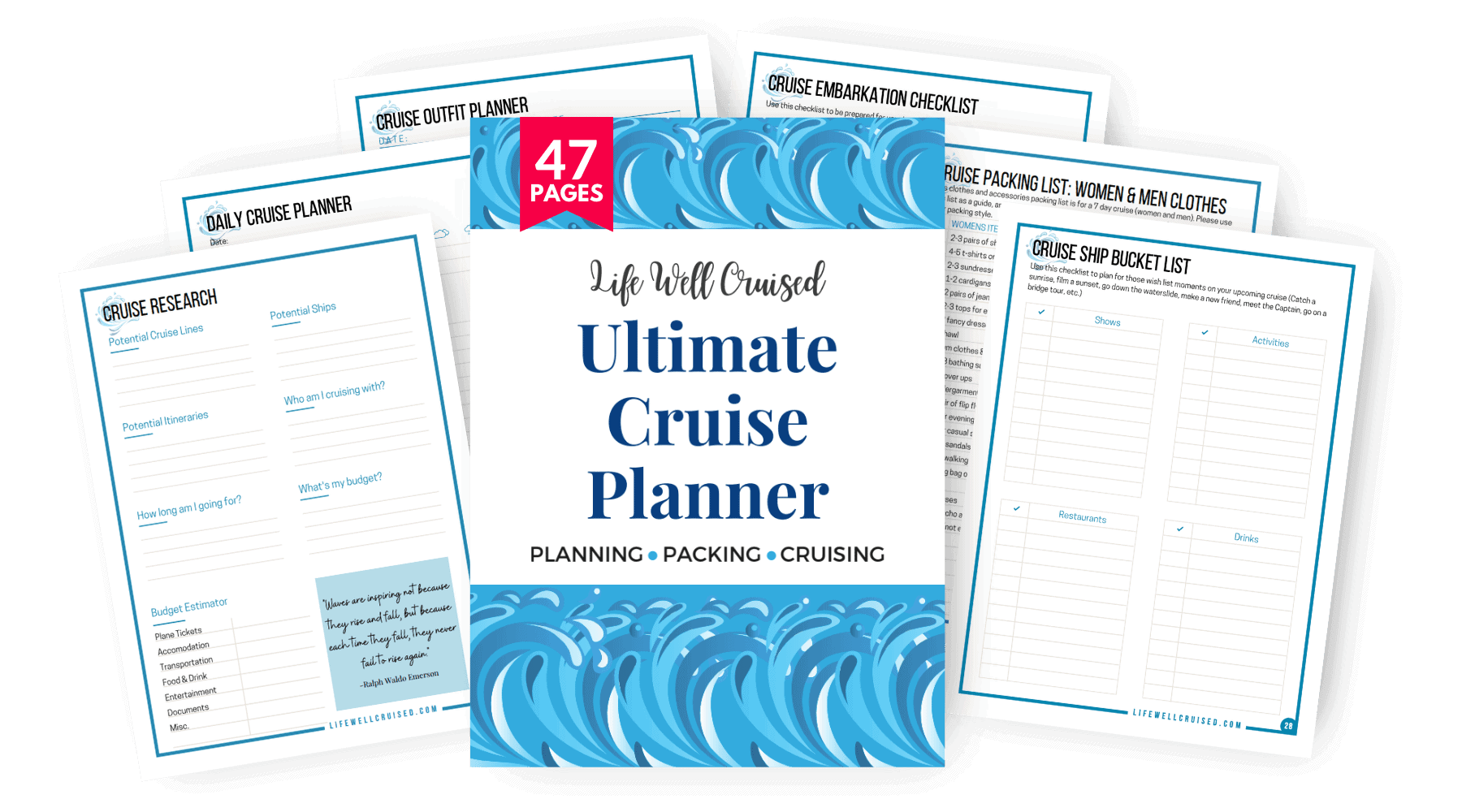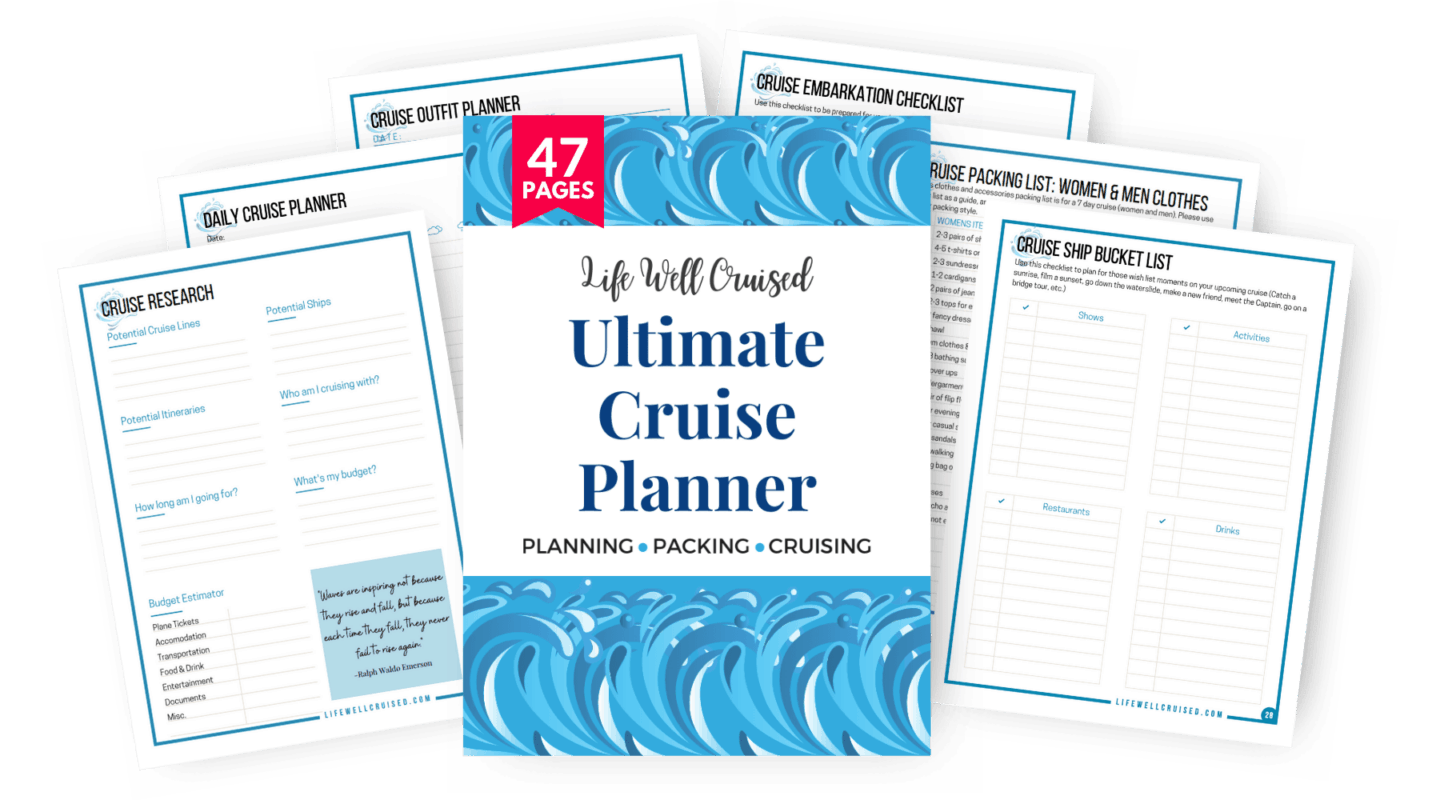 Final Thoughts On Sneaky Ways Cruise Lines Make You Spend Money
Whether you spend money while you're on a cruise, or if you stick to your budget, cruise lines definitely have some clever ways to make you spend money onboard.
From the genius cruise line marketing via email, text message and online ads to onboard sales tactics, these are some of the ways cruise companies get cruise passengers to part with their dollar bills.
Do you spend extra money when you're on a cruise? Please let me know in the comments below.
Happy Cruising!
Ethan
If you found this article helpful, please pass it along. Please feel free to share on Facebook or PIN to your favorite Pinterest board (share buttons at the top). Thanks so much!
Author Bio: Ethan Schattauer has been cruising since he was in preschool! As a frequent cruiser, Ethan now shares his unique perspective on what cruising is like for teens and young adults. Ethan is a freelance writer and also writes about men's fashion, travel and college advice on the website WhatToWearMen.com.